US delegation to IHO assembly promotes data-sharing for maritime safety amid Ukraine conflict
Rear Adm. Ronald Piret, commander of the Naval Meteorology and Oceanography Command, talked to DefenseScoop about the implications of the summit.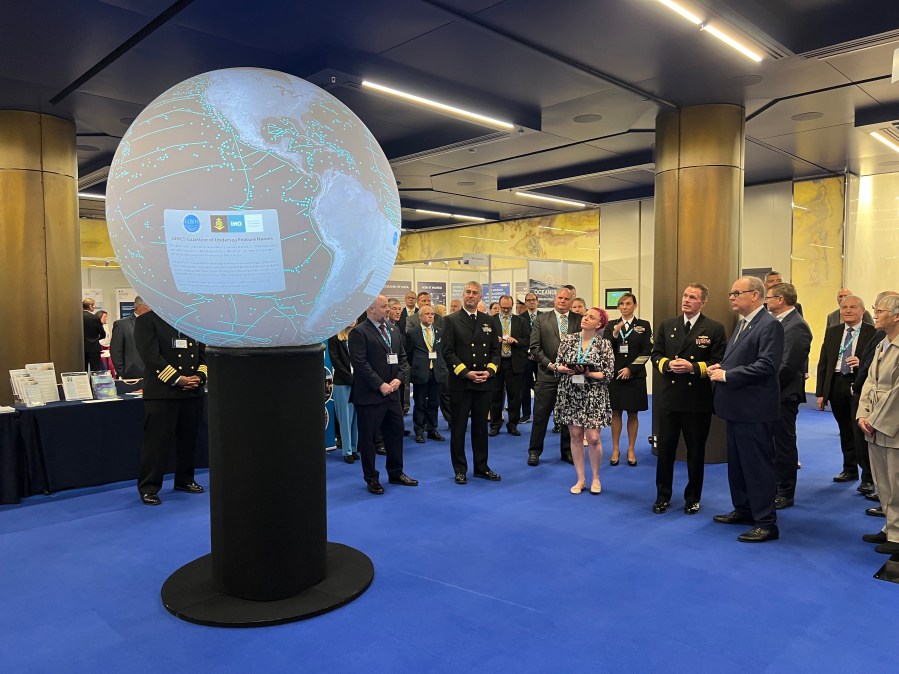 Despite exigent challenges associated with the Russia-Ukraine war, dozens of nations made strides in data-sharing pursuits to enable global maritime safety during the International Hydrographic Organization's third triennial assembly earlier this month, Rear Adm. Ronald Piret told DefenseScoop.
Piret, the oceanographer of the Navy and commander of the Naval Meteorology and Oceanography Command, led the U.S. government delegation at the IHO's International Assembly 2023 at the start of May, in Monaco.
Hydrography broadly refers to the science behind mapping the floors of oceans and other bodies of water. The data is applied for many applications commercially — and particularly to inform maritime operational safety and the security of U.S. Navy warships and submarines.
More than 60 of the IHO's 98 member-states attended this latest IHO assembly, including the U.S. and many of its partners and allies (some of which used the forum partly to condemn continued Russian aggression against Ukraine), as well as China and Russia. Still, progress was made there between all the participating nations in discussions regarding technical standards, ocean mapping, the future of charts and overarching transitions to digital data systems, according to Piret.
"We do keep in mind that every ship that sets sail, submarine that gets underway, or plane that takes off, we need to make sure that they've got the very best data for safe operations," he told DefenseScoop in a recent interview after returning from the summit.
At the assembly
Representatives from the Navy, National Oceanic and Atmospheric Administration (NOAA), State Department and National Geospatial-Intelligence Agency (NGA) attended the IHO as part of the U.S. delegation. The assembly meetings happen every three years — and in between those, members of geographically focused subgroups meet frequently to discuss regional concerns and other topics like standards development.
"In some places, we've got a lot of data and a lot of traffic and a lot of capability. And in other parts of the globe, there might be very sparse data, there might be a little bit less capability or capacity. So, we're looking to try and grow that across the world," Piret explained.
In his view, one of the things that probably isn't well-understood when it comes to hydrography is that it really underpins science in the field of oceanography, which studies all aspects of oceans.
"If you understand the ocean floor, you know where it's safe to drive your ship," Piret said. "But it also informs the boundary conditions for ocean modeling, it informs commercial activities for some nations — whether that be seabed mining or biodiversity for fishing and the fishing industry — and it also informs" the protection of at-risk species.
He called the Defense Department a "leading authority for surveying the ocean and for sensing the battlespace." That involves collecting data from the atmosphere and in the "water column."
The Navy obtains or buys that data through commercial and international partnerships, and collects survey data via six U.S. military research survey ships. Piret said they are "deployed and underway nearly 70% of the time," mapping the ocean by capturing bathymetric and hydrographic data for safe navigation, and collecting data about the temperature, pressure, conductivity and light transition in the water column.
"We collect [nearly 100 million observations or 18 billion data points a day] that are sent back into our high-performance computing centers, and ingest that data into our global models — where we then can characterize the dynamics in the ocean and the atmosphere, and then turn that into a prediction and then ultimately a forecast, which creates decision space. How do we quantify risk for the fleet? And that's where the model predictions and the expertise of forecasters, oceanographers and meteorologists all come together to make that difference," he explained.
On one of those oceanographic survey vessels — the USNS Heezen — was where the American delegation hosted its reception at the IHO assembly.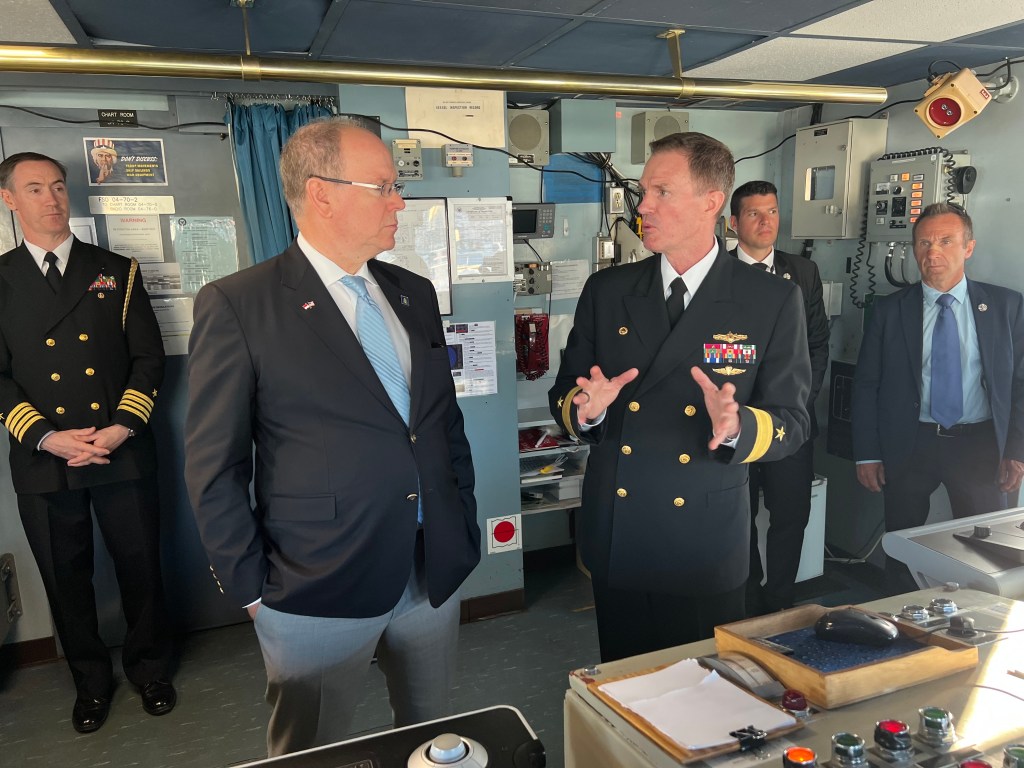 Part of the United Nations-backed organization's major unfolding modernization effort as it transitions from paper charts into electronic navigation with modern technologies encompasses creating new standards to govern the collection and management of that electronic charting data.
"Right now, with IHO leadership, and certainly with the United States behind it, we are proposing a data standard model that's known as the S-100," Piret said.
With "true electronic charts" experts can now manipulate features like the scale and the resolution for zooming in and out of areas, and incorporate data around tide cycles and water depths.
"This is really important for nations — when you think about access into very strategic and busy ports, as ships have gotten larger and their drafts have gotten deeper, really understanding what the depth underneath the keel is, is really important. There's also an aspect that some areas of the globe are becoming more accessible," Piret noted.
In the Arctic region now "ice is thin enough, or breaks up enough that actually opens to shipping — and those are areas where we haven't historically had access to do surveys or the opportunity to create charts, or if we did, the size of the ships that may go into that area have gotten larger," he added. "So, we're also making sure if there's changes in an environment, are we focused in those areas, because that's where the ships are starting to go."
During the assembly in Monaco, "there were a number of proposals that were presented to further the advancement, the S-100 effort," to revamp data collection standards and promote sharing across all member states, Piret also confirmed.
IHO is inherently not a political organization, he emphasized during the interview. Data about movements across ports is important to all nations, from a commercial aspect.
"So, for any ship going into Rotterdam, they need another one's data in order to get into that port, right, and that chart to be made available. Same sort of thing for going into Odesa, Ukraine — the data and understanding the shipping lanes in through the Black Sea into Ukrainian waters, that data has to be shared with every ship, regardless of what nation it is flagged under," Piret added, pointing to international law.
At the assembly though, representatives from Sweden, Norway, Japan, United Kingdom and the U.S. delivered statements expressing support for the Ukrainian people and calling on the Russian Federation to withdraw from Ukraine.
In his non-DOD role representing the government as head of the delegation to the IHO Assembly, Piret's public statement on that element of the assembly was summarized by the recorder as follows: "The [U.S] condemns in the strongest possible terms the Russian Federation's unprovoked and illegal war against Ukraine. We support all efforts to ensure the safety of seafarers, commercial vessels, and the marine environment in the Black Sea and Sea of Azov. It is important to the U.S. that lawful hydrographic services and activities be facilitated, even in situations involving armed conflict, and we note that they are being blocked or degraded by the unprovoked Russian aggression against Ukraine. The swiftest and surest way to address the negative impact of Russia's aggression on hydrographic services and activities in the region is for the Russian Federation to immediately end its illegal war against Ukraine and withdraw all of its forces from Ukrainian territory, including from its internationally recognized territorial sea."
Meanwhile, participants from Russia said they were making every effort to maintain hydrographic activities and assure navigational safety in that region around the Black Sea.
On that, "I would say Russia didn't really address their responsibilities in that area, but they also recognized their responsibilities of sharing data that is collected with member states," Piret told DefenseScoop.
U.S. recognition
The U.S. delegation received recognition for its hydrographic work during the international assembly.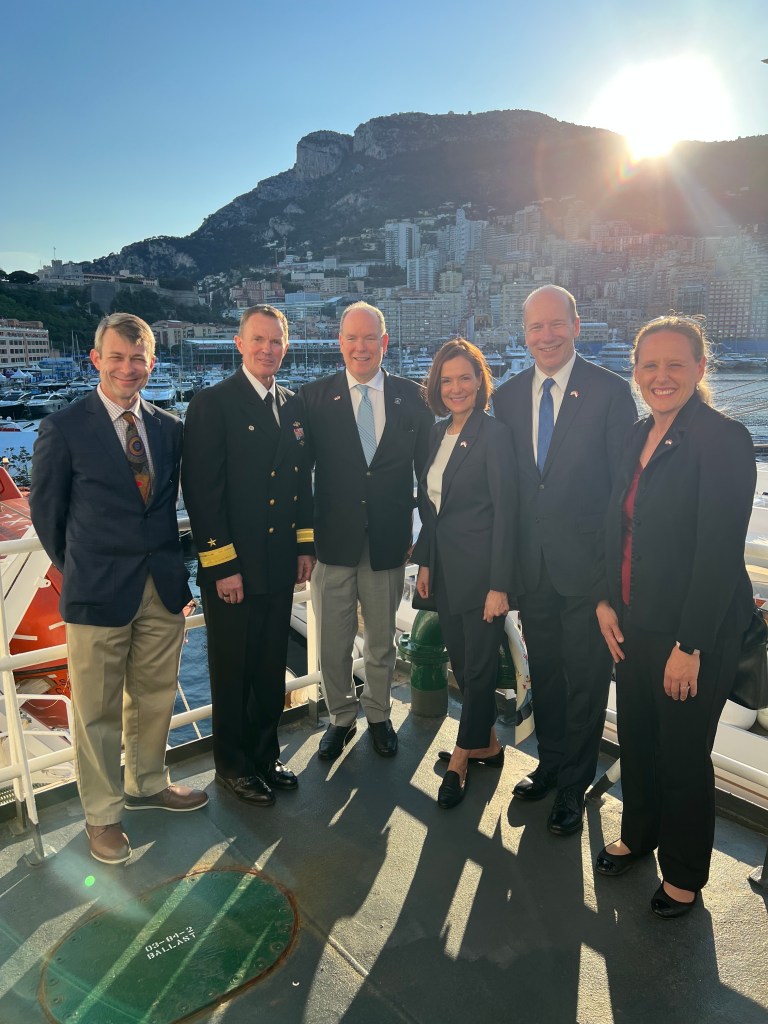 Piret and others demonstrated more than 1,000 datasets on NOAA's Science on a Sphere interactive modeling capability — which won first prize in the assembly's member-state exhibition.
Another member of the U.S. delegation, NGA's Peter Doherty, was also presented an award by Prince Albert for decades of contributions to navigation and standards-building.
"One takeaway for me, being part of that broader team, was how well-respected the U.S. is in hydrography in particular, not only for our technical competency, but our willingness to share, and our willingness to promote others' growth and capacity-building with that. And I think that was reflected in the proposals that we put forward and how those were accepted. And I think it was reflected in one of our members — Dr. John Nyberg — being elected to one of the three senior positions within IHO with a six-year tenure. He's going to be one of two directors underneath the secretary general," Piret reflected.