New DIU director wants to make the Pentagon's demand signal clear for commercial companies
"We just need to make it clearer where that demand signal is and then increase the confidence that we'll be there as the counterpart when it's time to scale," DIU Director Doug Beck said.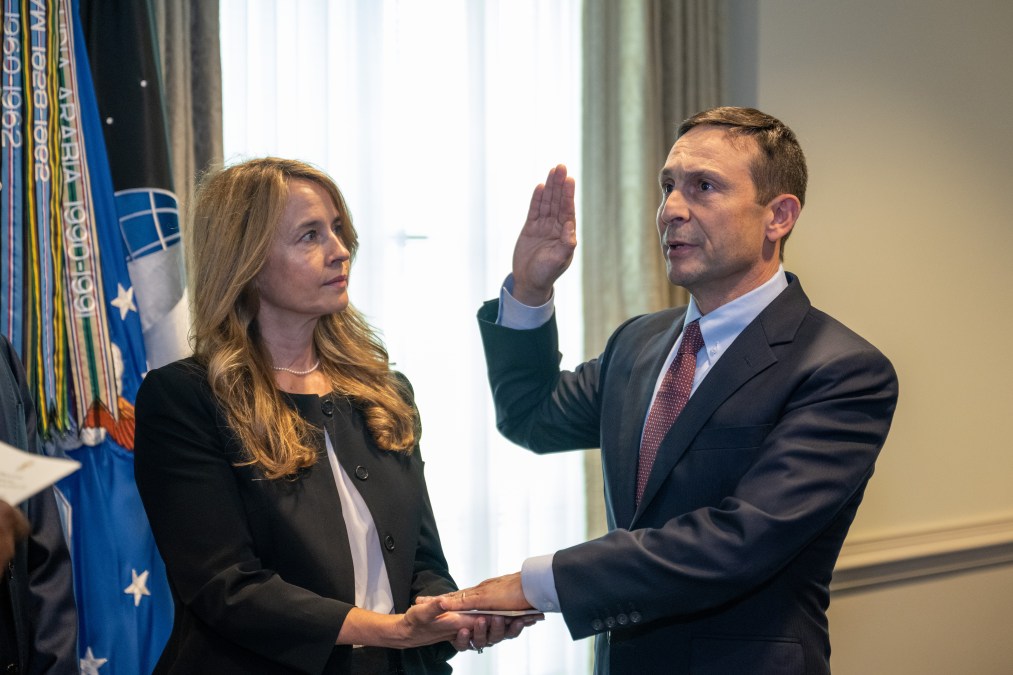 To turn commercial technology into viable products for warfighters, the Defense Innovation Unit (DIU) needs to better communicate its demand signal to industry, according to the organization's new director.
The Defense Department for years has sought to bring in high-tech commercial companies and non-traditional vendors into its acquisition sphere, with ranging degrees of success. Even though there is a renewed desire from the private sector to work with the Pentagon, DIU Director Doug Beck said that the department hasn't done a good job in communicating its priorities to industry.
"There's no shortage of energy, there's no shortage of people who want to work on this and there's no shortage of money. We just need to make it clearer where that demand signal is and then increase the confidence that we'll be there as the counterpart when it's time to scale," Beck said during the Ash Carter Exchange on Tuesday.
A former vice president at Apple Inc., Beck was named DIU's new director by Defense Secretary Lloyd Austin in April and was officially sworn into the role Monday. The Silicon Valley-based organization aims to help the Pentagon identify commercial technologies relevant to its missions and turn that technology into capabilities for warfighters at speed and scale.
However, the department's budget and procurement timelines do not currently match up with the timelines for non-traditional commercial companies, such as start-ups or small businesses, said Will Roper, CEO of Istari and former Air Force acquisition chief.
"Everyone believes that the will is there, but what the process is not organized to do is to bring it in at scale — to mechanize it. It's mechanized to go to war the way that we did in past decades, but it's surely not mechanized for innovation," Roper said during the event.
Beck said as he takes the helm at DIU, he's listening to concerns like these to begin bringing innovation into the Pentagon.
"In order to be in a place that we can [apply] the capabilities that organizations like DIU and others have built to our strategic challenges, we need to do a better job of working across the department to be very clear about which of those many things we might be able to prototype are the ones that are really going to make a difference," Beck said.
One of the biggest problems within the Defense Department's acquisition fold is that, oftentimes, messaging from Pentagon officials does not match the department's actions, said Raj Shah, managing partner at consulting firm Shield Capital and former managing partner of DIU. For example, senior leaders often underscore the importance of artificial intelligence and machine learning for future operations, but the Pentagon in the past has allocated just a fraction of its entire budget to the technology's development, he said.
"If we're spending less than 1 percent of our budget on what we say is the most important thing, that doesn't seem to compute," Shah said during the event.
Closing the gaps between the Pentagon's messaging and what industry brings to the table will be a key goal for the DIU as it moves forward, Beck said.
"We need to do a better job across the department to be very clear about which of those many things we might be able to prototype are the ones that are really going to make a difference," he said. "Just helping to communicate that, so that people in the private sector and the world I just came from understand what that is, will help people to know where to take risks, to know where to make investments [and] to know where to push."