What was different about the latest Advanced Naval Technology Exercise
Rear Adm. Ronald Piret briefed DefenseScoop on ways this tech engagement was unique compared to those of the past.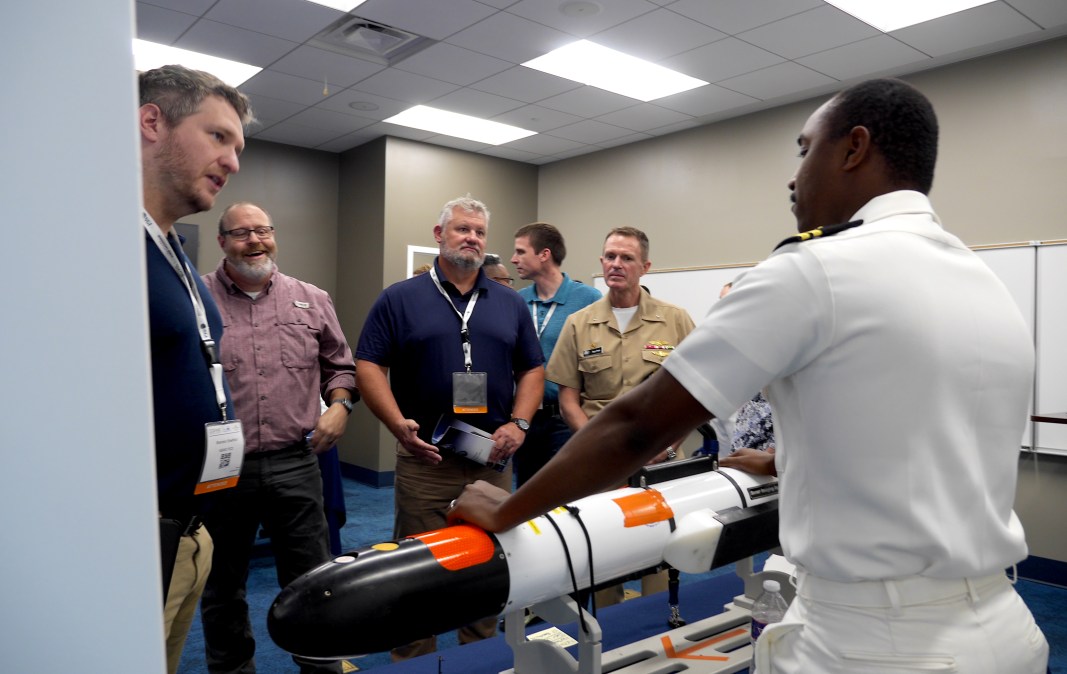 GULFPORT, Miss. — Maritime professionals, high-school students, government and military officials, academics and others roamed the halls and outdoor facilities of the University of Southern Mississippi's Marine Research Center on Sept. 28, where they got to see, feel and discuss emerging ocean-sensing and security technologies the Navy is pursuing alongside its closest federal partners, like NASA and the National Oceanic and Atmospheric Administration.
That event was hosted by the Naval Meteorology and Oceanography Command (CNMOC) and some of its internal and external partners. It marks the latest iteration of ANTX, or the Advanced Naval Technology Exercises, which are part of a long-standing series of events that broadly enable the sea service's members to feature and access new and applicable marine capabilities.
CNMOC's commander, Rear Adm. Ronald Piret (who simultaneously serves as the Oceanographer of the Navy, Navigator of the Navy, and Hydrographer of the Navy) was among the many in attendance. In an interview after the exhibition, he briefed DefenseScoop on ways this 2023 engagement was unique compared to the multiple ANTX events he's participated in previously.
"We saw greater integration within the Naval Commands that were present. So, if you walked around, one of the things that was very obvious was that you saw a uniform, you may have seen an industry or academic partner, as well as a civil servant partner all there — that was a big difference this year in how these teams were formed. And I think the result was the enthusiasm you saw, because there was better understanding of the work and the challenge that they're trying to overcome, and then the integration of what they're doing throughout the year. For me, that was one significant observation that I walked away with," Piret explained.
Broadly, ANTX was designed to spotlight the wide array of partnerships and relationships the Naval Oceanography enterprise has with private industry, academia, and other state and federal government organizations. It's also meant to supply a venue for personnel to discuss modern tech demands they're confronting and demonstrate their subject matter expertise.
"Really, it was born out of trying to do a better job of developing industry, academia and military relationships and getting at some of our toughest problems with the available technology that's out there — so, trying to develop problem sets, share that with academia and industry and researchers and then partner with them, to see how we might solve them with the things that they're working on," Piret explained.
One of the features that was different about this ANTX than others in the past, he noted, is that it facilitated new updates on projects various teams and research hubs have been pursuing — instead of primarily physical demonstrations of certain technologies in action.
"So, I think what you've seen this week is the breadth of activities that we're interested in, and that other researchers in industry are actually working on or evolving to suit our needs, as well as the real interest in the partnerships," Piret told DefenseScoop.
He added: "And I think also what made this year different is really the breadth of activities that you saw demonstrated. It wasn't just all unmanned systems. I mean, literally, it went from the seabed to the stars. We went from what kind of technology can we use to find and fix unmanned systems in the water column — to literally how do we better map the stars and then turn that back to better understand the Earth?"
Referred to by the command as "vignettes," the diverse presentations on display were intended to reveal how different technologies are deployed by the Naval Oceanography enterprise in an assortment of training and real-world, operational settings to meet varying mission requirements.
For example, one vignette focused on a six-person cadre from the Strike Group Oceanography Team-San Diego, which embarked on USS PORTLAND to support forecasting for splashdown and recovery of the uncrewed Orion capsule after the Artemis I mission.
Another spotlighted a partnership between the U.S. National Ice Center, Fleet Weather Center Norfolk, the U.S. Coast Guard and the company Sofar Ocean to deploy 15 Spotter buoys during USGS Cutter Arctic deployments to help bolster safety at sea in data-sparse regions.
"One of the things that we have historically been challenged on — and a reason we kind of shifted on our approach to ANTX — is to do a better job of transitioning this work into operations. Sometimes it's kind of fundamental to get a better understanding of the technology, but in fact — if we're trying to become more agile, if we're trying to become a Navy that is really making use of the very best technology and minds out there — then we also have to become more agile in how we transition these capabilities, or ideas, or concepts into operation," Piret said.
His team is being strategic about doing "a better job in codifying these partnerships, transitioning technology, as well as what we call CRADAs," or cooperative research and development agreements. Through these mechanisms, the command can share insights, data and assets with academic and commercial collaborators who are tackling similar research and development challenges, according to Piret, "in a way that improves both of our efforts and missions."
The buoy effort with Sofar Ocean that was presented at ANTX stemmed from a CRADA that was inspired via a connection at a prior year's event.
And Piret confirmed more are now in the works "because of this" latest engagement.
"[The command has] been at this for a while. So, in the era of truly big data and [in regards to what we can do] with artificial intelligence and machine learning, these folks are really helping us, I think, to harvest more out of this strategic asset that we've got," he said.
The commander further reflected on some of the other vignettes he observed.
"There were actually two efforts that were side by side that I found very interesting. One was really looking at autonomy and how we drive an unmanned surface vessel coupled with then how do you also simultaneously collect data, ensuring that you're able to do that in a constrained environment, or with a lot of traffic at the same time?" Piret said.
He spoke to that group about "command and control using cameras in classifying vessels," he noted. Then, he moved over to hear from another team that was honing in on data and sound-speed profiles (or how sound travels in water) and the previous presenters he'd just met moved over to that table, too.
"So, there were teams within teams, almost — because they were working on how to integrate those efforts overall. I think that also demonstrates that you have to define a problem set, but then you figure out how that applies to other issues, and how do you integrate that? And I think that's indicative of even our own work between mapping the ocean floor, understanding the water column, the air-sea interface, the atmosphere and space. We tie that all together," Piret said.
His unit was deliberate about expanding engagement through ANTX this year, too.
On the culminating day of the Oceans 2023 conference, also happening in Mississippi, attendees were bussed over to experience ANTX. And, for the first time, this ANTX also featured a tour for local STEM-focused high school students.
"We have realized that if you have a chance to talk with a number of our teammates who've been at this for decades, a number of them came in as interns when they were teenagers in high school, and then going through college. And we have atrophied that a little bit. So, one of our efforts this year is to bring in and give exposure to middle school and high school students [where possible]," Piret said.
He hopes the event "planted seeds in young minds of really what their future can hold" in the Navy, he said. And that, like him, they learned something new.
"In an organization this size and with the myriad of challenges that we're working on, there's a lot of activity. I certainly would like to know everything — but what this told me is, I could see each one of these efforts that apply to some of our largest challenges — and, those are the building blocks, right?" Piret told DefenseScoop.