Allies' plans for new AUKUS 'innovation initiatives' unveiled in DOD's 2024 budget request
A new cloud-based, international AI Development Hub is one of five projects planned.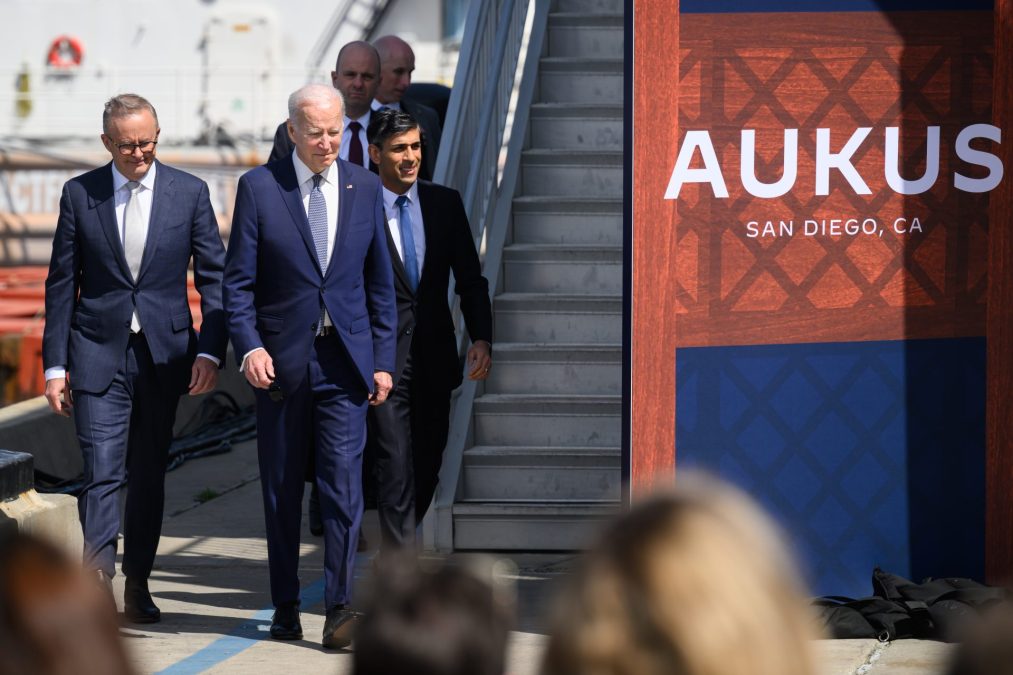 The Office of the Secretary of Defense is requesting $25 million in fiscal 2024 for a new-start program to drive the development of underwater drones, artificial intelligence and other emerging technologies for operations associated with an enhanced trilateral security partnership among Australia, the U.K. and the U.S.
Announced in 2021, the AUKUS pact encompasses the three allies' joint plan to generate a new fleet of nuclear-powered submarines for Australia and other next-generation military capabilities to deploy and ensure advantage against adversaries in the Indo-Pacific region.
In a recent batch of new budget justification documents, the Defense Department requests funding for five new projects — collectively deemed the AUKUS Innovation Initiatives — to accelerate technology deployments.
"This program provides funding to pursue operationally relevant advanced capability co-development, support integration of multi-national capabilities to act as a force multiplier, and test and evaluate promising solutions found across the AUKUS innovation ecosystem," officials wrote in their budget estimate.
The initial $25 million requested for fiscal 2024 is divided across five separate projects.
One pursuit would invest $10 million "to develop payloads to execute specific trilateral missions" involving unmanned underwater vehicles, officials wrote. For another effort, $6 million would be used to "purchase commercial space data to incorporate in an existing project that fuses and processes data derived from distributed platforms to support decision-making."
The three international partners also envision the making of "a new cloud-based AUKUS AI Development Hub to support the exchange of data and support trilateral collaboration within a shared modeling and simulation environment," according to the budget documents. Once fully developed, that digital resource would promote fresh experimentation and demonstration opportunities for their militaries. The Pentagon is asking lawmakers for $5 million in fiscal 2024 to support that effort.
DOD's request also includes $3 million to conduct a series of engineering and architecture studies supporting the integration of existing and future AUKUS capabilities — and $1 million for a project that will concentrate on enhanced battlespace awareness among the allies.
"The AUKUS Innovation Initiative will leverage the [DOD's] most efficient and effective cooperation or acquisition approaches to support the appropriate transition pathway," officials wrote.
On top of the $25 million requested for the initiatives in fiscal 2024, the Pentagon also projects that it will request $25 million per year in the fiscal 2025-2028 time frame for these efforts as the work evolves.
Spokespersons from the Office of the Secretary of Defense have not responded to DefenseScoop's inquiries regarding how much funding the U.K. and Australia would supply for the AUKUS Innovation Initiatives described in the Pentagon budget documents.