Navy's simulation technologies 'recreate' real-world mishaps to boost training for future fights
DefenseScoop learned all about the efforts during a recent technology-focused tour at Naval Base San Diego.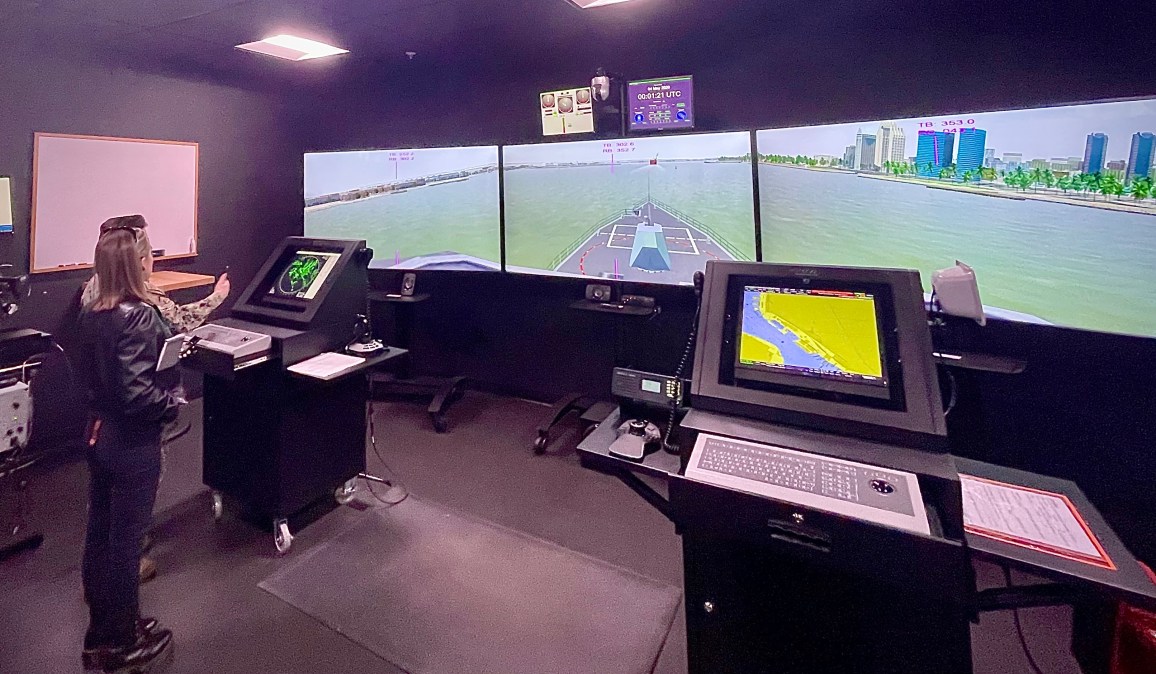 Naval Base San Diego, Calif. — New and emerging training technologies that deepen collaboration and simulate "real-life" military operations are helping build confidence for Navy surface mariners on different career paths — and the instructors charged with preparing them for modern missions at sea.
"I taught a class this morning and there were students across the gambit of ships," Lt. Daniel Vossler told DefenseScoop during a recent visit to Naval Base San Diego.
In conversations during and after a technology-focused tour around that sprawling U.S. military facility, Vossler and Capt. Leonardo Giovannelli briefed DefenseScoop on the early progress and potential of the service's Mariner Skills Training Center, Pacific.
Giovannelli serves as the first-ever commanding officer of MSTCPAC (pronounced "mystic-pack").
The advanced training center's roots trace back to the investigations conducted in the wake of the separate, fatal collisions involving the USS McCain and USS Fitzgerald destroyers. In June 2017, the Fitzgerald collided with a Philippine-flagged container ship off the coast of Japan. Months later in August 2017, the McCain and a Liberia-flagged oil and chemical tanker collided near Singapore.
In total, 17 U.S. sailors were killed between those two crashes, which experts determined were both avoidable in the follow-up oversight review. Photographs of those 17 sailors hang on a wall near the entrance of one of the new simulation facilities in San Diego as a reminder of their sacrifice.
At the direction of the Surface Force Comprehensive Review carried out in the collisions' aftermath, the Surface Warfare Schools Command had to set up comprehensive mariner skills training centers that could strengthen education and development activities — and ultimately correct and improve on deficiencies cited in the follow-up investigations of the 2017 incidents.
MSTCPAC in San Diego — and Mariner Skills Training Center, Atlantic (MSTCLANT) at Naval Station Norfolk in Virginia — were formally established on Oct. 1, 2020.
At MSTCPAC, they're still in the very early stages of fully realizing this data-driven new training environment. But "now mistakes that folks have made or difficult situations that people have been in, we can recreate those and then give people the opportunity to step in and see what occurred," Giovannelli explained.
"I can either put it in there where I simply play it, and the individuals can sit there and watch the actual incident unfold. Or, we can put them in and they can actually drive the ship and see if they would do something differently," he said.
Learning from past mishaps
In his nearly 23 years of Navy service, Giovannelli has commanded multiple ships, conducted counter-drug operations in South America and also deployed to Asia, the Middle East and elsewhere around the globe.
"After I finished that work, I came here and we stood up the Mariners Skills Training Center. So I'm the first commanding officer. We call those 'plank owners' — whoever is part of the first group to kind of run a command," he said.
Some simulation capabilities are still under construction. But during the tour of the base, DefenseScoop was able to observe and engage with some of the technology setups that are designed or being built to parallel the look and feel of Naval operations that play out on actual ships, and also apply actual data from military sources to inform the different types of training offered.
"This is an accurate representation of what shipboard navigation looks like without all the dressing," Vossler told DefenseScoop of one of the larger installations.
He and Giovannelli highlighted the center's educational courses and approaches for technology-led training.
"We have all kinds of different ship classes in each of the simulators. So, depending on what you want to show an individual — either a student or the [crews of] ships that come through training — we can recreate a scenario," Giovannelli explained.
That means if incidents occur, officials can use the data captured in the real-world events to simulate the exact environment leading up to them to help mariners learn about what went wrong.
Or, "the [commanding officer] can focus on, 'Hey, I want to practice this one thing — or we're heading out to X-Y-Z port and I want to have the opportunity to have my bridge team actually see what it's like to do that," Giovannelli said.
Currently at MSTCPAC, new surface warfare officers are trained with different simulators before they head out to missions at sea. They learn about the dynamics of working as a team on the bridge, navigation and shiphandling practices, how to deal with low-density and other complex traffic scenarios — and ultimately how to best apply the Navy's "rules of the road" depending on what types of issues they might encounter.
A basic scenario is built for one of the main use cases, but as soon as students begin the simulation, instructors can manipulate elements of the context — like their course or speed — "so that way, I'm forcing the interaction, I force the student to have to assess the situation and then act," Giovannelli also noted.
Enlisted sailors who support efforts around navigation and shiphandling are also set to be recurrently trained via the hub's current and future simulators throughout their careers. With the newest simulator that's still in-the-making — which is large compared to some of the others and looks like an actual bridge of a ship and should be ready for use in the next two years — leaders will also be able to better inform and conduct skills assessments.
"Right now in a lot of the assessments that we do for navigation, we will take some assessors, they'll head out on the ship, and then they'll take the ship out to a port and we'll do simulations while we're on there. So, for example, if we have low visibility, we'll do some training where we'll put up some cheesecloth on the windows, sometimes, to simulate low visibility, or we'll simulate casualties. The good thing here is [with the newer tech] I can actually run all of that in the simulator," Giovannelli said.
In his role steering MSTCPAC, Giovannelli connects weekly with his colleagues leading the simulation centers at other U.S. military bases.
"Just yesterday, we had a mariners skills assessment synchronization that we do. So in that one, over the phone, we talked about, 'Hey, how did we grade this one assessment? This was a difficult scenario that popped up and a student did the following thing.' We have those conversations to ensure continuity of training and the same standards across the board — no matter which location you go — and I know that that's one of the priorities for all of us," he said.
Beyond those at the MSTC centers in San Diego and Norfolk, as well as at the Surface Warfare Schools Command in Newport, Rhode Island, there's also simulators at all the fleets' concentration areas, including in some nations outside of the U.S.
"So no matter where you're stationed, you're going to be able to go into the simulators and the ships, and their commanding officers can get that simulator training," Giovanelli said.
Big potential
In their comprehensive investigation of the major ship collisions and other associated cases, experts found that "in every mishap, departures from procedures or approved customary practices were deemed to have directly contributed to the mishap."
Among their many recommendations, the reviewers called for the Navy to "improve seamanship and navigation individual skills training for Surface Warfare Officer candidates, Surface Warfare Officers, Quartermasters and Operations Specialists" and to "create an objective, standardized assessment program to periodically assess individual seamanship and navigation skills over the course of a Surface Warfare Officer's career."
Giovannelli noted: "During a period early in the 2000s, we got rid of a lot of the training that junior officers get. We transitioned into something called 'SWOs in a Box.' It was a set of CDs, and we sent them off to their ship to get more on-the-job training and training off of the CDs. So now we've really shifted back to 'let's go back into classroom training and teach all the basics, have that consistency of training across the board, and get them all the [foundation] that they need before they head out to the ship.'"
While it's still very much evolving, the commanding officer said he is already witnessing much higher "level of confidence" among mariners who recently completed simulation-based training at MSTCPAC and deploy to sea with the skills they learned there.
"We take course critiques after every course. You know — 'What did we do well? What are the things that we could do better?' — along those lines. And all of them pretty much say, 'Hey, I've really gotten a lot out of this course and I feel a lot more comfortable heading back out to the ship,'" he said.
Unlike CD- or book-based training of past decades, simulators enable officials to interact and adapt with their team as they would on a ship.
"There's a lot of different right ways of doing [this work]. There's not just one answer to a problem," Giovannelli said. He noted that in all the assessments he's led in his career so far, he has "never seen two students do it exactly the same."
This is all "still in the early phases" but Giovannelli confirmed his team is collecting data as they move forward to improve how the service tracks training trends and improvements across the board.
In conversations with DefenseScoop, both he and Vossler also pointed out that none of the instructors at the center for the initial training courses are graduates of these more modern courses — yet.
"Those courses started after they were division officers and they kind of completed their tours. Probably early next year is when I will start getting instructors that have actually been through that simulation training," Giovannelli said.
"But I'm excited too. Once we get instructors who have actually been through the entire course, you'll see that that level of training kind of increases," he added.
And as this pursuit continues to mature in the near term, he and the center's other leaders are also keen to prioritize the integration of simulator capabilities.
"Right now here in this simulator, I'm just focusing on navigation and seamanship — but we also have other components of maritime warfare interacting with other services and things like that. So, there's a lot of potential. Once you start linking up different systems, you can go from the basics and then start moving up into integrated training, advanced training, training with other services and joint training as you're doing different things. So there's absolutely a lot, a lot of potential. You can take this I think anywhere you want to go," Giovannelli said.