First US exascale supercomputer expected to drive 'eyebrow-raising' national security applications
As America's first in-operation exascale system, Frontier has the proven capacity to perform one quintillion — or a billion billion — calculations per second.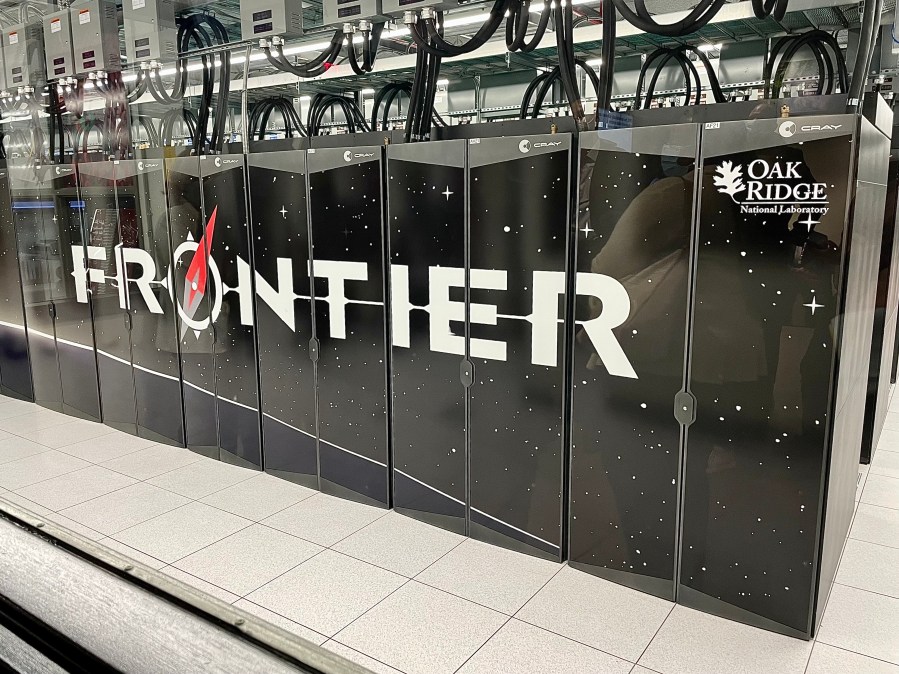 Top U.S. officials are eager to see potentially game-changing national security applications be enabled by the world's most powerful supercomputer, Frontier.
As America's first in-operation exascale system, Frontier has the proven capacity to perform one quintillion — or a billion billion — calculations per second. Years in-development, the complex machine earned the top ranking as the fastest supercomputer on Earth when it was measured in May, reaching 1.1 exaflops of performance on the latest TOP500 list, following a set of standard tests that researchers conduct annually to compare the most advanced machines among competing nations. (Some experts speculate that China has built its own exascale systems that have yet to be publicly ranked.)
Frontier was formally unveiled last month at the Tennessee-based Oak Ridge National Laboratory (ORNL), which has roots that go back to supporting the initiative that led to America's development of the world's first atomic bombs during World War II.
"Since the earliest days of ORNL when we were established as part of the Manhattan Project, we have provided cutting-edge science to support national security. Frontier will continue that legacy, offering significant insights to enable the development and deployment of new technologies, materials, and capabilities that will serve the nation," the lab's Director Thomas Zacharia recently told DefenseScoop in an email.
His remarks echoed sentiments he expressed to Deputy Defense Secretary Kathleen Hicks and Deputy Energy Secretary David Turk during their recent tour of the lab to look into unfolding R&D initiatives.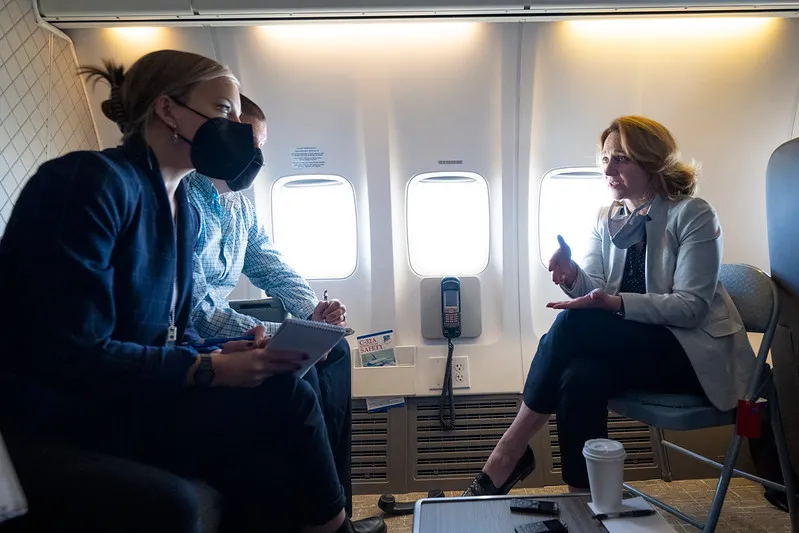 The lab was the first stop on a two-day trip across four states that Hicks led to review tech-focused government-driven projects. DefenseScoop accompanied her on the tour.
"We are just finishing up our second stop here at [the Air Force Research Lab at] Wright-Patterson Air Force Base and we began the day over at Oak Ridge," Hicks told DefenseScoop during a meeting with a small group of reporters towards the end of the first day of her whirlwind trip. "I think the big theme coming out of the whole day for me is really the reinforcement of the U.S. innovation ecosystem advantage, right, where we are able — and we saw it in spades today — to bring together research communities, the government and industry in a very problem-centric way to go after issues that are facing the warfighter and deliver results."
At the core of the next-generation of high performance computing (HPC) are exascale machines.
Massive and powerful, such systems are anticipated to simulate processes associated with national security and scientific discovery in more realistic ways than what has ever been done before. The Energy Department in 2019 announced plans to buy Frontier from computing manufacturer HPE-Cray and chipmaker AMD via a contract worth around $600 million.
Other U.S. exascale supercomputers are also currently being built at other DOE labs. Originally, Frontier was not slated to be the first U.S. exascale system to reach functionality — but manufacturing delays for components of another system pushed it to the front of the pack.
"The herculean public-private effort required to deploy this incredible 'serial number one' system is itself a testament to the talent, commitment and ingenuity of the U.S. workforce in the STEM fields, especially high performance computing," ORNL's Associate Laboratory Director for Computing and Computational Sciences Doug Kothe recently told DefenseScoop. "That in itself is an embodiment of national security for the U.S."
Through pathfinding joint efforts like this one, in his view, high-tech products and solutions that ultimately benefit American taxpayers are both accelerated and improved.
"Better technology has a direct impact on U.S. national security," Kothe added.
Frontier's components take up space roughly the size of two football fields and each cabinet weighs thousands of pounds.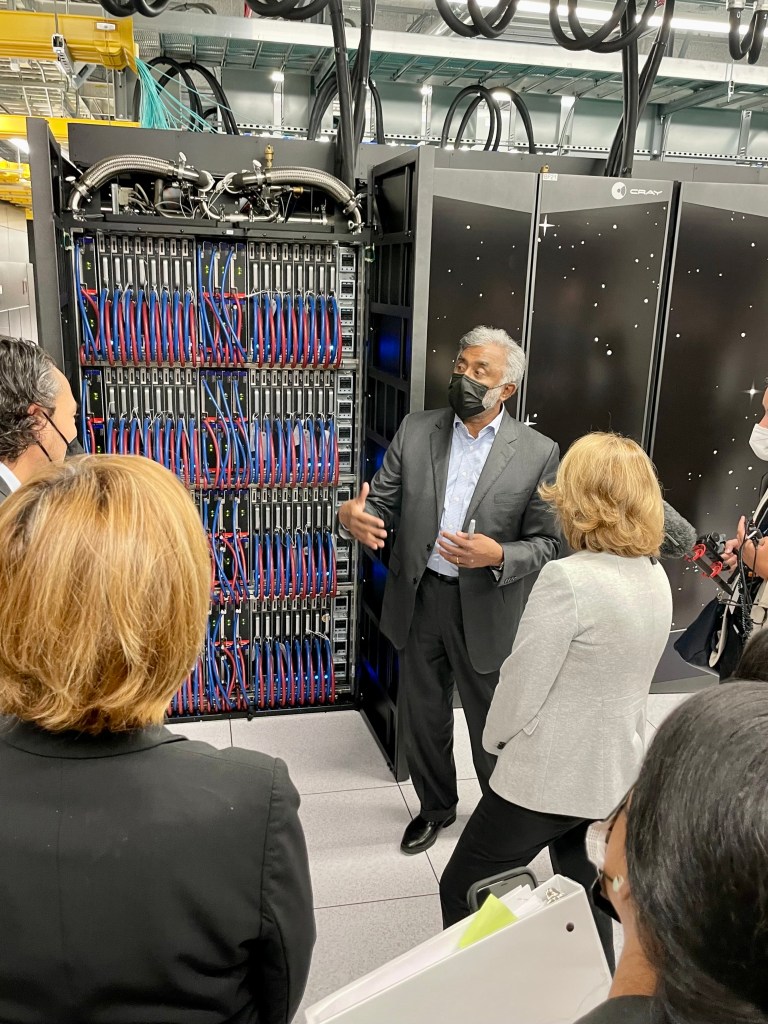 During Hicks' ORNL visit, Associate Laboratory Director for National Security Sciences Moe Khaleel told DefenseScoop that Frontier will prove essential to assessing data on crucial military topics, such as the state of battlefield assets.
"In hypersonics, you need to simulate complex things. And I think a tool like Frontier can actually prove to be extremely, extremely important to us for that. So, there's a lot of defense applications a machine like this can help us advance," Khaleel explained.
After the visit by senior DOE and DOD officials, Kothe told DefenseScoop that the lab leaders "enjoyed interesting discussions about the role and impact of exascale-class artificial intelligence and machine learning, whereby larger models than ever can be trained — in terms of number of parameters." And that, he noted, holds promise to lead to potentially more accurate predictions, efficient extraction of knowledge, and elucidation of data relationships and correlations than ever before.
"This is a very exciting time. Many of us who have been working for years toward Frontier's deployment as a 'used, usable, and affordable' system now see a fantastic reality that cannot be denied. Next step is for the HPC, science, and engineering communities to show the world the types of problems we can address and ideally solve," Kothe said. "Stay tuned, because I'm confident we are all going to see some 'eyebrow-raising' solutions and insights to roll off this system."