Pentagon tight-lipped about new counter-drone technology destined for Ukraine
The latest tranche of U.S. security assistance for Ukraine includes what Defense officials have vaguely described as a "suite" of counter-drone technologies.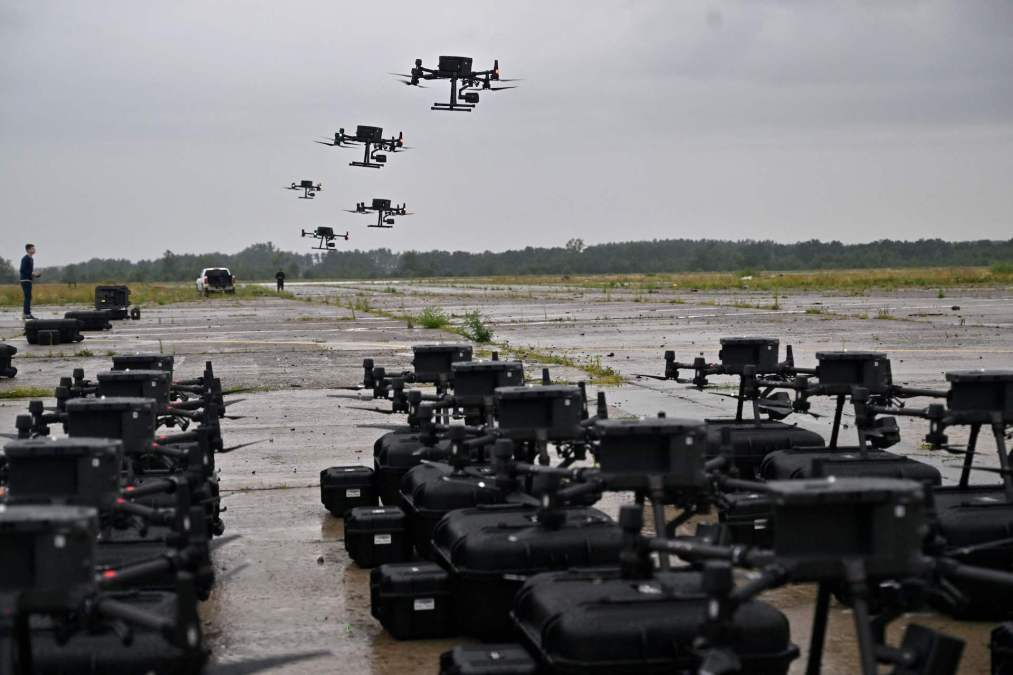 The latest tranche of U.S. security assistance for Ukraine includes what Defense officials have vaguely described as a "suite" of counter-drone technologies. But the Pentagon's top weapons buyer is being tight-lipped about what exactly they are.
On Wednesday, a senior Defense official briefing the media on condition of anonymity said the capabilities will be able to "detect, track and disrupt" Russia's unmanned aerial systems that are being used against Ukrainian forces, but offered no additional details.
During a press conference on Friday, DefenseScoop asked Undersecretary of Defense for Acquisition and Sustainment William LaPlante for more details about the technologies.
"We're not giving details, at least right now, on which counter-UAS systems were in the tranche," he replied.
Drones have played a key role during the Ukraine-Russia war for both sides, and the Pentagon hasn't always been mum about what it's planning to provide to Ukraine to defeat Russia's unmanned aerial vehicles. Last month, officials revealed that the DOD would procure L3Harris' VAMPIRE system that "uses small missiles essentially to shoot UAVs out of the sky," as Undersecretary of Defense for Policy Colin Kahl told reporters.
Notably, most of the weapons in the new package will be procured from military contractors using Ukraine Security Assistance Initiative (USAI) funds — not drawn from existing DOD stocks — so they won't be delivered to Ukraine for another six to 24 months, according to the senior Defense official who briefed reporters on Wednesday.
LaPlante noted that the DOD has been reaching out to industry to get more ideas about counter-drone capabilities, including as part of an RFI issued earlier this year.
"When we did the request for information about four or five months ago for to industry, that's one of the things we asked for — give us all your ideas on defeating UASs. And there's lots of ideas. There's directed energy ideas, there's obviously electronic, like high-powered microwave [systems]. Then, of course, there's kinetic kill or proximity fuse approaches. There's just attacking the [drone's data] link itself, taking away the PNT. There's lots of counter-UAS ideas and techniques that are out there. We just encourage people to keep thinking about them and proposing ideas," he said.
For years, the DOD and its allies and partners has been looking for new and better ways to defeat drones.
"The U.S. particularly, we've had a whole series of counter-UAS initiatives going back a decade, where we've done demonstrations, we've held contests. We funded — we have a lot of funding in our S&T community, our science community. A lot of universities are involved in it," LaPlante said.
But drone/counter-drone operations aren't just about technology, he noted. What the military calls "tactics, technique and procedures" are also important.
"The adversary is constantly changing how they're using them. And then the defenses are always trying to change to how to counter them," LaPlante explained.
The increasing use of kamikaze drones in Ukraine and elsewhere is one example of how drones can be employed on a battlefield.
"For example, if you … want to use a UAS that has a warhead on it, and you want to use it to crash into something with precision, basically use it almost as a one way — think of it as a controllable weapon, which is how some of them are being used — that's a tactic you can use. And the question is, what's the best way to defend against that?" he said.
"Fortunately, over the last decade, this has been worked very hard, and there's lots of different techniques on how to defend against them. But every time there's a new defense against them, then typically the offense will figure out a way around it … So, it's really not [just a matter of developing] technology. It's really just rapidly changing your tactics on both sides."
Deputy Undersecretary of Defense for Policy Sasha Baker noted that many DOD components are involved in finding counter-drone solutions, including the Research and Engineering and Acquisition and Sustainment directorates, the services, U.S. Special Operations Command, and others.
The department is learning a lot from how unmanned aerial vehicles are being used in Ukraine, she said during the press conference with LaPlante on Friday, noting that they have been employed in other parts of the world as well.
Russia has turned to Iran to procure drones that can use against the Ukrainians, according to U.S. officials.
"We know that the Russians have sent operators to receive training in Iran on how to use the UAV systems that Iran has provided. And you know we've assessed again that they intend to use these UAVs for not only the kind of additional air-to-surface attacks, but also potentially electronic warfare targeting on the battlefield in Ukraine," she said.
She described Moscow's reliance on Tehran for providing these types of capabilities at this point in the war as a sign of "a bit of desperation on the part of the Russians."
"We know their military is suffering from major supply shortages in Ukraine, in part because of sanctions and export controls. And it's forcing them to rely on some unreliable countries for supplies and equipment," Baker said.
"We have seen some evidence already that the UAVs associated with the transfer from Iran have already experienced numerous failures on the battleground — on the battlefield in Ukraine. So, I think the idea that they represent some sort of technological leap ahead, frankly, we're just not seeing born out … in the data," she added.