Air Force planning for 1,000 robotic wingmen
This figure was derived from assuming two CCAs each for 200 NGAD platforms and an additional two for each of 300 F-35s, Air Force Secretary Frank Kendall said.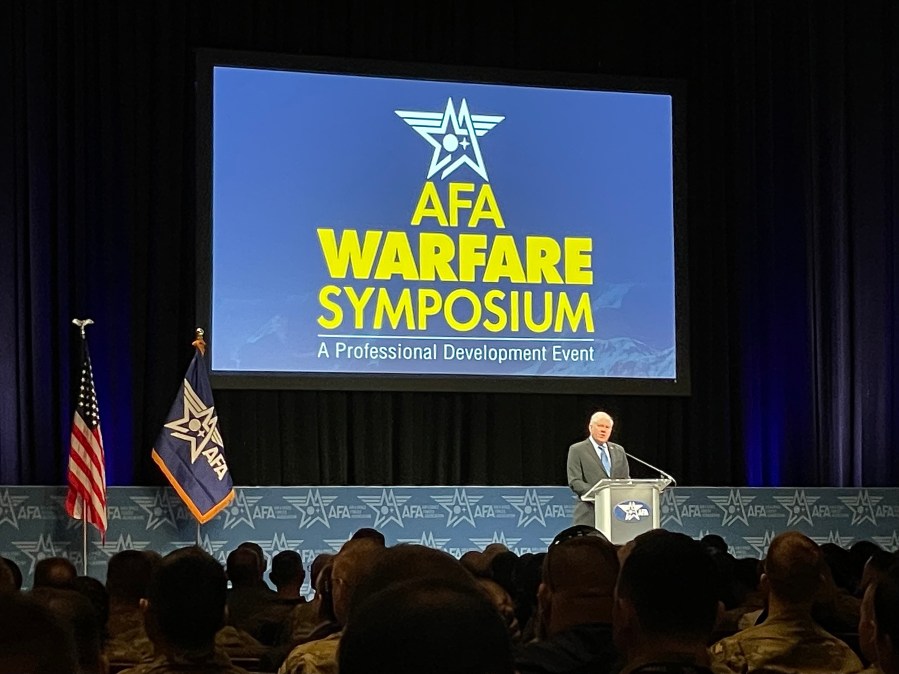 AURORA, Colo. — Senior officials are making progress on generating the Air Force's Next Generation Air Dominance (NGAD) family of systems — envisioned as a new manned stealth fighter partnered with drones known as collaborative combat aircraft (CCAs) — and they recently delivered the service's planners with a notional quantity of total systems they're eyeing, Secretary Frank Kendall announced on Tuesday.
"That planning assumption is 1,000 CCAs. This figure was derived from assuming two CCAs [each] for 200 NGAD platforms and an additional two for each of 300 F-35s, for a total of 1,000," Kendall said during his keynote at the AFA Warfare Symposium.
"This isn't an inventory objective, but a planning assumption to use for analysis of things such as basing, organizational structures, training and range requirements, and sustainment concepts," he noted.
The Air Force must accelerate technological change and be integrated with allied partners "by design" to confront future threats, Kendall said, especially if it aims to out compete its top challenger: "China, China, China."
He emphasized that, under the maturing plan, the CCAs will complement and enhance the performance of the service's crewed fighter force structure, and the drones will not impact the planned manned fighter jet inventory.
"One way to think of CCA is as remotely controlled versions of the targeting pods, electronic warfare pods or weapons now carried under the wings of our crewed aircraft. CCAs will dramatically improve the performance of our aircraft and significantly reduce the risk to our pilots," Kendall said.
Though he did not share much details on the Air Force's impending budget request for fiscal 2024, which is expected to be released in the coming days, Kendall confirmed that his team "will be requesting the resources needed to move these programs forward, along with associated risk-reduction activities that will allow us to explore operational organizational and support concepts as well as reduce technical risk."
During his keynote, Kendall did not provide a timeline or insights regarding when the service expects the robotic wingmen to be fielded — but in a media roundtable after his speech on Tuesday, he told DefenseScoop that the Air Force is "going to move as fast as possible" to develop and unleash the systems.
"The whole motivation initially on CCAs was observations over the last several years of a number of technology programs in that area that were being successful," Kendall said.
He pointed to DARPA's Air Combat Evolution (ACE) program and Australia's Loyal Wingman program, among others, as examples.
As soon as he assumed his position as head of the Air Force, he asked his scientific advisory board to specifically look at the maturity of that suite of technologies to determine whether or not the service could proceed with a CCA type of program that was intended to move into production, he noted.
"And the answer is 'yes' from that advisory board," he told DefenseScoop. "So that's all evidence I have that we're moving in the right direction."
Air Force acquisition executive Andrew Hunter told reporters: "We have been looking at an acquisition strategy and fielding in increments, and as the secretary said, the initial increment being one that we think is very much within grasp, not trying to shoot too far. So that suggests, you know, by the end of the decade we intend to start fielding them."
However, senior officials acknowledge that Congress will play a major role in determining whether or not the grand plan comes into fruition.
"I am concerned about the [political] polarization this year, and how that's going to affect how things ultimately come out," Kendall said.
Updated at 6:00 PM on March 7, 2023: This story has been updated to include additional comments from Air Force Secretary Frank Kendall and Air Force acquisition executive Andrew Hunter at a media roundtable at the AFA Warfare Symposium.