DARPA's LongShot air-launched drone program approaching key milestones
The initiative aims to develop an unmanned aerial vehicle that can employ multiple air-to-air weapons after being launched from a crewed aircraft.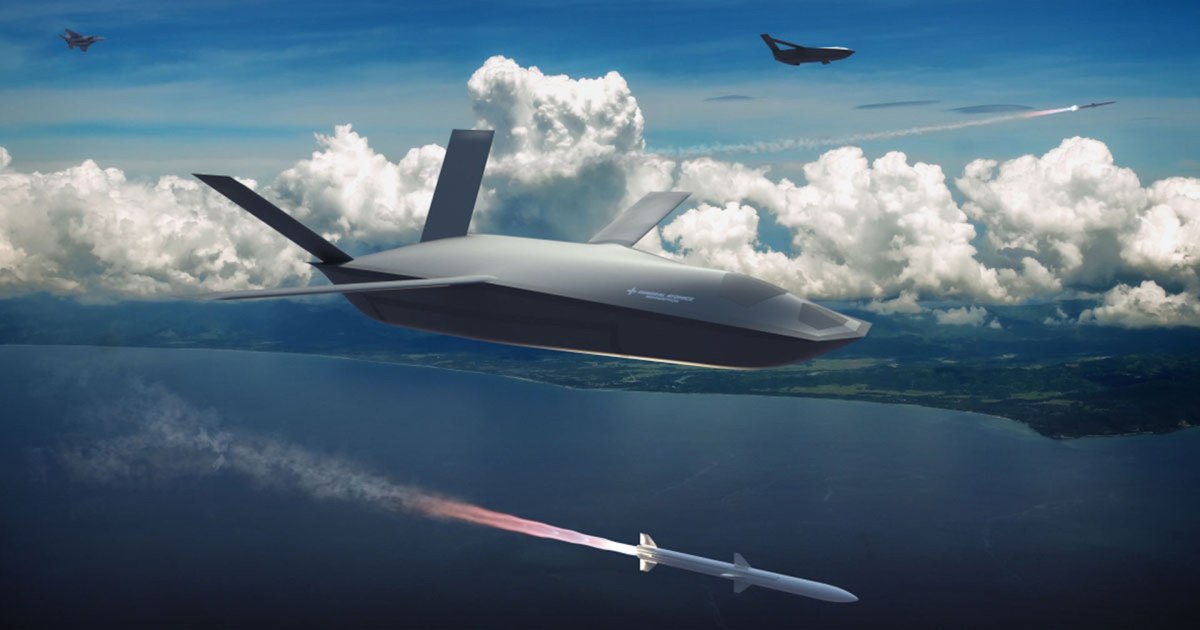 A Defense Advanced Research Projects Agency initiative aimed at developing armed drones that could be launched from other aircraft is approaching a critical design review, with General Atomics Aeronautical Systems Inc. (GA-ASI) as the only prime contractor remaining in the program.
The LongShot initiative aims to develop an unmanned aerial vehicle that can employ "multiple air-to-air weapons," according to a DARPA press release that came after phase 1 contracts for preliminary design work were awarded to General Atomics, Lockheed Martin and Northrop Grumman in 2021.
The agency wants "a novel UAV that can significantly extend engagement ranges, increase mission effectiveness, and reduce the risk to manned aircraft," per the release. "Current air superiority concepts rely on advanced manned fighter aircraft to provide a penetrating counter air capability to effectively deliver weapons. It is envisioned that LongShot will increase the survivability of manned platforms by allowing them to be at standoff ranges far away from enemy threats, while an air-launched LongShot UAV efficiently closes the gap to take more effective missile shots."
Earlier this week, General Atomics announced that it was tapped last year to participate in phase 2 of the project after it successfully completed a preliminary design review. A DARPA spokesperson told DefenseScoop that the company was the only industry player selected for the second phase.
Phase 2, which includes detailed designs and ground tests to demonstrate the viability of key subsystems, has already seen a "multi-body wind tunnel test, characterizing the LongShot air vehicle and air-to-air weapon separation," according to a GA-ASI release.
The second phase of the program is now "close to an end," the DARPA spokesperson told DefenseScoop, and a critical design review for the technology will occur "in the next few months." A contract award for phase 3 will likely come in a similar time frame, they said.
General Atomics is currently preparing a proposal response for that next phase, which would include prototype manufacturing and the kick-off of flight testing next year, according to the contractor.
"GA-ASI is committed to the successful flight demonstration of the LongShot air vehicle," senior director of advanced programs Michael Atwood said in a statement.
The LongShot UAV will be able to be launched by manned fighter jets, transports or other aircraft, and shoot down enemy aircraft, the contractor said in a series of tweets Monday.
The company recently conducted the first flight of another air-launched drone that it's working on called the Eaglet, which is designed to carry sensors and other payloads. The system was carried and deployed from another unmanned aerial system — a U.S. Army MQ-1C Gray Eagle Extended Range — during a demonstration at Dugway Proving Ground, Utah, in December.
"Eaglet is intended to be a low-cost, survivable UAS with the versatility to be launched from a Gray Eagle, rotary-wing aircraft, or ground vehicles. It enables extended reach of sensors and increased lethality while providing survivability for manned aircraft," GA-ASI President David Alexander said in a statement in January after the demo.