Mojave drone takes off and lands aboard Royal Navy aircraft carrier
The trial came as the U.K. and U.S. are pursuing new robotic platforms for strike, ISR and other missions.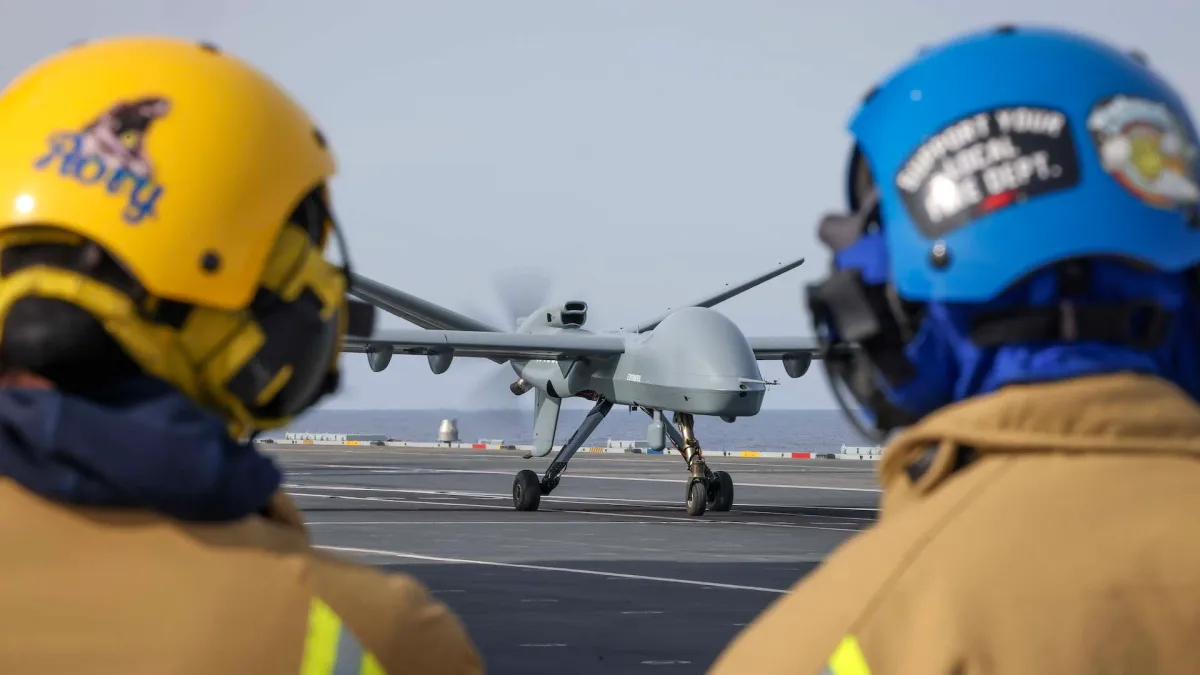 A Mojave unmanned aerial system designed for short takeoff and landing (STOL) was put through its paces in a maritime environment this week when it operated from the HMS Prince of Wales aircraft carrier, the U.K. Royal Navy and drone maker General Atomics announced Friday.
The demo took place Nov. 15 off the coast of Virginia. The trial came as the United Kingdom, United States and other nations' militaries are pursuing new robotic platforms for strike, intelligence, surveillance and reconnaissance, and other missions.
The drone's avionics and flight control systems stem from General Atomics' MQ-1C Gray Eagle and the iconic MQ-9 Reaper. The technology also leverages U.S. Army investments in open architecture, autonomy and "machine learning processing" capabilities, according to the manufacturer.
The platform is 29 feet long with a 52-foot wingspan. It can fly for more than 25 hours, carry up to 16 Hellfire missiles and ISR equipment, reach an altitude of 25,000 feet, and fly at a top speed of 140 knots, per a product description.
During this week's demo, which entailed takeoff, circuits, approaches and landing back onto the Prince of Wales, the UAS was remotely operated from a control station onboard the aircraft carrier, General Atomics said in a release.
The flight deck of the ship is 70 meters wide and 280 meters long, according to the Royal Navy.
The sea service has been operating drones from its carriers — including hand-launched systems — but they are smaller than the Mojave and aren't capable of performing long-endurance missions, it noted in a release.
"The Mojave trial is a European first – the first time that a Remotely Piloted Air System of this size has operated to and from an aircraft carrier outside of the United States," Rear Adm. James Parkin, director develop for the Royal Navy, said in a statement. "The success of this trial heralds a new dawn in how we conduct maritime aviation and is another exciting step in the evolution of the Royal Navy's carrier strike group into a mixed crewed and uncrewed fighting force."
The event had been highly anticipated after plans for it were announced earlier this year.
"With so many international partners interested in the results of these Mojave trials on board HMS Prince of Wales, I am delighted that we are taking the lead in such exciting and important work to unlock the longer-term potential of the aircraft carrier and push it deep into the 21st Century as a highly-potent striking capability," Second Sea Lord Vice Adm. Martin Connell said in a statement.
The demo came about three months after General Atomics tested the Mojave's ability to conduct short takeoffs and landings on a dirt strip near El Mirage, California.
"We knew our STOL capability would enable a UAS to safely take off and land on the Prince of Wales. Seeing our Mojave operate successfully in this environment opens myriad new ways our aircraft can be used to support multi-domain naval operations," General Atomics Aeronautical Systems Inc. CEO Linden Blue said in a statement Friday.
The company is also planning for a STOL variant of the larger and more capable MQ-9B drone that would also be able to operate from a flat-deck warship, according to the contractor.
C. Mark Brinkley, a General Atomics spokesperson, told DefenseScoop that the company's STOL capabilities for medium-altitude, long-endurance drones offer possibilities for the U.S. military services, as well as special operations forces.
"We are actively discussing and promoting both the Mojave STOL and MQ-9B STOL concepts at air shows and trade shows around the world, including U.S. military shows, and talking about the possibilities with defense leaders at every opportunity," he said in an email in August shortly after a demo of the Mojave in California took place.