Air Force requests approximately $500M in fiscal 2024 to launch new CCA drone program
The funding would go toward three lines of effort: platform development, autonomy development, and standing up an "experimental operations unit" to explore operating concepts.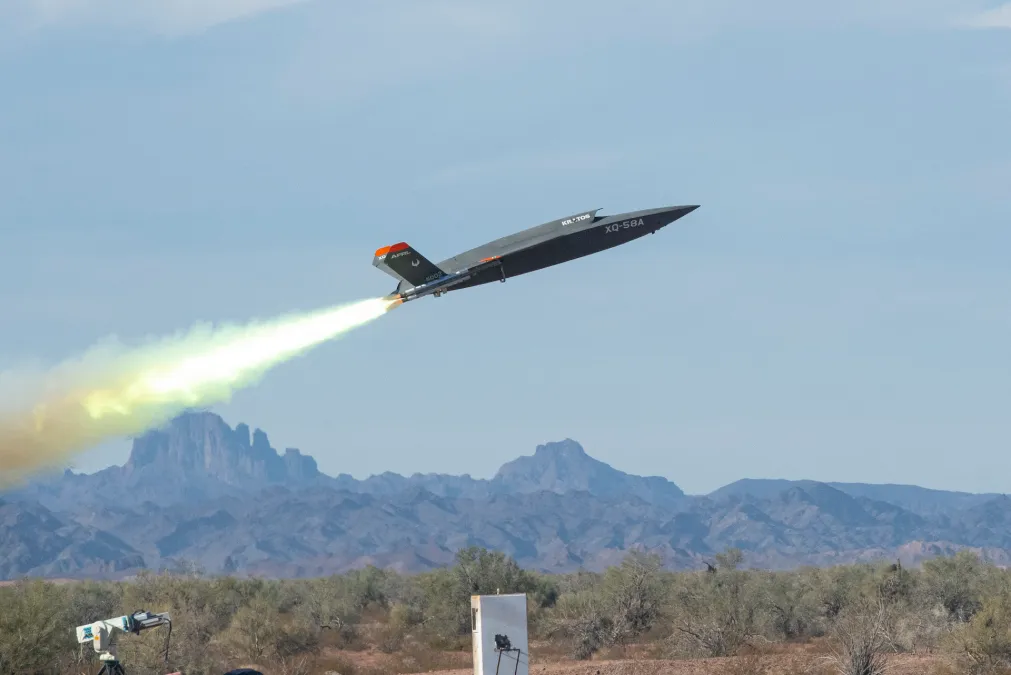 The Air Force is asking Congress for about half-a-billion dollars in fiscal 2024 to begin a highly anticipated new drone program aimed at acquiring "collaborative combat aircraft" that could team with manned fighter jets and other platforms.
The $522 million requested research, development, test and evaluation funding for the CCA initiative would go toward three lines of effort: platform development, autonomy development, and standing up an "experimental operations unit" to explore operating concepts., Maj. Gen. Michael Greiner, deputy assistant secretary of the Air Force for budget, told reporters during a media roundtable at the Pentagon ahead of the Defense Department's 2024 budget rollout on Monday.
The Air Force wants robotic wingmen to boost U.S. Air Force capacity more affordably than relying on manned platforms — such as the F-35 Joint Strike Fighter or the forthcoming Next-Generation Air Dominance (NGAD) fighter jet — to fill out its inventories.
"For over 75 years, the Air Force has dominated opponents in the air. And the [People's Republic of China] is challenging that dominance. We cannot afford complacency, nor can we afford an Air Force composed largely of fighters that cost as much as our fifth-gen aircraft," Kristyn Jones, Air Force comptroller and acting undersecretary of the Air Force, told reporters. "This budget initiates a program to field uncrewed collaborative combat aircraft … to complement the NGAD, F-35, and other crewed and new crewed platforms."
The unit cost for the new drone will be "a fraction of the cost" of an F-35A, Air Force Secretary Frank Kendall told reporters. "That's the intent and we've got enough work behind us that we can say that we think that's a very reasonable goal," he added.
The procurement cost of an F-35A is about $110 million per plane, according to Pentagon budget documents.
The service is currently planning for 1,000 CCA systems. It aims to move the new platform into production by the end of this decade and have it reach initial operating capability around the same time as the manned NGAD system. The Air Force is requesting about $1.9 billion in RDT&E funding for the NGAD program in fiscal 2024.
The Defense Department has not yet released its five-year spending plan, known as the Future Years Defense Program. However, Kendall suggested a ramp up in CCA funding.
The nearly $500 million requested for 2024 is "a pretty significant investment in the first year of a competitive new start," he noted. "If you look out over our five-year plan, it's a multibillion-dollar program. This is headed towards production and fielding — it's structured to do that."
Industry has been gearing up for the forthcoming competition by developing airframes, autonomy capabilities, and other associated technologies using their own internal research-and-development (IRAD) money.
"I'm encouraged by what industry has been doing on their own. There's been a lot of IRAD spent," Kendall noted.
"We're gonna start with competition and we'll downselect at some point. We haven't figured out exactly when that will be yet, I don't think," he said. "How long we'll carry multiples will depend on the affordability of that as we go forward."
Right now, the plan is to initially procure one type of CCA platform, but there could be more, he added.
Kendall told DefenseScoop that the service hasn't determined how many contractors might receive R&D contracts for the program in fiscal 2024 and beyond.
"We'll start with a certain number, and then we'll narrow it down to a smaller number. What those numbers are I can't say, partly because I don't think we know at this point. I think given the seriousness with which we're approaching that program, there's an incentive for people [in industry] to invest. And so what we can get through what will be an initial phase will depend in part on the bids we receive for that initial phase, and how much people are willing to put some of their own money into being part of that initial effort," he said.
For years, the Defense Department has been working on technology that the Air Force aims to leverage for the CCA effort. The Air Force Research Lab, for example, has been developing autonomy capabilities as part of its Skyborg program.
R&D funding to advance the collaborative combat aircraft initiative will go to a mix of government agencies and industry partners, Kendall told DefenseScoop.
"There's been a fair amount of work done already [that] we can capitalize on by various organizations — some of it in the labs, some of it in organizations like the [Air Force Rapid Capabilities Office] here, right. So we'll be doing an effort to … take proven technology and move it forward and share it among some of the different competitors so that we reduce the risk associated with autonomy. We don't want to reinvent things that we've already done in one place," he said.
But to move forward with this new start program, the Air Force will need approval from lawmakers. Congress has often been late in passing the annual National Defense Authorization Act and appropriations bills, frequently passing continuing resolutions, or CRs, as a stopgap measure.
"Even though the unit cost of these aircraft is supposed to be small, that's a significant investment that we're gonna have to make in the future. [With RDT&E funding] we're essentially buying options for programs that we'll want to put into production and build at scale, at quantity in the future … If we don't make those investments, we won't have the options even to consider doing those things," Kendall noted.
"What we're dependent upon is congressional action here. So many people have been asking me about going faster and accelerating change … and how to make acquisition move faster. We move at the pace of money and engineering, and you don't start until you get the money. So, if we have a yearlong CR, or even just a very long CR, or more even what we're used to, that's giving away time for free. And so I'm very concerned about that as I go into this. I'm very comfortable with what we're asking for … but I am worried about getting through a timely process and getting the authorities and the appropriations we're going to need to move forward. So that's sort of the big picture on looking at all this," he said.