Pentagon cancels hypersonic missile test due to battery issue
The Army and Navy called off a planned flight test of a hypersonic missile that was scheduled for March 5, military officials said.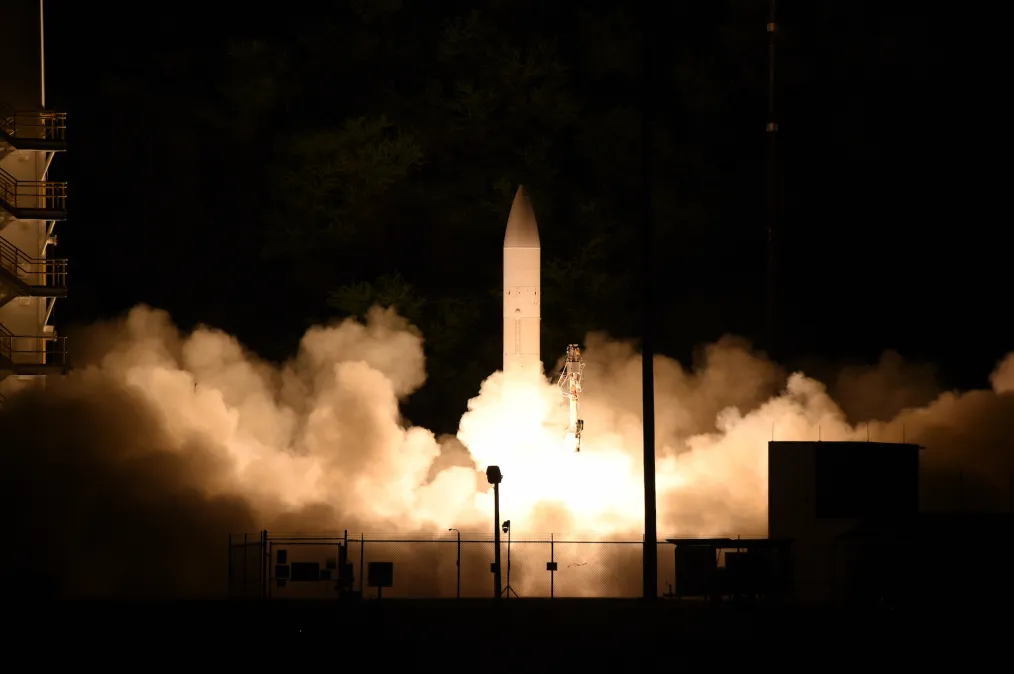 A battery activation issue forced the Army and Navy to call off a planned flight test of a hypersonic missile that was scheduled for March 5, military officials said Friday.
The two services are working together on a common hypersonic glide body that could be used for the Army's ground-launched Long Range Hypersonic Weapon (LRHW) and the Navy's sea-launched Conventional Prompt Strike (CPS) system. The Pentagon wants these types of missiles because their speed and maneuverability are expected to pose challenges for enemy air defenses and provide a new quick-strike capability.
"The Army and Navy are also partnered to execute all flight tests in a series of joint flight campaigns to validate the current designs and inform future science and technology efforts," Lt. Gen. Robert Rasch, the Army's director for hypersonics, directed energy and space, said in written testimony to the House Armed Services Subcommittee on Strategic Forces on Friday.
"The Army and Navy's hypersonic partnership has allowed each Service to support more aggressive timelines than separate development programs would have in order to quickly deliver hypersonic capabilities. The sharing of critical components drives cost savings for both Services based on economies of scale," he added.
However, plans for another flight test last weekend had to be scrapped.
"We recently prepared to conduct a hypersonic test on [March 5] from Cape Canaveral Space Force Station. And as a result of the pre-flight checks during that event, the test did not occur. We are still in the process of processing and analyzing the data we received at that event," Rasch told members of the subcommittee during a hearing on Friday.
Vice Adm. Johnny Wolfe, director of the Navy's strategic systems programs, indicated that a problem associated with a battery was to blame.
"Automated pre-flight checks identified that a battery did not activate, which resulted in not conducting the test. We are aggressively investigating the cause of the no test and will continue to move forward with our development and additional testing in support of Army fielding as soon as the cause is identified and corrected," he told lawmakers.
The officials did not provide any additional details about the incident or the system that was expected to be launched.
The Army aims to field its first set of LRHW weapons by the end of this year. It's not immediately clear how much of a setback the scrapped test will be.
At the annual AUSA convention in October, Rasch was asked whether failures in upcoming tests would result in delayed fielding of the LRHW.
"It depends on what you mean by 'fail,'" he replied. "There's learning opportunities in every one of these events. And so I don't know if I could characterize now and say … 'if this [anomaly] happens, then it will cause a delay.' Obviously, we're moving fast. … If we have an anomaly and we don't really reach our somewhat stretch goals, we'll sit down and analyze it and talk amongst the team and manage the risk as we go forward."
After mentioning the recently scrapped test at the hearing on Friday, he told lawmakers that he's still "confident, however, in our team, and we will persevere together to get this system capable and safe for fielding to our soldiers."
The Navy aims to install CPS systems on Zumwalt-class destroyers in 2025. The vessels will have to be modified to accommodate them. It later plans to put the weapons on submarines.
"I remain confident that the CPS program will be ready to field the hypersonic weapon system upon the availability of the Navy platforms," Wolfe told lawmakers on Friday.