More drones, more problems? The Air Force needs additional missiles for collaborative combat aircraft
SASC Chairman Sen. Jack Reed said fielding these types of uncrewed systems "would compound our missile problem."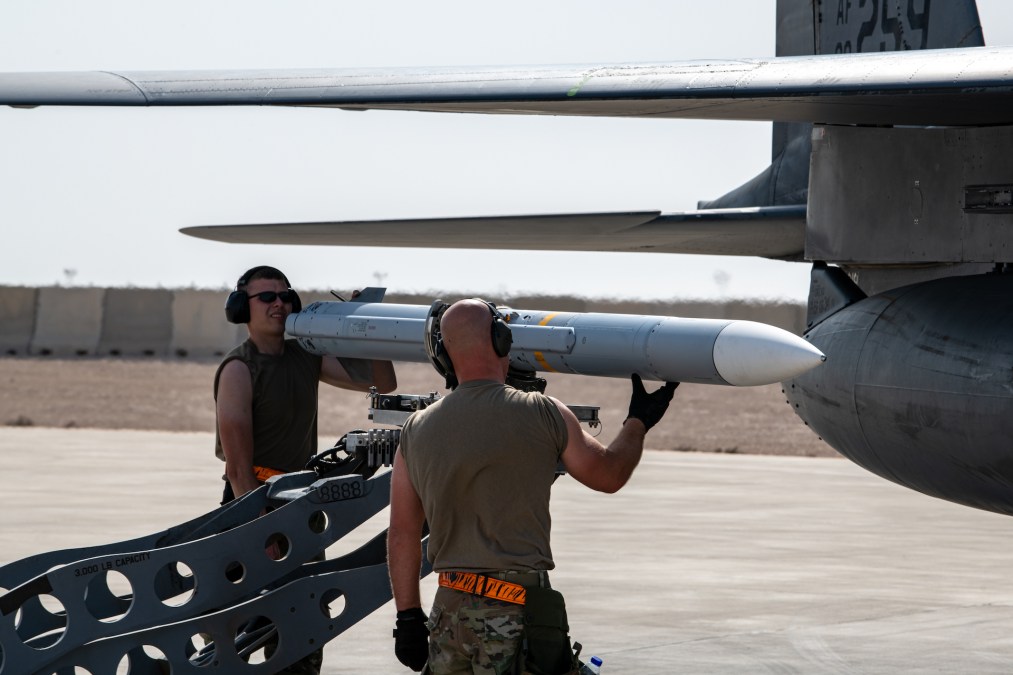 The Air Force hopes to begin fielding new "collaborative combat aircraft" before the end of this decade, and the service is planning to eventually have 1,000 of them. But adding those unmanned systems to the force structure could exacerbate missile shortages, the chairman of the Senate Armed Services Committee noted during a hearing this week.
The Air Force plans to spend more than $6 billion on a new CCA drone program and related projects over the next five years. The platforms are expected to serve as robotic wingmen for the service's manned fighter jets and perform other missions, and they are one of Air Force Secretary Frank Kendall's "operational imperatives" for modernization.
SASC Chairman Sen. Jack Reed, D-R.I., said pursuing these types of uncrewed systems "makes a great deal of sense." However, "one of the constraints I think we have is the number of missiles available for our aircraft right now. And creating this autonomous capability [and] multitudes of other aircraft would compound our missile problem," he told service leaders during a committee hearing Tuesday.
Kendall responded that the service is requesting multiyear procurement of several different types of munitions, including the Advanced Medium-Range Air-to-Air Missile (AMRAAM), Joint Air-to-Surface Standoff Missile (JASSM) and Long-Range Anti-Ship Missile (LRASM), noting that officials are also asking for an increase of approximately $1.5 billion in spending for missile procurement compared with the previous budget to address the issue raised by Reed.
"We're trying to do a balanced set of investments, and that includes the weapons as well as the platforms," Kendall said. "We're also trying to increase the production capacity that you have when we get it into production."
According to budget documents, the multiyear procurement strategy fits in with the "large lot procurement concept" in which "individual MYPs would be executed in a concurrent and overlapping multiyear strategy so that synergies in production across different but related programs can generate efficiencies and result in greater production capacity, accelerated delivery, and lower unit costs."
Large lot procurement "represents an evolution of the existing MYP contracting and financing strategy, that leverages the savings generated through the use of Economic Order Quantities (EOQ) financing to procure additional lots of missiles under a Buy-to-Budget concept, to further improve efficiencies and yields. In addition, the MYP supports the procurement of critical munitions and enables substantial progress towards improving inventory objective requirements to meet the National Defense Strategy," per the documents.
Air Force Chief of Staff Gen. Charles "CQ" Brown said extra funding for munitions will help "facilitize" the Air Force's ambitions and enable an increase in production rates, not only for weapons like AMRAAM, but also the follow-on Joint Advanced Tactical Missile (JATM) — which he noted will be an "important aspect to support the collaborative combat aircraft."
Service leaders see acquiring CCA drones as a cost-effective way to augment fighter jet capacity, with the expectation that the next-generation unmanned aircraft will cost a fraction of a manned F-35.
The push comes as China is developing its own advanced drones.
During the hearing, Kendall noted that Beijing, which the Pentagon views as the top threat, is fielding capabilities that are designed to defeat the U.S. military's ability to project power, including modernizing their air-to-air weapon systems.
"That's the reason that I'm so obsessed with getting on with the next-generation capabilities" like collaborative combat aircraft, he said.
The new drones are expected to carry some of the same munitions that manned platforms are equipped with, which means the service will need larger inventories.
"One way to think about it is that the pod or the weapon that might have been under the wing of a crewed aircraft is now flying in separate [uncrewed] aircraft and managed by that commander of that [manned] aircraft. The analysis that we've done shows that the adversary has to honor each of those aircraft as it is a full threat," Kendall explained.
CCAs would increase adversaries' targeting challenges and present "tactical dilemmas" that they don't currently have to face, he noted.
The robotic platforms would also keep pilots out of harm's way and allow the Air Force to take more risks.
"We can sacrifice one of these aircraft, put it well out in front, use it to draw fire and force the other side to expose itself and then be subject to engagement," Kendall said. "We call them a 'attritable.' They're not expendable, but we can afford to lose some of them operationally. There's nobody in them that we're going to lose. So, it changes our tactical options substantially."