How Mike Madsen spent his last days leading DIU
Madsen told DefenseScoop that he hopes to see the Pentagon's Defense Innovation Unit preserve its foundational culture of "scrappy disruptors."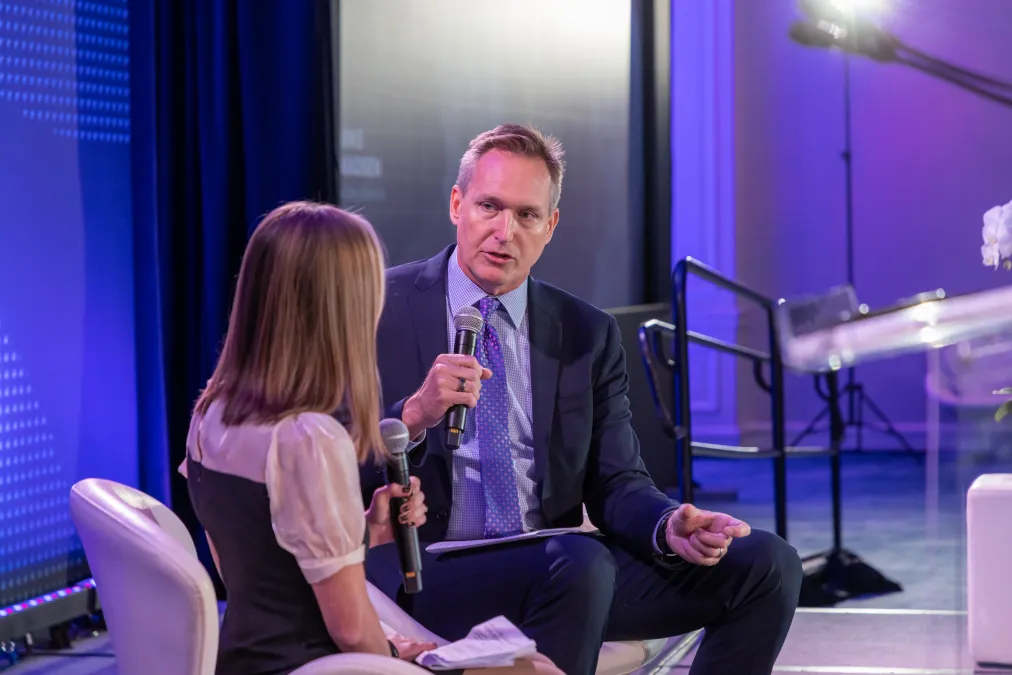 The Defense Department's capacity to rapidly buy, develop, deploy and scale dual-use technologies — or capabilities with commercial and government applications — will be key to the U.S. achieving and maintaining military advantage in future conflicts, according to Mike Madsen.
A decorated military pilot and former legislative liaison, Madsen spent the last four years helping lead the Pentagon's Defense Innovation Unit (DIU), first as deputy director and director of strategic engagement and then as acting director. Former Apple executive Doug Beck, who is also a Navy reservist, was recently tapped to take over as the unit's permanent director as Madsen's tenure came to a close.
In an interview during his final hours before departing DIU, on June 9, Madsen briefed DefenseScoop on the maturing organization's future — and what he hopes to leave with it.
"One thing that I've mentioned to folks as I depart DIU is to keep in mind that we are all the standard bearers for our culture and to embrace that disruptive startup mentality that has made us so successful," he noted.
Established by then-Defense Secretary Ash Carter in 2015, DIU was designed to accelerate the Pentagon's delivery and deployment of commercial technology solutions across the enterprise for military applications. Now, the unit has outposts set up in multiple major U.S. tech hubs and the organization may soon be elevated by Congress to report directly to the secretary of defense.
"There's a mission focus that you can feel. I'm going to oversimplify it a little bit, but you know, the trash needs to be taken out. You take the trash out — no matter where you are in the organization. So, whatever needs to get done to support the mission, that culture is what we want to continue to embrace — to be the scrappy disruptors," Madsen said.
In his final weeks at DIU — which coincided with Beck's first days at the unit — Madsen felt very fortunate they "got a little overlap." The two went on listening tours together to engage stakeholders in the community and also began crafting an overarching plan and vision for DIU's future.
"[Beck] has that 90-day review with the secretary and so he's working on that now. So, we're thinking about a roundtable in the next month or two — because it seems like a lot of people want to know his plan moving forward. We're thinking about [hosting] one in Mountain View [where DIU is headquartered in Silicon Valley] and one in D.C. potentially," Madsen said.
"But some themes are emerging with Doug [Beck]. One of them is to maintain or increase the strategic impact of DIU projects and DIU writ large — and then another one is teaming and collaboration with others in the innovation space," he added.
Russia last year invaded Ukraine a little before Madsen started his tenure at the helm of DIU. Since then, tech-savvy Ukrainians have been leveraging different commercial technologies that DIU supported and worked on as part of its portfolio, including satellite imagery, drones and secure communications tools.
"We have folks, rotating DIU staff, working in [U.S. European Command] to make sure that we're responsive to those requirements that are coming out of Ukraine. And we continue to work with those folks to make sure that we are doing what we can to meet that demand signal," Madsen said.
One of the latest DIU-enabled technologies being applied in the conflict are "5G pucks" that he noted "basically make up a tactical communication network that can be stood up immediately," as needed.
"We continue to be involved with the policymaking bodies in the department — as far as Ukraine and how we can partner there — and we continue to watch to learn lessons" from the unfolding combat, Madsen also told DefenseScoop.
In his view, one of the biggest lessons coming out of the war at this time is that the democratization of dual-use commercial tech will continue to intensify.
"A couple of things we've learned is that dual-use technology is often unclassified, and so there's pros and cons to that. We're able to use things like unclassified, commercially available overhead imagery to provide a counter-narrative to fake news, as it were. And then of course speed — we're still seeing the speed associated with leveraging dual-use technology that's fully developed instead of developing it organically," Madsen explained.
Once the technology makes it onto commercial shelves, anyone can customize it for their own use. In that sense, the U.S. must do a better job going forward to ensure its "could-be adversaries" aren't leveraging them before DOD components integrate them into operational concepts.
"Broadly, what I think is going to be most influential and disruptive is finding ways to more rapidly leverage that dual-use commercial technology, especially in areas where the commercial sector is leading in the iterations and the cycles of refreshing development and leap-ahead technology — not even the next generation of the technology, but the leap-ahead technology — and oftentimes, it's going to be something that may not be super glamorous, but incredibly impactful," Madsen said.
As for what's next for him professionally, the DIU leader said in the interview that he was currently working with the unit's commercial partners to find the perfect opportunity.
"I am very close," he said. "But while I'm moving on from DIU in this capacity and in this role, I'm very excited to stay connected to our DIU alumni community and make changes from the outside."