Naval Oceanography preps new plan for deploying 'the right mix' of crewed and uncrewed platforms
"Hopefully, in the next several months, we'll have some product that we can pass out to industry," the undersea warfare program manager at NAVO said at the annual Oceans conference.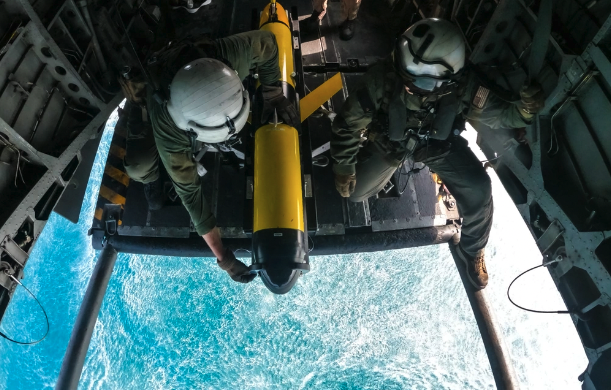 BILOXI, Miss. — Building on their recent drone operations and integration progress, the Naval Oceanographic Office (NAVO) is creating a new and comprehensive plan for how personnel can best deploy a combination of crewed and uncrewed systems in the years to come, as the global technology seascape continues to evolve.
"We're in the process now of creating a roadmap for what our unmanned future is going to look like. So, stay tuned — and hopefully, in the next several months, we'll have some product that we can pass out to industry," Ron Betsch, undersea warfare program manager at NAVO, said Sept. 27 at the annual Oceans conference at the Mississippi Coast Convention Center.
Though he didn't want to share much more about that in-the-works blueprint ahead of its release, Betsch said it's envisioned to "get [the organization] through to deploying the right mix of manned and unmanned platforms."
"And we're also looking at getting a right mix for different sizes and quantities of these different systems — air and surface and underwater — so, we are working in that direction," he noted.
As the largest subordinate command within the Naval Meteorology and Oceanography Command (CNMOC), the Naval Oceanographic Office is responsible for providing military personnel with tailored oceanographic, hydrographic, bathymetric, geophysical and acoustic products and services to promote safe navigation and effective mission planning — and really see and sense from space to the seafloors.
The organizations are headquartered at Stennis Space Center in Mississippi.
"I really have a really awesome, fun job. We actually manage, operate and maintain a collection of unmanned underwater vehicles. We have some that go to full-ocean depths — 6,000 meters. And so, if you happen to be flying into the area or out of the area, and you're in one of the regional jets and you're cruising at 22,000 feet — you look out the window and look straight down — that's about the how big our vehicles would be if you were playing on the surface of the ocean," Betsch explained.
The division he operates has "a family" of 600 meter depth-rated vehicles, he noted.
The team has two primary missions: augmenting data collection with other CNMOC components, and identifying manmade and other objects in bodies of water globally.
With their current system capabilities, NAVO has about 24 hours of battery operation to get necessary assets out and collect data. Betsch said that in the near term, his team hopes to access emerging capabilities that enable them to have extended energy sources and boosted collection capacity.
Presently, to deploy their 600 meter depth-rated drone system, NAVO essentially hauls two semi-trucks with gear and a computer lab-like small workshop, a watch and recovery system, and more, which deploy on the back of ships for missions.
Another "thing that we're really looking at doing now as we start to move towards that unmanned future, or that unmanned system-dominant collection model, is we're looking for things that will either give us more flexibility in being able to put multiple systems down at the same time — and something that's more expeditionary potentially," Betsch said.
"So, we're looking at a roadmap for our own production capabilities to be able to find the right mix of manned and unmanned, to increase capacity and to help with scalability," he told DefenseScoop at the event.