Army leaders preview smartphone app that will inform troops about what's happening at their posts
The tech will give soldiers notices about things like traffic and road closures, local weather, and hours of operations for gyms, restaurants, hospitals and PX/commissary.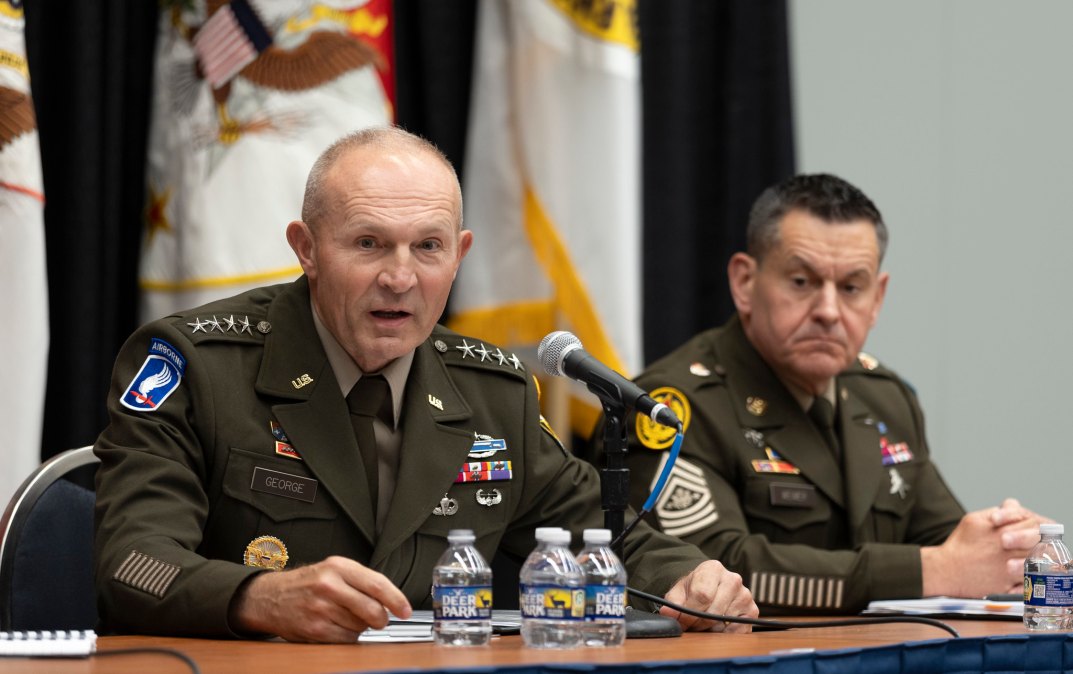 With specific direction from branch leadership, Army Software Factory technologists are developing a new smartphone app that's intended to be a one-stop-shop for troops to access and share timely and accurate information and alerts about the facilities, conditions and supplies on the military installations where they're stationed.
Gen. Randy George, the service's chief of staff, unveiled the status and vision for this in-the-works tool — dubbed My Army Post — during a meeting with reporters at the annual AUSA conference this week.
"What we're trying to do is do things that will help improve the lives of our soldiers and families, and a big part of that is also making sure that people are welcome to a new installation. I remember going to a new installation many years ago and it's daunting to show up there. And so we just want to make sure that they have access to the resources there," he told DefenseScoop at the media roundtable.
George said he and Army Secretary Christine Wormuth both "wanted to make sure we can communicate with our soldiers and families" — so, they recently tasked two captains from Army Future Command's software factory to build this new tool.
"For about the last two weeks, they've been making updates. Right now, they've been focused on Fort Cavazos. And I would describe what they're doing as really developing the requirements for the kind of app that we really need," George explained.
The digital tool is essentially being iteratively designed in a way that it will incorporate different details and elements to properly reflect each Army post.
Broadly though, the technology will inform troops who opt to use it about things like the most commonly used gates and notices about traffic and road closures, local weather, and hours of operations for gyms, restaurants, hospitals and PX/commissary.
"In just weeks, Army Software Factory soldiers already have a beta version in place that they are using to bring the power of a modern DevSecOps approach to soldiers, families and garrison teams. We use this as the ideal tool for rapid, user-centered feedback as we continue to refine both this beta version as well as the ultimate Army requirement," Col. Vito Errico, the software factory's director, told DefenseScoop on Thursday.
Throughout the development and design process so far, officials on his team have worked deliberately to gain insights and suggestions from potential future users of the app that can inform its making.
"The novelty of employing soldiers to gather the data like a commercial software company has helped us get fast, candid feedback. This includes several hundred survey responses, interviews with key personnel like garrison commanders and public affairs teams, and site visits to various base service providers in close partnership with" Army Installation Management Command, Army Materiel Command and the chief of staff's office, Errico noted.
Army leaders also hosted an event during AUSA to gauge recommendations from military spouses on features they'd like to see incorporated into the app.
During a media engagement at the conference, Sgt. Maj. of the Army Michael Weimer told DefenseScoop that the app makers' goal is to make sure the tool will have enough flexibility to adjust to the requirements of each individual installation.
"One of the pieces we've noticed in the feedback we've received is that what works for Fort Wainwright is a little different than [Forts Irwin, Johnson or others]. So, those garrison command teams out there can have the ability to make that app unique to their needs at that location," he said.
Maj. Jeffrey Lee, spokesperson for the Army chief of staff, told DefenseScoop that My Army Post is in line with a message George has been emphasizing in his many engagements and visits with commanders: "Providing timely and accurate info delivers predictability to soldiers and families — and tech needs to help that, not hurt that."