DOD 'moving fast' to update counter-drone strategy
The Pentagon's expanded counter-UAS strategy will include a greater focus on offensive, "left-of-launch" capabilities.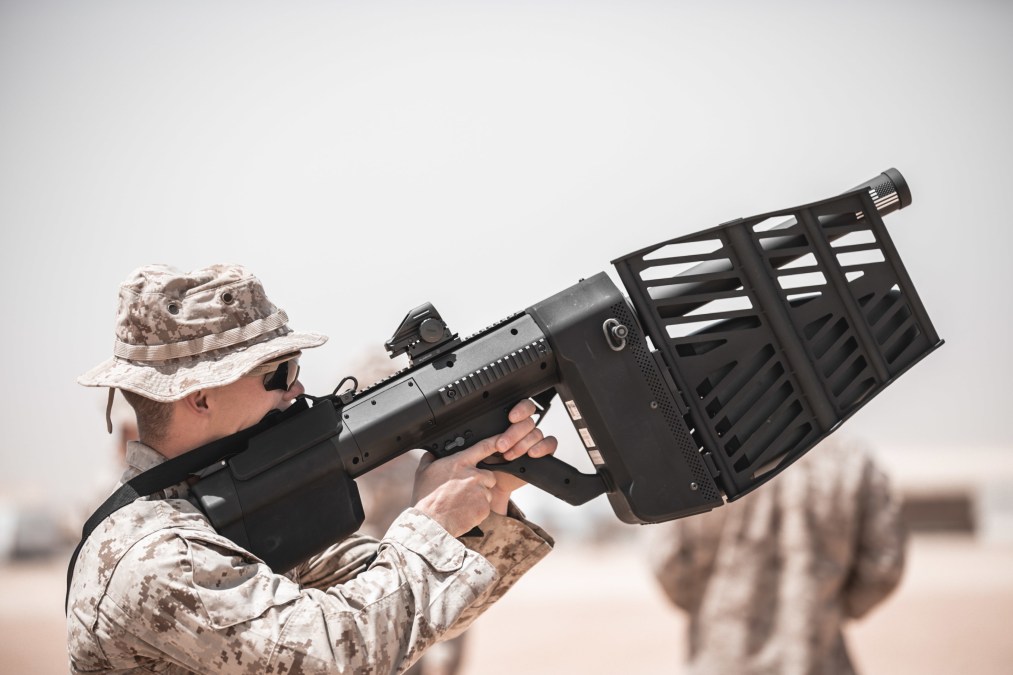 The Department of Defense is aiming to finish an expanded counter-drone strategy "by the new year," the director of the Joint Counter-small Unmanned Aircraft Systems Office (JCO) told DefenseScoop.
The update, which the JCO is working on with U.S. Special Operations Command, will include a greater focus on offensive, "left-of-launch" capabilities to defeat adversary UAS, Maj. Gen. Sean Gainey noted during an event Tuesday at the Center for Strategic and International Studies.
"We've developed the initial doctrine, strategy, and we're revising that strategy to now look at this holistically, not just from a … defense operations [perspective], but also incorporate the offensive, left-of-launch capability that SOCOM has been directed to move forward," he said.
The term "left of launch," in U.S. military parlance, means before an aircraft or missile has commenced flight.
"We're working closely with SOCOM on the strategy. We're rewriting the strategy to take it from a right of launch — meaning a defensive posture — and how you defend against this, to incorporate more [ideas about] how do you get after this holistically," Gainey said. "They're looking at from everything that it takes to get after holistically this UAS threat without having to just rely on capability to defeat" drones after they're already airborne and operating against U.S. forces.
The JCO, which was stood up in 2020, has been experimenting with a variety of counter-drone weapons including interceptors, lasers, high-power microwaves, electronic warfare systems and other tools.
However, as adversaries are able to field unmanned aerial systems in greater numbers and in swarms, the U.S. military will be challenged to take them all out with defensive systems.
"That's why the left-of-launch piece is a significant piece. As we move forward, you can't just sit back and think you're going to pay your way with capacity and capability, out of this problem set. You're gonna have to leverage the full range [of options] … to be able to decrease the impact of this [enemy drone] capability. We fully realize that the left-of-launch piece is going to be a significant area that we're gonna have to invest in," Gainey said.
"You're only gonna have a finite amount of interceptors, and you can't get in a shoot-for-shoot, one-for-one match, because it'll never work out. Because you know as you look at what's being developed and the numbers that are being developed, it's just incredible. And you got to find a way on the left of launch to be able to get after this to level the battlefield," he added.
In recent weeks, one-way attack drones have been launched repeatedly against U.S. troops in Iraq and Syria. The Pentagon has blamed Iran-affiliated groups for the attacks, and the U.S. military has launched airstrikes against their facilities in response.
After the CSIS event Tuesday, Gainey told DefenseScoop that the JCO and SOCOM are aiming to finish the counter-UAS strategy update soon.
"We think we're looking to get the strategy done by the new year. So we're moving fast. We're taking our existing strategy and then incorporating the left-of-launch aspect of that to have a more holistic strategy by the new year," he said.
These types of approaches could include creating a variety of "effects" intended to reduce the number of drones that U.S. forces might otherwise have to try to shoot down, he noted.
"You can look at how do you disrupt the supply chain — could it be something you can do from the left? … Left of launch can expand the whole spectrum," he said. "Some may say, 'Hey, what's a cool widget to be able to get after something left of launch?' I think it's really how do you operationalize attritting [and] disrupting prior to launch?"
A new CSIS report released Tuesday noted that advances in artificial intelligence and machine learning could facilitate drone swarm attacks.
"These are large, coordinated, and at least semi-autonomous group operations; thus far, there have been few if any attacks that fit this strict definition. Yet even small, human-controlled group attacks have proven capable. The 2019 Houthi attack on two Saudi Aramco oil facilities only employed 10 drones but still degraded business operations for some time. Commercial drone shows have operated with more than 3,000 drones," according to the study.
"Once mass drone swarm technology is established, it will be an increasingly difficult threat to intercept. In those cases, the best options for defenders may be 'left-of-launch' strikes on [command-and-control] nodes and ground control stations associated with the attack," the report said.