HASC chairman worried about making big bets on Air Force's next-gen fighter
The NGAD fighter is projected to cost hundreds of millions of dollars per plane to procure.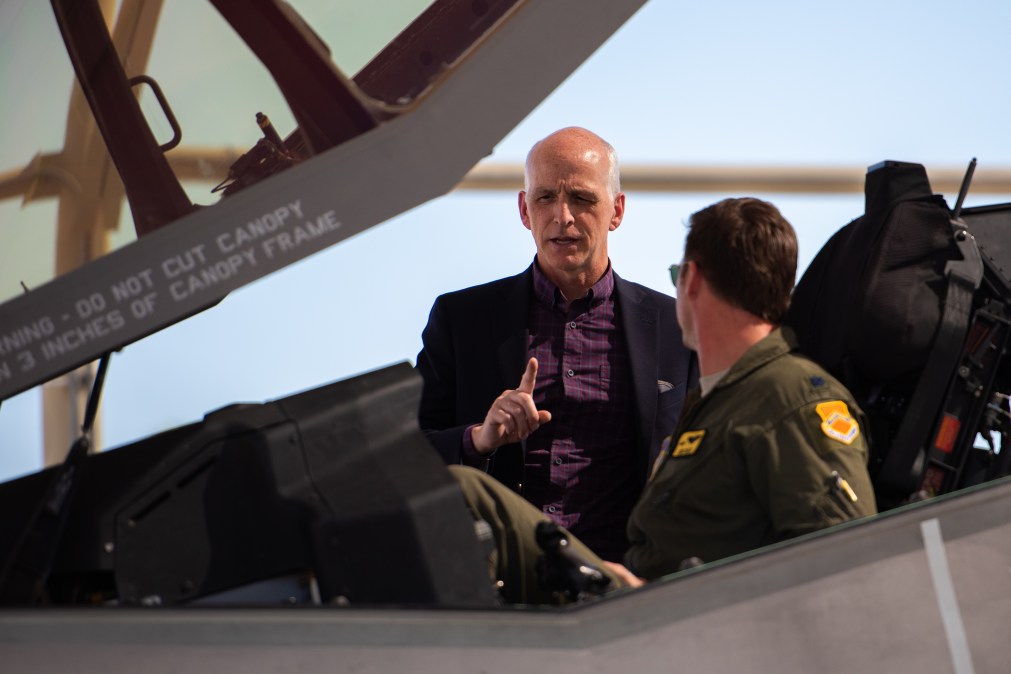 The Air Force wants to acquire a new stealth fighter jet as part of its Next-Generation Air Dominance (NGAD) program. But the chairman of the House Armed Services Committee has concerns that he wants addressed before Congress makes "massive investments" in the platform.
Air Force Secretary Frank Kendall recently told lawmakers that the sixth-gen fighter will likely cost "multiple" hundreds of millions of dollars per plane to procure once it goes into production.
On Wednesday, FedScoop asked Rep. Adam Smith, D-Wash., chair of the House Armed Services Committee, whether he thinks that will be affordable — and if he anticipates Congress will be willing to fully fund the initiative over the long term.
"This is one of the central questions that we have going forward," Smith replied at a Defense Writers Group event.
He used a gambling analogy to describe the dilemma.
"I'm always like reluctant to put a whole lot of chips in the middle of a table when you don't know for sure" if the technology is needed or if it will work as advertised, he said. "And the NGAD seems like a whole lot of chips going into the middle of the table."
"Maybe you've got to do it, maybe it's a technology that, you know, if somebody else gets there first and you haven't gotten there, then you're in a really bad place [and] you got to make the investment and you got to try and make it work even if the odds are long," he continued. "But I prefer a solution that puts you in a position to meet your defense needs without having to make such a large investment on sort of betting on" that type of technology.
Policymakers need to figure out the right force mix for the future, he said, suggesting that a new manned fighter might not be the right system to buy.
"Right now it seems to me that the investments we should be making are in more survivable drone systems, satellites, communications, missiles," he said. "When you look at the fights that are really going on, the fighter planes haven't been that big a part of it. It's been the drones, it's been the cyber … Can we really afford to make that big of an investment in a plane that may or may not, you know, be part of that? That's a decision you've got to make."
Survivability is a major concern. The next-gen fighter may be stealthy, for example, but if it has limited range and requires refueling from a tanker that isn't stealthy, "then you're kind of screwed," Smith said.
"We've got to really take a hard look at this," he said. "What is that [sixth-gen] capability? How survivable is it in what situation? That's what we need to figure out going forward."
Relying more on less expensive, autonomous drones could be part of the solution. "I think that that's likely, you know, where things are headed in — to develop those technologies," he said.
The NGAD program is expected to include a family of systems to complement the new manned fighter, including robotic wingmen and other supporting technologies.
Drones could save money and keep pilots out of harm's way. However, a robotic version of the NGAD platform might face similar limitations as a similarly designed manned system, Smith noted. Conversely, swarms of smaller drones could be harder to detect and harder to target.
"All of those things need to be calculated as we build those systems," he said. "I want those questions more thoroughly examined than just [saying], 'Well, of course we have to build a sixth-generation fighter' … What's it going to bring us? We need to ask those questions before we make massive, massive investments in that program."
The Pentagon plans to spend more than $13 billion on NGAD over the next five years, including $1.7 billion in fiscal 2023, according to budget documents.
The program recently transitioned into the engineering and manufacturing development (EMD) phase, bringing it a step closer to production. Secretary Kendall said he thinks the new jet could reach initial operating capability before the end of the decade.
Procurement costs are expected to be high once the platform goes into full-rate production and gets fielded, although the Air Force has not publicly disclosed how many systems it wants to buy. Sustainment costs — which typically account for 70% of a program's lifecycle costs — will further raise the price tag.
The fifth-generation F-35 jet fighter program, for example, is projected to cost more than $1 trillion when full lifecycle costs are considered.
Smith indicated that he's satisfied with the way the NGAD program is structured, including its use of digital engineering techniques for prototypes.
Although the program "definitely worries" him, Smith said he doesn't necessarily want to kill it.
"I'm not saying we're not going to do it," he said. "I'm just saying that we need to understand it [better] before we make that over-the-cliff, you know, investment that we can't turn back from."