AFRL to solicit emerging technologies via its new regional research ecosystem
The Air Force's R&D arm kicked off the pilot in Summer 2021 and signed cooperative agreements in February.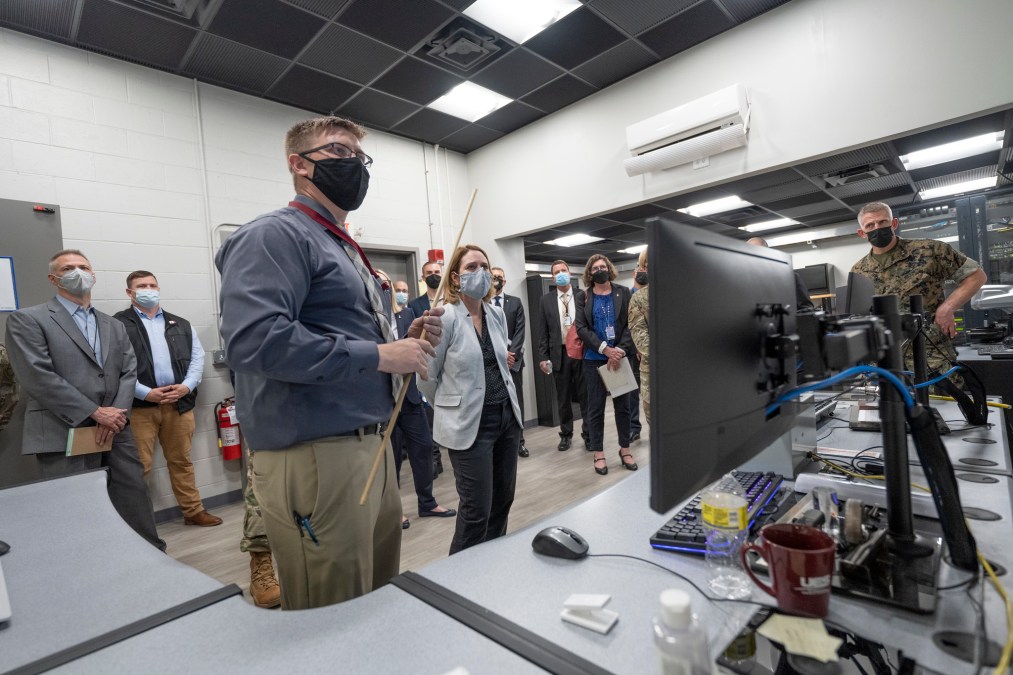 The Air Force Research Laboratory will soon roll-out engagement opportunities for new projects associated with hypersonic capabilities, complex modeling, microelectronics, and other emerging technologies — via its Regional Research Hub Network pilot initiative, DefenseScoop has learned.
Lab officials announced the formation of this new science and technology ecosystem in February, with the intent to promote more collaborative research, translation, and workforce development pursuits strategically within U.S. regions.
Purdue and Cornell universities were tapped as the initial leading institutions that will help AFRL facilitate deeper work with businesses, venture capitalists, other academic institutions and government agencies in their surrounding areas.
"Over the last six months, we've been very active in standing up the operations — everything from information security, to [intellectual property] relationships, to membership agreements and information-sharing — all the fun things that are behind the scenes to make something like this work," Richard Vaia, AFRL's chief scientist for materials and manufacturing, recently told DefenseScoop. "Starting this Fall, we're going to solicit the initial pilot technical projects, with a scope of about an 18-month sprint for such a project."
On a recent technology-focused trip to that lab and other federally-aligned research facilities with Deputy Secretary of Defense Kathleen Hicks, DefenseScoop was briefed by Vaia and others on those in-the-pipeline projects and certain unique elements of this new experimental network of regional research hubs.
"I would argue this is like a grassroots version of what the future of research engagement could look like," Purdue University mechanical engineering professor and laboratory director Jeffrey Rhoads noted.
The genesis
Based at Wright-Patterson Air Force Base in Ohio, AFRL helps lead the discovery, development and integration of emerging capabilities for both the Air and the Space Forces. Officials there have historically relied heavily on other government entities, commercial vendors, and academic partners to do so, with which they engage both collaboratively or transactionally.
In 2017, then-Air Force Secretary Heather Wilson tasked the lab to explore ways to engage differently and more effectively "in the innovation ecosystem outside the gates," Brian McJilton, director of the lab's Small Business Directorate, explained to reporters during a briefing on Hicks' visit. The deputy secretary received mostly classified briefings with more sensitive details on similar topics.
Officials brainstormed, McJilton said, asking, "What are some of those best practices that we can glean from industry, academia, and maybe other government organizations to be a much more cohesive and accelerated operation for the Air Force?"
Between then and 2019, AFRL officials conducted a number of ideation events with universities and companies across the United States, inviting many participants from different regions across the nation to engage in-person with lab officials to brainstorm and discuss various challenge areas they are collectively facing.
"What we found was that — while we pride ourselves on being well known — we found out that AFRL is not as well known across the U.S. as we thought we were," McJilton said.
In some segments of the country, lab officials also found that broadly people had very little understanding of the Air Force's mission "other than just planes," he noted.
From those engagements AFRL officials also found that enabling subject matter experts to work "on the other side of its fence" provided new opportunities for learning and supporting those regional ecosystems. Since then, the lab has been targeting a number of implementation efforts to incentivize external collaboration and workforce development simultaneously.
"That's what really led up to the genesis of the regional hub idea," McJilton said.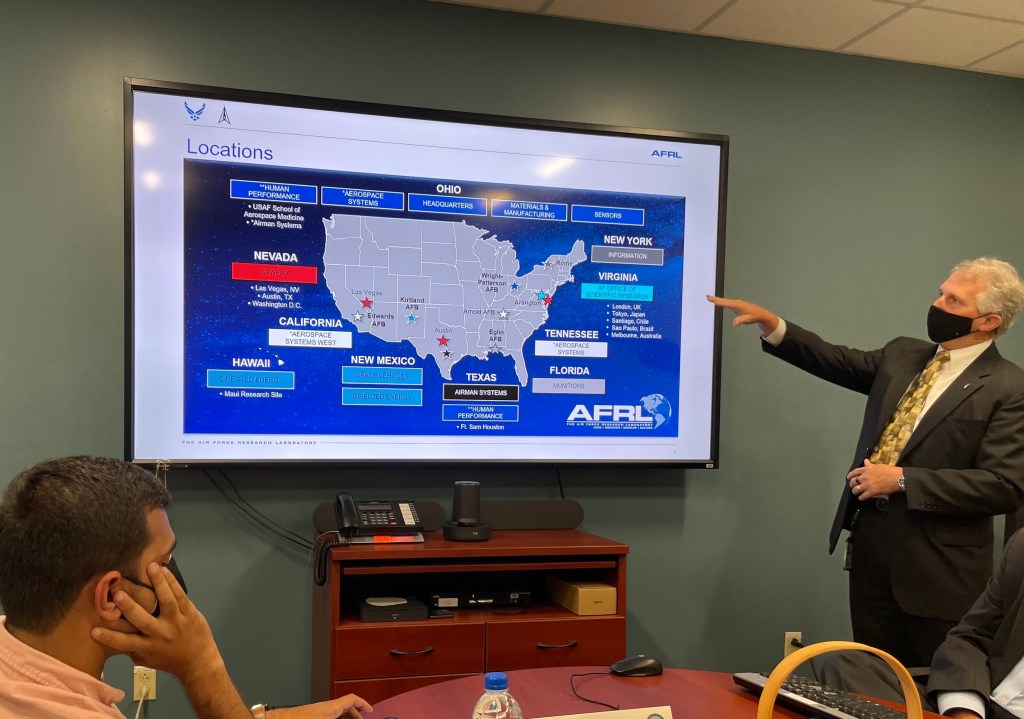 The Air Force's R&D arm kicked off the pilot in Summer 2021 and signed cooperative agreements in February.
After a bit of research and analysis, the lab tapped Cornell University in Ithaca, New York, to lead the AFRL Regional Research Hub — Mid-Atlantic, and Purdue University in West Lafayette, Indiana, to lead the AFRL Regional Research Hub — Midwest.
During briefings at AFRL, lab insiders emphasized that this work is inherently experimental, as a pilot.
"The idea is that we're establishing a new way of doing business with the outside community through this," Vaia noted. "Instead of one-off relationships, we'll work through an ecosystem. The two universities that were chosen, were chosen as the leaders of the ecosystem. So the hub is not with the university — the hub is with the university and the ecosystem that is surrounded."
He and his colleagues added that a key to success in this effort is to get technology accelerated through to industry via more direct engagement between all the sectors.
"This is really, truly partnering in the full definition of a partnership where we're bringing our resources to the table, they're bringing their resources together — and collectively together, we're pursuing areas of interest, both from the military and commercial sense," McJilton said.
What's new
The ultimate aim is that the different partners will learn more about each other's facilities, missions, talent pipelines and supply chain challenges to inform smarter solutions down the line.
"Another key attribute of this regional hub ecosystem is the experiential learning that our [subject matter experts] are going to be able to get from working side-by-side with other SMEs," McJilton said.
They could evolve based on national security and modernization priorities in the future, but the initial strategic technology focus areas that the Midwest hub will concentrate on are energetics, hypersonics and microelectronics.
"You will see an incredible suite of capabilities at Purdue associated with their new defense-oriented facilities that actually allow a lot of classified research on campus, which is very exciting," Vaia told reporters who were heading to the university with Hicks.
Staff of that academic institution and AFRL have been actively enlisting membership in the hub. Currently, members of the regional ecosystem anchored at Purdue include less than a half-dozen companies from around Indiana, Ohio and Michigan. Academic institutions in that hub include the University of Wisconsin, as well as Purdue, Ohio State, South Dakota and Notre Dame universities.
"We're still interested in engaging additional partners in the Midwest, or nationally, that want to engage more with the Midwest," Rhoads told DefenseScoop in an interview.
A mechanical engineer by training, Rhoads is a professor and lab director at Purdue who is also deeply involved in the school's collaboration with the government and companies. Any entities interested in working with the hub can reach out to him directly through the university, he noted.
In Rhoads' view, the promotion of side-by-side, technology-focused personnel exchange opportunities for those employed by AFRL and hub members is one of multiple unique and defining features of this unfolding pursuit.
"That's not to say there hasn't been new segments of personnel exchanges in other contexts — but the concept that the Air Force or the Space Force, for example, might be willing to put personnel in companies to learn how those companies operate, but also share subject matter expertise, or to do the same at universities, I think is a much further extension of other things that have been talked about in recent years," he said.
Rhoads is involved in benchmarking the program against existing efforts such as the Naval Tech Bridge and the Army Research Lab's regional campuses. His team hopes this work will take related original concepts about public-private partnerships to the next level.
"There's not just going to be a representative in the region. There's actually going to be representatives and scientists and engineers embedded in laboratories and in companies," he said. "If people aren't talking and seeing the realities on the ground, they're going to make decisions that are suboptimal because they just don't have the best information available. So, to me, this is short-circuiting some of those communication chains so that people live and breathe and see things, you know, face to face."
Another notable element of the work is the deeper access to facilities between parties and sharper awareness that could help reduce the duplication of technological resources across sectors.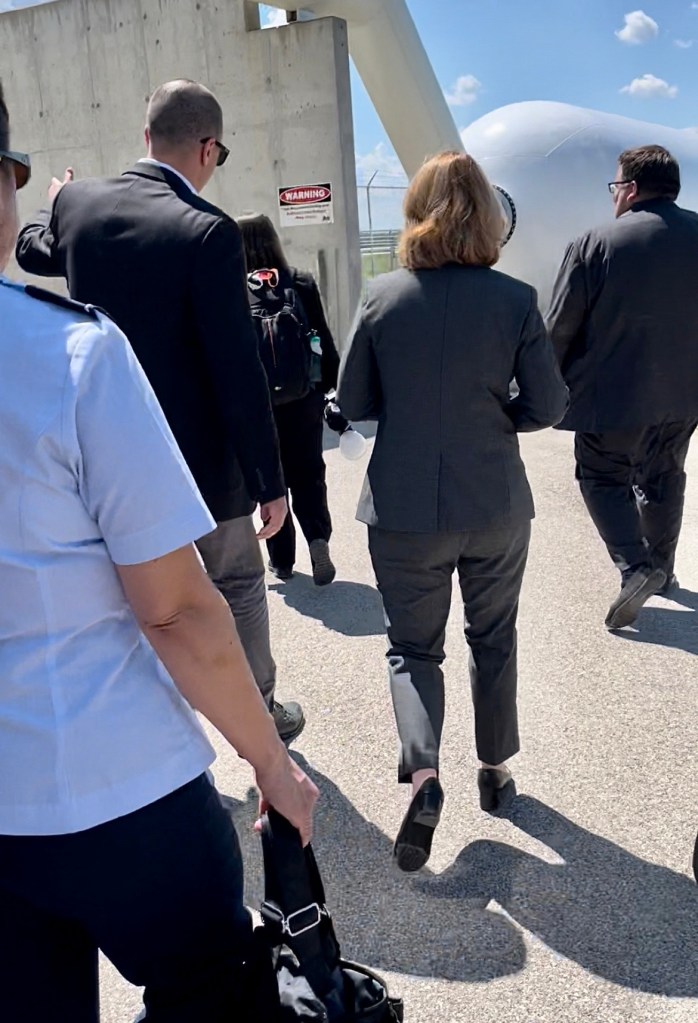 "A good example of that is the facility you saw. I mean, it doesn't make sense to have hundreds of hypersonic wind tunnels around the nation. If there's a select number well-distributed that a lot of different people can access, that's a much more sustainable model from a national perspective," Rhoads said.
While the notion of public-private partnerships is not novel, in Rhoads' view, such engagements are typically very weighted in one component's direction or another.
"My take on the hub, from the academic side, is it's trying to think about new partnership models where you're really bringing academia, government and industry to the table as near equal partners," he said. "I don't want to paint it as a three-way picture because I think the other piece of that is the venture [capital] community."
In the past, only a small segment of venture capitalists generally engaged with the Pentagon, because their return on investment has traditionally been quite low. Rhoads hopes this will help de-risk the process to work with DOD for such organizations in the future.
During the briefing at AFRL, Vaia noted that plans for the Cornell- and Purdue-based regional hubs include initiating one to three projects and engaging five to 10 experts with each of the universities in this first year of the pilot. Officials envision having six 12-month projects ongoing at one time.
The overarching intent of the pilot is for each regional network to approach the collective goals in their own special ways.
"After a three-year run, we'll assess if this is really achieving the goals of engaging the ecosystem and accelerating technology — and at that point, we'll either decide to expand the concept to maybe add a few additional regions or decide that it was a great experiment that we learned from and go back and reassess the next steps," Vaia said.