Air Force leaders eye deeper tech integration with allies earlier in development
Air-focused military chiefs from across the world have been engaging on how to better share information and integrate technology.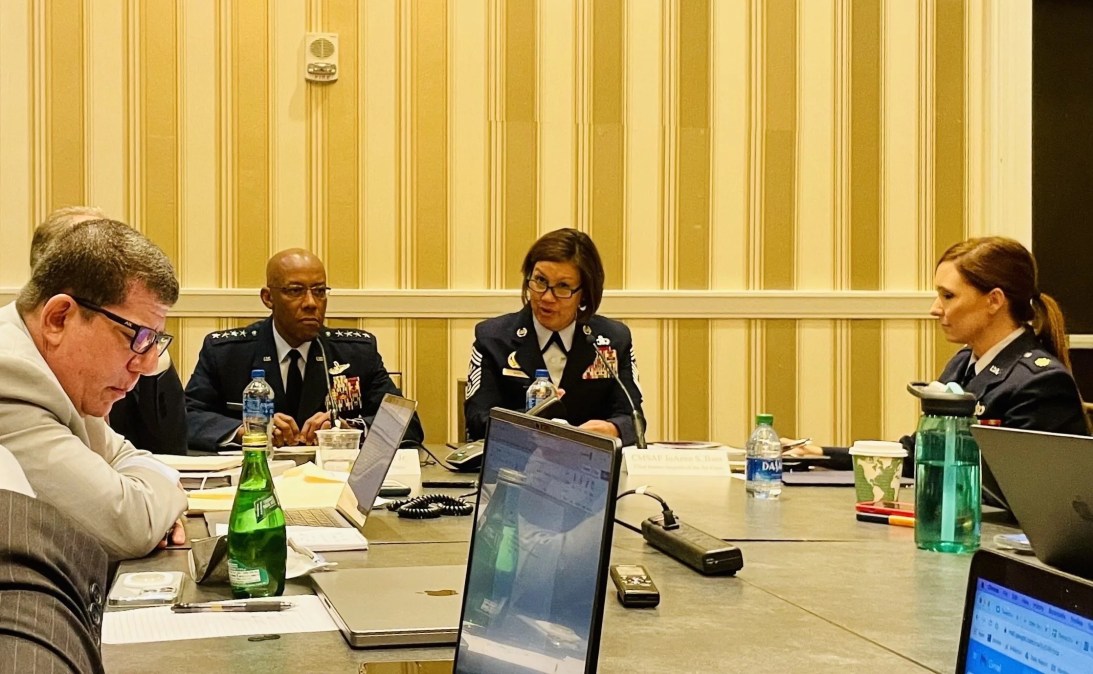 NATIONAL HARBOR, Md. — As the U.S. military executes on its ambitious concept for next-generation command and control, the Air Force's Chief of Staff Gen. Charles Brown is particularly bullish about ensuring that emerging capabilities can easily connect not only between services but between allies as well.
Joint All-Domain Command and Control (JADC2) represents the Defense Department's overarching, complex plan to connect sensors, shooters and related technologies across the branches and between domains of battle. Each service is developing and refining its own major contribution — and for the Air Force, that's the Advanced Battle Management System (ABMS).
While progress unfolds for ABMS, as well as on other major technology-driven initiatives, Brown and Air Force leadership are operating deliberately to ensure their service's elements can integrate with U.S. allies' systems early on in development, the four-star general confirmed during a media roundtable at the Air and Space Forces Association's annual Air, Space and Cyber conference on Tuesday.
This intent, he noted, aligns with the "integrated by design" framework he has been spotlighting recently, particularly during engagements with air power leaders in other nations.
Last week, at an Air Force-hosted conference with international air chiefs from 49 other nations, Brown discussed how the U.S. and its military can better share classified and open-source information and seamlessly integrate technological assets when necessary.
"As we build these things out, we need to make sure we're thinking about our allies and partners and breaking down some of these barriers before we get to the end," Brown told DefenseScoop during Tuesday's roundtable.
In some cases, that could mean bringing in "some or many of our allies and partners" — and in other cases, just the allies that the U.S. has the tightest ties with — to collaborate on requirements and planning earlier into technical development or co-development.
Although it might cost more money to involve close global partners early into the making of in-development and emerging capabilities, other nations "may bring money to this as well, which is not a bad idea," he added.
American allies will more likely buy into something, in his view, if they feel like an integral part of the process sooner rather than later.
"What my staff can expect from me is me asking questions — 'OK, what ally and partner? Hey, we can coordinate this way? Who is on board with this? How are we going to include this in here?' Because otherwise, you don't want to have to do it later," Brown said.
He didn't go into much detail, but during the roundtable, the Air Force chief of staff also confirmed that there have been "aspects of things" officials have been able to do with ABMS and associated capabilities to support Ukraine since it was invaded by Russia in February.
"That's the thing — when you have a crisis like this, all the hesitancy, bureaucracy starts to break down and we were able to take some of the things that we were working on, on the U.S. side, and open it up to the NATO side that we hadn't had done in the past," Brown said.
Now, what Brown is "really trying to do" is "derive some of these crises without actual crises" so that military and allied teams are better prepped for challenges that will inevitably surface down the line, he said. "So, that's the goal as well."