Army to release RFI on new unified data reference architecture plans in the coming weeks
Military leaders are committed to being a fully data-centric force — in this decade.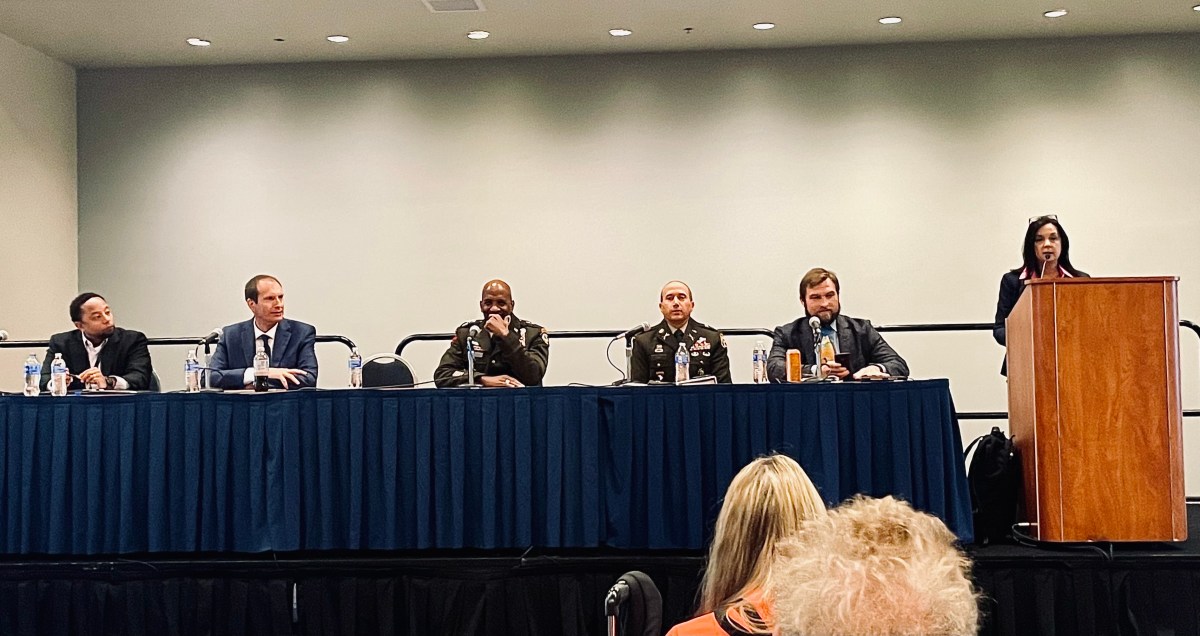 With sights set on transforming into a tech-savvy, data-centric force before the end of this decade, the Army is preparing to release a request for information in the next few weeks for public feedback on its newly developed unified data reference architecture.
It will be the first of multiple reference architectures the Army is producing as mechanisms to essentially provide a standardized framework that will guide its solutions and architecture approach going forward, leaders from the branch confirmed Tuesday at the Association of the United States Army's annual conference in Washington.
"This is going to be an architecture to help govern the acquisition of data-centered capabilities," explained Dan Andrew, an Army software systems architect guiding this work. "So the intent is we would get this to a mature-enough state that it will become part of the non-functional requirements within all the acquisitions that have data centricity, which will most likely be all of them."
The six words that fully embody the Army's vision here, Andrew added, are "domain-owned, soldier-driven data products."
Currently, the Army's data environment is incredibly complex — and impeded by that complexity. It is network-centric, there's excessive duplication reducing data quality and services aren't fully in place to share data securely across the entire enterprise, among many other issues.
As part of a broad solution to simplify these complexities to enable more data-driven operations, officials supporting the Assistant Secretary of the Army for Acquisition, Logistics and Technology are defining this new unified data reference architecture. While "data fabric" refers to a federated environment that allows information-sharing among different echelons, "data mesh" is nascent for the military and technology world, in general, Andrew noted, calling it "a new way to improve and simplify things and make interoperability."
Key "data mesh" concept principles for the Army include that data ownership is driven by specific domains, it is a product, it should be available in a self-serve manner for military insiders and that data governance should be federated and decentralized. It's meant to pave the way for data centricity all the way through to the tactical edge.
The soon-to-be-released reference architecture will define hybrid data mesh and fabric for enterprise and tactical environments and enterprise mesh services for data discovery and consumption. Officials intend for it to allow for transport-agnostic data exchanges within the full network at all echelons.
That planned RFI for "unified data reference architecture, version one," Andrew noted, "is going to be all about what is the 'data product' definition, and we want to get feedback from industry upon what that definition looks like." The request will pose questions about the barriers to industry for conforming with the resilience architecture, the usability of the digital engineering model format the Army will implement and more.
After this RFI process, "the plan is to start including a version of this in [requests for proposals] this fiscal year," Deputy Assistant Secretary of the Army for Data, Engineering and Software Jennifer Swanson told DefenseScoop during the conference. "So that is our intent."
A lot has to happen, and the Army's process here will likely evolve, but service leaders expressed confidence that all of this technology-driven work will pave the way for the service to be data-centric operationally by 2030.
"Sixteen months ago, we mentioned we're going to move to a data-centered environment, and now we're sitting here telling you, we're going to put a reference architecture out to the industry. And that'll tell you we are focused — the entire Army, the entire [Defense Department] — is focused on moving into a data-centric environment," Maj. Gen. Jeth B. Rey, director of Army Futures Command's Network Cross Functional Team, told DefenseScoop. "We're serious about it. So, we're going to get there faster [than U.S. adversaries] and within this decade."