Army planning to transition two AI algorithms to programs of record
The new algorithms participated in last year's Project Convergence exercise.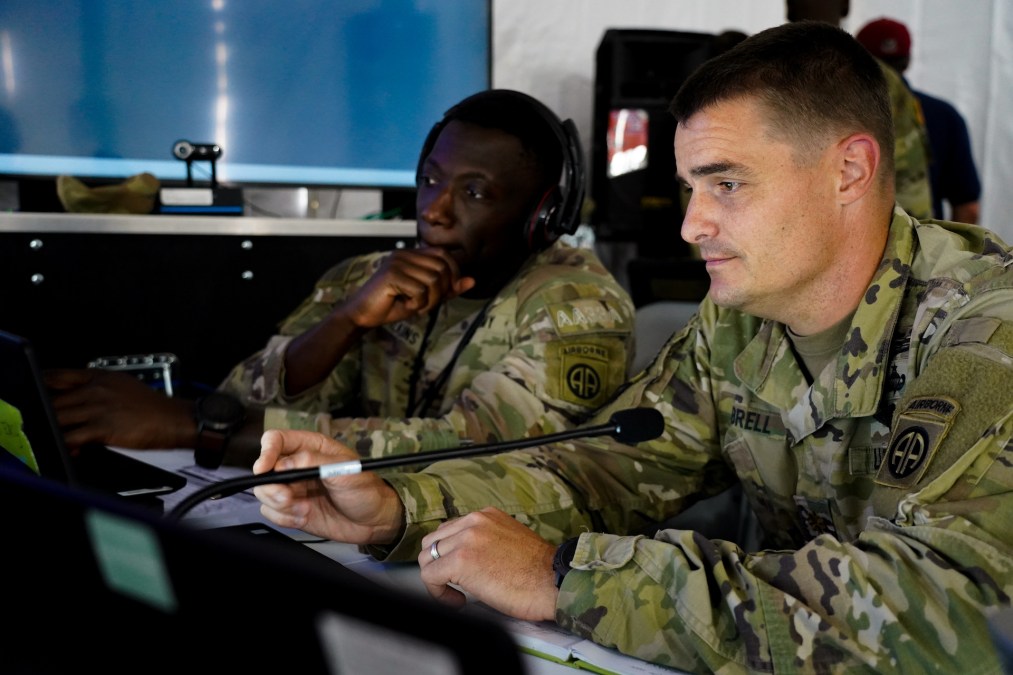 Corrected Oct. 19, 2022: This story has been corrected to state that two AI algorithms that the Army plans to transition to programs of record were part of last year's Project Convergence effort. An earlier version of this story stated that the algorithms were part of the Army's new "Gateway" effort that's connected to Project Convergence.
The Army aims to transition two artificial intelligence algorithms that participated in last year's Project Convergence effort to programs of record, according to officials.
These are increment 1 sensor-to-shooter algorithms that will help the Army identify, target and engage enemy platforms, Lt. Gen. Thomas Todd, deputy commanding general for acquisition and systems and chief innovation officer at Army Futures Command, told reporters Monday. He declined to offer more details about the capabilities.
Meanwhile the Army has created a new technology "Gateway" initiative that's related to this year's Project Convergence exercise, an annual experiment that aims to test the interoperability of systems. Project Convergence is the Army's contribution to the Pentagon's larger vision for Joint All-Domain Command and Control (JADC2).
Gateway is essentially an early technology and systems integration event ahead of Project Convergence that allows commercial partners to bring their technologies to see if they can solve some type of problem for the service. The transition of capabilities like algorithms to programs of record are the types of outcomes this Gateway seeks to realize.
"As we looked at the Project Convergence landscape over the last three years, we realized there was a need to maintain an entry point, really a nexus for industry to enter — and not just primes but also our small business partners," Maj. Gen. Miles Brown, commanding general of Army Combat Capabilities Development Command, said during the annual AUSA convention Oct. 10.
"It's really system and technical experimentation. The way I would describe that is CONOPs, concepts of operation, not CONEPs. This is not about concepts of employment … This is more about how something works," he added.
Todd said Army Futures Command is working with the service's acquisition community and program executive offices to transition the AI algorithms "this next fiscal year." He did not clarify whether he was referring to fiscal 2023 or fiscal 2024.
"One of the really neat parts about persistent modernization that we're learning and starting to develop is if we grab something, does it need to be persistently continued and upgraded? DEVCOM can continue to invest in what's next in those AI algorithms while we field the existing capability," he said. "There's other areas of technology that we can afford to be episodic in, but many we can't, many maybe we have to be persistent."
Other technologies being tested at this year's event include counter-drone solutions, autonomous systems that support the joint concept for contested logistics, and network extension capabilities.
Going forward, officials hope to continue iterating on these systems and companies can continue to roll them into future experiments and Project Convergence events.
It's "not only how a technology does what it says it will do. What's the success criteria, how does it integrate, how does it how is it employed? It's not just the concept of operation, but a concept of employment — how does it fit into a system of warfighting for combined arms maneuver in the future?" Brown said.