New Navy task forces supporting DOD establishment of 'AI hubs'
The Navy recently formed multiple task forces to accelerate the development and application of artificial intelligence across its vast enterprise.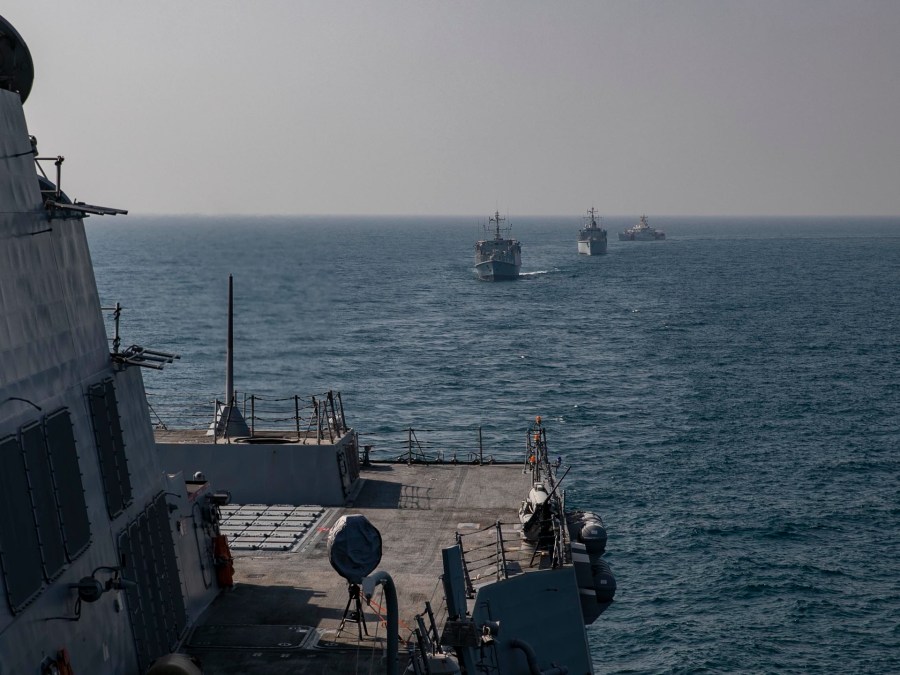 The Navy recently formed multiple task forces to accelerate the development and application of artificial intelligence across its vast enterprise — and officials on those teams are now directly supporting the Defense Department research and engineering directorate's establishment of new AI hubs to help components more broadly share data, tools and algorithms.
During an AFCEA DC panel moderated by DefenseScoop on Wednesday, Navy Chief AI Officer Brett Vaughan said one of the accomplishments he's "most proud of, is over the last year establishing all those task forces and that community of folks who are focused both on the viability or potential of AI as it applies to their little part in the Navy, and then trying to bring that all together for the services."
Those AI-focused units were largely established based on recommendations from the congressionally mandated National Security Commission on Artificial Intelligence, Vaughan noted.
The Navy's journey to fully realizing the potential of AI is further along than some of the other services, Vaughan said. But when digesting the hundreds of pages in the NSCAI reports about sustaining AI advantage on the shifting global landscape, for Vaughan, "it all came down to man, train, equip. How do you raise 'man, train and equip,' to be effective AI players?"
For the Navy, that sort of work and considerations are owned by type commanders, he noted. Generally, Navy type commands perform functions based on specific "types" of weapon systems.
"That's undersea warfare, surface warfare, aviation, special warfare [or] our SEALs, information warfare, expeditionary DOD," Vaughan told DefenseScoop regarding the coverage areas of the new task forces. "Soon after — or concurrent with the publication of that final [NSCAI] report — we decided to eat the elephant functionally by mission."
A general realization for the branch around that time was that "AI is very problem-specific and context dependent," under the Navy's purview, he added. Through that lens, Vaughan said it is crucial for the Navy's "folks that own and live the mission — the problem" are involved at the very beginning of AI design, development, deployment and sustainment.
"So we've created AI task forces in every type command element across the Navy," he said.
These type command-focused AI task forces are different from the Navy's operational fleet AI task forces, like the unmanned systems Task Force 59, which the department stood up last year in the Middle East.
Vaughan confirmed that he hosts a biweekly call "with the leads of all those" type command task forces. In those engagements, he said, officials aim to share data and lessons learned and really "create that cross-pollination for the service."
During the panel discussion, Vaughan also noted that members of those task forces are now partnering up with the Office of the Secretary of Defense's R&E directorate to set up new "AI hubs."
"A hub will be an environment specific to a given AI modality — like imagery, sonar data, RF data, or maybe command-and-control decisions, things like that," he explained.
The notion is that if someone at DOD is developing an AI algorithm or pipeline, or has already built something of value, others "won't have to 'recreate the wheel,'" Vaughan noted. "It's an environment where data can go to be shared and curated, and tools, catalogs, models, algorithms can be shared."
To him, these hubs represent a "digital substrate" that must be in place for the Pentagon and military to move forward and ultimately deploy AI at scale.
"Without that substrate, you're not going to go from low gear to high gear. And we're in low gear now … but we need to go to high gear," Vaughan said. "Without that substrate, it's not going to happen. So, I think those hubs are fantastic, and we are all in."