US commits Patriot air defense system to aid Ukraine
The Patriot system is part of a new security assistance package valued at $1.85 billion that was unveiled as Ukrainian President Volodymyr Zelenskyy arrived in Washington to meet with President Biden at the White House and deliver a primetime address to Congress.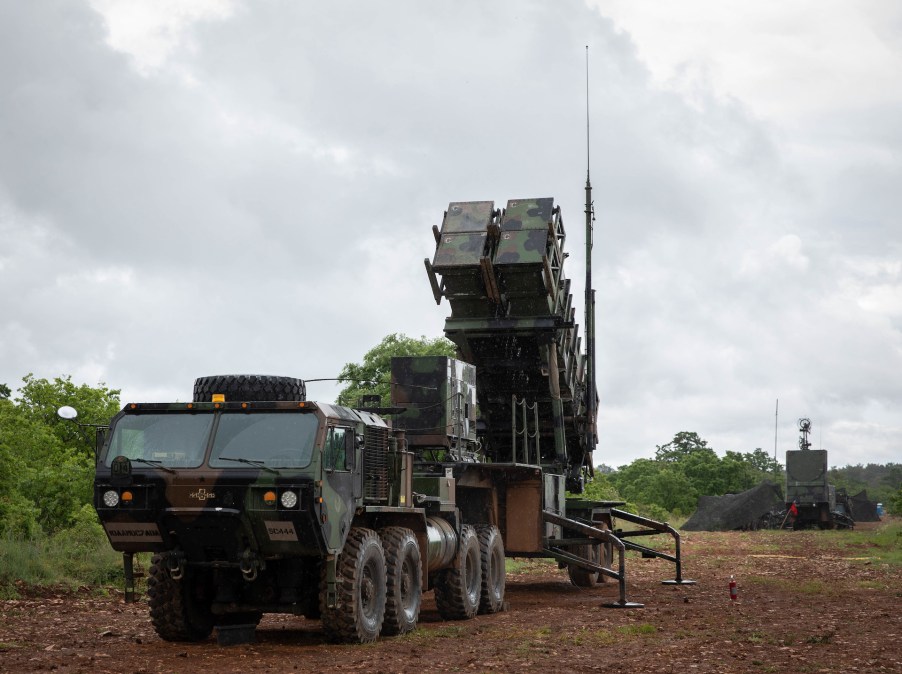 The U.S. will be sending a Patriot air defense battery and munitions to Ukraine to help defend critical infrastructure against Russian attacks, the Biden administration formally announced on Wednesday.
The system is part of a new security assistance package valued at $1.85 billion that was unveiled as Ukrainian President Volodymyr Zelenskyy arrived in Washington to meet with President Biden at the White House and deliver a primetime address to Congress. The commitment of additional aid comes as Kyiv and other areas are under fire from drones and missiles.
"The Patriot air defense system in this security assistance package is one of the world's most advanced air defense capabilities. Once operational, it will add to a layered defense to counter the full range of threats currently menacing Ukraine's cities and civilians. The Patriot system will augment previous air defense capabilities the United States has provided Ukraine, which include NASAMs, missiles for HAWK air defense systems, Stingers, and equipment to counter the Russian use of unmanned aerial vehicles," the Pentagon said in a press release.
The Patriot will give Ukraine a critical long-range capability that can intercept cruise missiles, ballistic missiles and aircraft. It will complement the short- and medium-range systems that have already been provided, a senior Defense official told reporters during a background briefing to discuss details about the aid package.
The U.S. military will train Ukrainian forces in a third country on how to operate the technology. That is expected to take several months, the official said.
"Patriot is by far the most expensive single weapon system that the United States has supplied to Ukraine," Tom Karako, director of the Missile Defense Project at the Center for Strategic and International Studies and Mark Cancian, senior adviser for CSIS' International Security Program, said in a Q&A published by CSIS.
The system costs about $400 million, not including the multimillion-dollar missiles that it uses to intercept threats, according to Karako and Cancian.
The senior Defense official declined to say how many missiles are included in the aid package, citing operational security concerns.
On Monday, dozens of loitering munitions, also known as kamikaze drones, hit targets in and around Kyiv, according to Reuters. Iran has been supplying Moscow with these types of weapons.
"Russia has attacked Ukraine with drones and missiles since the beginning of the conflict. Those attacks had tapered off during the summer as Russian missile inventories declined, then increased again in October when Russia received large numbers of the Iranian drones. These recent attacks have targeted the electrical grid and other utilities, so they have had a major effect on the Ukrainian population. This spurred increasingly urgent requests for improved air defense capabilities," Karako and Cancian said.
The Patriot has already proven its ability to successfully engage missiles, drones and other aircraft during conflicts in the Middle East, they noted.
However, the system won't be able to solve all of Ukraine's air defense challenges, they added, suggesting it might not be the most cost-effective tool for defeating the kamikaze drones that Russian has acquired from Iran.
"The high cost per missile and the relatively small number of missiles in a battery means that Patriot operators cannot shoot at every target. High-value Russian aircraft and ballistic missiles would be appropriate targets. Shooting $4 million missiles at $250,000 Russian cruise missiles might be justified if those missiles would hit sensitive targets. Shooting a $4 million missile at a $50,000 Iranian Shahed-136 drone would probably not," they said.
A senior U.S. military official declined to say if the Ukrainians will use the Patriot against relatively inexpensive drones.
"We don't want to get into hypotheticals as it relates to, you know, how the Ukrainians would employ the system — obviously, they're the ones that are going to be operating it — other than to say that this will be a air defense capability, among others, that they're being provided as part of an integrated air defense system. And so certainly, as they go through the training and as they continue to establish their air defense system, you know, various factors will be taken into account in terms of how best to employ that capability," the official said during the background briefing.
The official declined to provide details about other counter-drone systems that the U.S. has provided beyond what has been publicly disclosed after previous rounds of aid for Ukraine were announced.
"We're just not going to be able to go into specific details, again, for operational security reasons, sensitive to the fact that the Ukrainians are engaged in a fight. We don't want to provide anything that the adversary could potentially exploit," the official told reporters.
Other capabilities included in the equipment drawdown from DOD stocks that was announced Wednesday include:
Additional ammunition for High Mobility Artillery Rocket Systems (HIMARS)
500 precision-guided 155mm artillery rounds
10 120mm mortar systems and 10,000 120mm mortar rounds
10 82mm mortar systems
10 60mm mortar systems
37 Cougar Mine Resistant Ambush Protected (MRAP) vehicles
120 High Mobility Multipurpose Wheeled Vehicles (HMMWVs)
Six armored utility trucks
High-speed Anti-radiation missiles (HARMs)
Precision aerial munitions
Over 2,700 grenade launchers and small arms
Claymore anti-personnel munitions
Demolition munitions and equipment
Night vision devices and optics
Tactical secure communications systems
Body armor and other field equipment
Capabilities that will be procured from military contractors using Ukraine Security Assistance Initiative (USAI) funding include:
45,000 152mm artillery rounds
20,000 122mm artillery rounds
50,000 122mm GRAD rockets
100,000 rounds of 125mm tank ammunition
SATCOM terminals and services
Funding for training, maintenance, and sustainment