2022 in review: Ukraine serving as proving ground for new — and sometimes secretive — US defense tech
Russia's invasion prompted an influx of Western military aid to Ukraine, creating an opportunity for the Pentagon and industry to see how new U.S.-made capabilities can perform on the battlefield.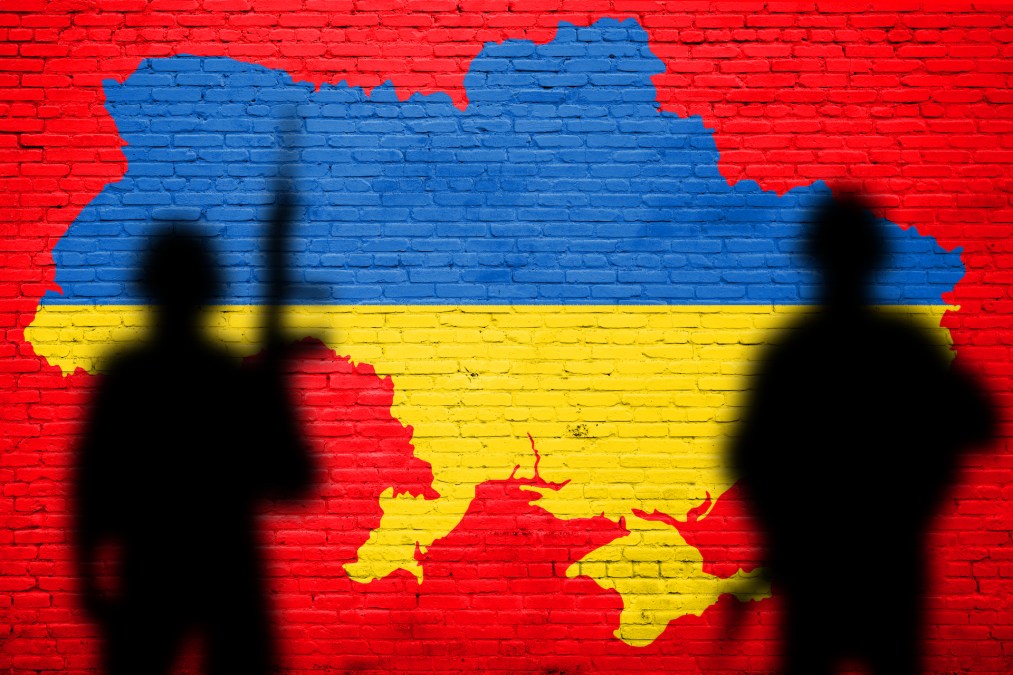 Russia's invasion on Feb. 24 prompted an influx of Western military aid to Ukraine, creating an opportunity for the Pentagon and industry to see how new U.S.-made capabilities can perform on the battlefield.
In total, the Biden administration has provided more than $20 billion in security assistance to Kyiv since the start of the war. While old-school systems, such as artillery and anti-tank weapons, have played an important role in the conflict, the United States has also committed more cutting-edge tools to help the Ukrainians defend themselves and beat back Russian advances.
Defense officials have been tight-lipped about some of these capabilities, which has lent them an air of secrecy.
As 2022 comes to a close and the conflict continues to rage, a few of the high-tech items that the U.S. has provided or plans to provide to Kyiv stand out as being particularly noteworthy for DefenseScoop.
Phoenix Ghost
In April, the Pentagon turned heads when it revealed that the Air Force had recently developed a new kamikaze drone called the Phoenix Ghost that it planned to send to Ukraine to support its war effort against Russian invaders.
Kamikaze drones are different than traditional munitions because of their ability to loiter and search for targets. They are also different than other types of armed unmanned aerial systems in that they are primarily designed to go on one-way missions and crash into their targets rather than launching missiles at them.
The Department of Defense is keen on acquiring new loitering munitions — also known as suicide drones or tactical UAS. The Phoenix Ghost drone was already being developed by the Air Force's Big Safari office and AEVEX Aerospace before the Russian invasion.
"The Air Force was working on this and, in discussions with the Ukrainians again about their requirements, we believed that this particular system would very nicely suit their needs," then-Pentagon Press Secretary John Kirby told reporters.
Like other loitering munitions, the system can be used to carry out attacks or for intelligence, surveillance and reconnaissance missions. However, the Phoenix Ghost has different capabilities than the legacy Switchblade kamikaze drones that DOD is also providing to Ukraine, according to Kirby. He declined to say specifically how the new system is different.
The United States has already committed to providing approximately 1,800 Phoenix Ghosts to Kyiv, according to a Dec. 21 DOD fact sheet on security assistance to Ukraine.
But a great deal of secrecy still surrounds the weapon, and the Pentagon has been much more mum about it than it has for many of its other drone programs. Many details about the Switchblade, for example, are publicly available online.
"I actually can't say very much about Phoenix Ghost. I apologize but there's not much I can say publicly about it," Air Force Secretary Frank Kendall told DefenseScoop in July at the Potomac Officers Club's annual Air Force Summit.
He declined to disclose how the systems are launched, how he envisions the U.S. military using the weapons in the future, and how many of the platforms the Defense Department intends to buy.
While few details have been disclosed about the drone's operational capabilities, a senior defense official told reporters during a background briefing that "the Ukrainians have been making excellent use of the Phoenix Ghost system."
Robotic ships
In addition to UAS, the Pentagon is also providing an unspecified number of "unmanned coastal defense vessels" to Ukraine.
However, as in the case of the Phoenix Ghost, officials aren't saying much about these robotic ships.
"It's an unmanned surface vessel (USV) that can be used for a variety of purposes in coastal defense. I think I'll just leave it at that," Kirby told reporters when the decision to transfer the technology was announced in April.
Analysts at the time told DefenseScoop that the vessels could aid the Ukrainians in several ways.
"There's a wide variety of roles that unmanned surface systems could play, from helping to extend Ukraine's surveillance out further and further away from its coastline, to potentially aiding in the targeting of Russian vessels, to helping to sweep Ukrainian waterways of mines if Russia goes that route," said Peter W. Singer, a military technology expert and the author of Ghost Fleet, a novel that features USVs and other robotic systems.
"The more that you equip the Ukrainians to be able to defend their coastline, there's a double benefit," he said. "One, it pushes the Russian fleet back. Two, it frees up Ukrainian ground forces that might have had to have been deployed to defend coastline to operate elsewhere."
The platforms could also potentially be used to directly attack Russian ships. However, the ones being sent to Ukraine are likely designed for ISR and countermine operations, said Bryan Clark, director of the Center for Defense Concepts and Technology at the Hudson Institute.
The U.S. military might also benefit from the technology transfer, according to Brent Sadler, senior fellow for naval warfare and advanced technology at the Heritage Foundation think tank.
"What it does for the United States is it allows us to better refine how we [might] actually use these systems in combat, too. So we also learn and are able to benefit from the combat experience that the Ukrainians get from these and how they employ them. We learn a lot. So I think we also benefit by giving them this capability," he said.
Officials have disclosed that the systems are coming from U.S. Navy stocks. The sea service's Task Force 59 has been experimenting with Saildrone platforms and other unmanned tech in the Middle East, but it's unclear if the types of robo-ships being sent to Ukraine have been part of those efforts.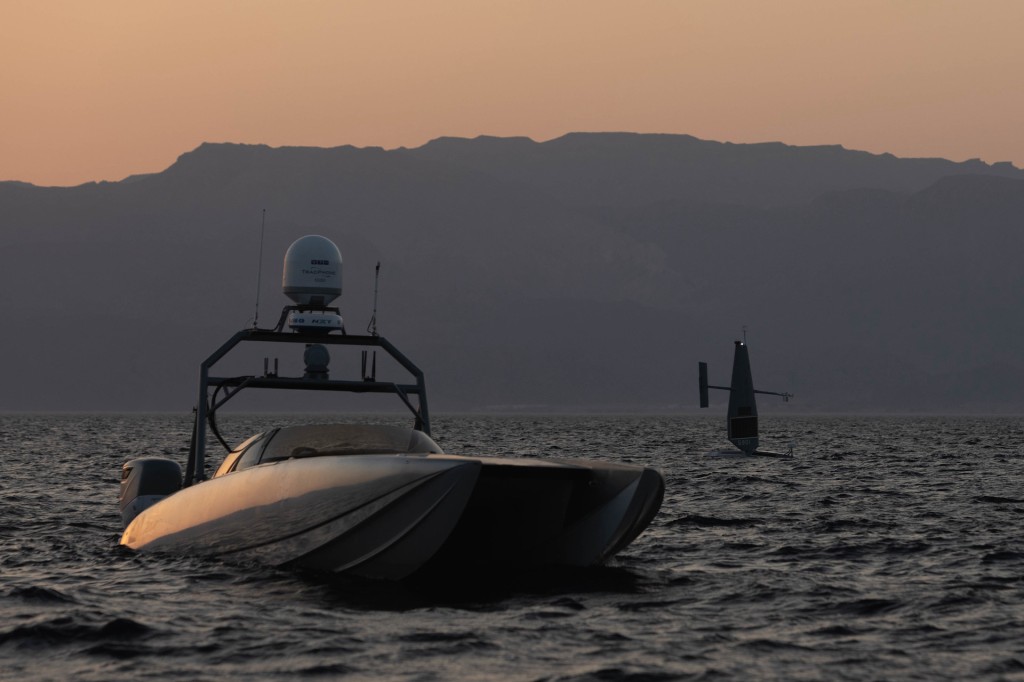 Counter-drone tech
Ukraine isn't the only side using unmanned systems in the conflict. Russia is also using kamikaze drones and other robotic platforms amid what some have called the world's largest drone war.
The UAS being employed by Moscow including ones that have been supplied by Iran — and the Pentagon is sending tech to help Kyiv defeat them.
"Right now, air defense is the most important requirement for them," Kirby, who is now serving as White House National Security Council coordinator for strategic communications, said at a briefing in December.
The Pentagon has been secretive about many aspects of the "suite" of counter-drone capabilities that it's committed to Ukraine, although it has acknowledged some of them, such as the new VAMPIRE system.
The VAMPIRE, or Vehicle-Agnostic Modular Palletized ISR Rocket Equipment system, is "a portable kit that can be installed on most vehicles with a cargo bed for launching of the advanced precision kill weapons system (APKWS) or other laser-guided munitions," according to manufacturer L3Harris.
The system "uses small missiles essentially to shoot UAVs out of the sky," Undersecretary of Defense for Policy Colin Kahl explained during a press briefing at the Pentagon in August.
The DOD is procuring the systems from L3Harris using Ukraine Security Assistance Initiative (USAI) funding rather than transferring them from its own stocks, so it was expected to be several months before they arrived in Ukraine.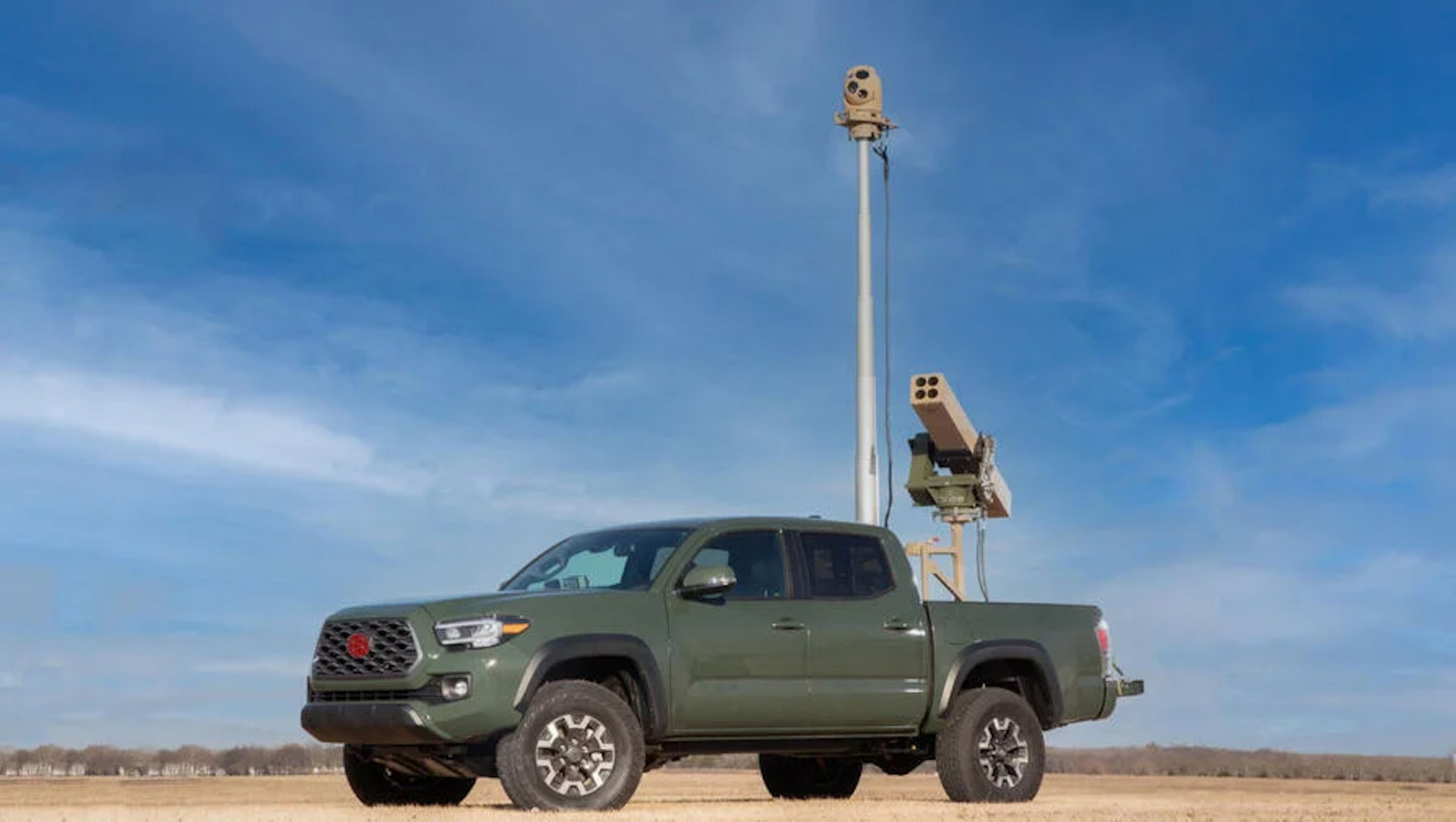 For years, the DOD and its allies and partners has been looking for new and better ways to defeat drones.
"The U.S. particularly, we've had a whole series of counter-UAS initiatives going back a decade, where we've done demonstrations, we've held contests … We have a lot of funding in our S&T community, our science community. A lot of universities are involved in it," Undersecretary of Defense for Acquisition and Sustainment William LaPlante said during a Pentagon press conference in September.
He noted that the DOD has been reaching out to industry to get more ideas about counter-drone capabilities, including as part of an RFI issued earlier this year.
"There's lots of ideas. There's directed energy ideas, there's obviously electronic, like high-powered microwave [systems]. Then, of course, there's kinetic kill or proximity fuse approaches. There's just attacking the [drone's data] link itself, taking away the PNT. There's lots of counter-UAS ideas and techniques that are out there. We just encourage people to keep thinking about them and proposing ideas," he said.
During a recent background briefing in December after the latest tranche of security assistance was announced, a senior U.S. military declined to provide details about other counter-UAS systems that the United States has provided beyond what has been publicly disclosed after previous rounds of aid were announced.
"We're just not going to be able to go into specific details, again, for operational security reasons, sensitive to the fact that the Ukrainians are engaged in a fight. We don't want to provide anything that the adversary could potentially exploit," the official told reporters.
The Pentagon recently estimated that Ukraine — using a wide range of weapons — has been able to defeat more than half of the Iranian-built drones that Russia has launched against it.
Senior Biden administration officials say the U.S. will continue to prioritize counter-drone tech as it considers additional security assistance packages.
Commercial space tech
Commercial capabilities, including space-related technologies, have also had a big impact on the Ukraine-Russia war, officials say.
SpaceX's Starlink satellite internet terminals and associated capabilities have provided the Ukrainian military with vital communication channels and enabled its warfighters stay connected even when their usual comms networks are hindered during the conflict.
"It's been huge in terms of their ability to communicate, and then to coordinate planning and operations," a senior U.S. military official told reporters during a background briefing in October.
"In terms of its employment, I mean, well, I don't think you can overestimate or overemphasize the impact that being able to communicate has. You know, one of the first things you try to do in a fight is to reduce your opponent's ability to communicate, and in this case, you know, Starlink has proven exceptionally effective on the battlefield because it's allowed the Ukrainians multiple connections, and in that regard, has been very, very helpful in their efforts at the tactical and strategic level," the official added.
However, concerns have been raised that at some point Ukraine could lose access to Starlink over funding issues or other complications.
The Pentagon has included other satcom capabilities in security assistance packages, including antennas that can work with different types of satellites.
The latest tranche announced in December included unspecified "SATCOM terminals and services" under the USAI portion of the package.
"This will augment existing Ukrainian capabilities, but since we're in the process of contract negotiations I can just say we're talking to a number of vendors, but can't be more specific than that," a senior Defense official told reporters during a background briefing.