Navy to establish additional unmanned task forces inspired by Task Force 59
The Navy plans to stand up additional regional unmanned task forces around the globe modeled after Task Force 59, Navy Secretary Carlos Del Toro said.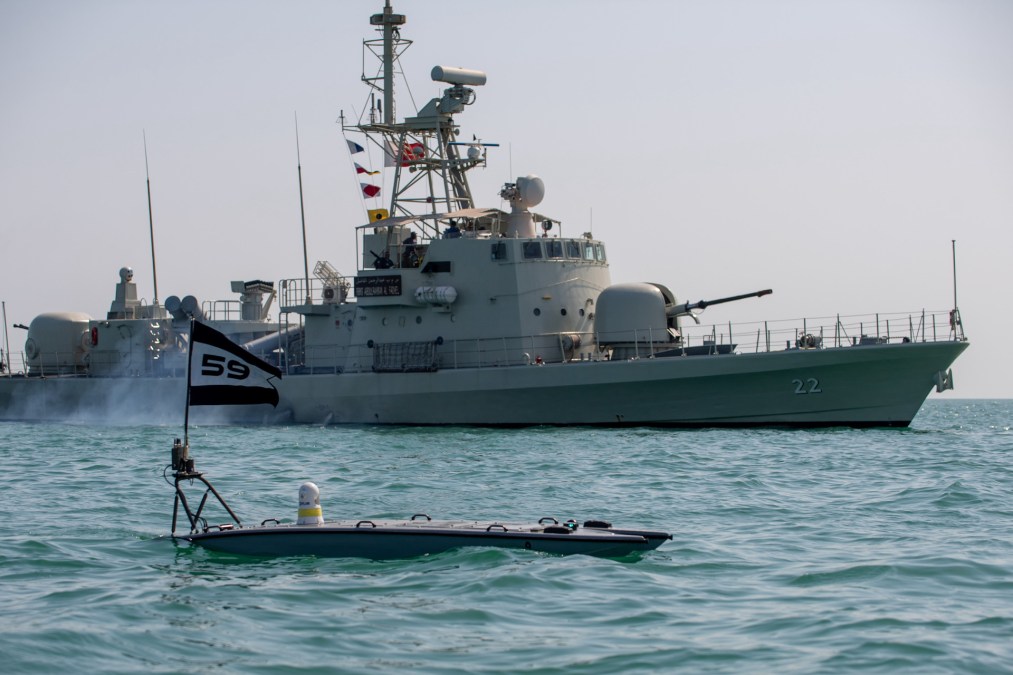 SIMI VALLEY, Calif. — The Navy plans to stand up additional unmanned task forces around the globe modeled after Task Force 59 in the Middle East, Navy Secretary Carlos Del Toro told reporters Saturday.
Last year, the service established Task Force 59 under 5th Fleet to help advance its drone capabilities and experiment with how the platforms and enabling technologies could be used operationally. Partner nations in the region have also brought their tech into the mix.
"We've demonstrated with Task Force 59 how much more we can do with these unmanned vehicles — as long as they're closely integrated together in a [command and control] node that, you know, connects to our manned surface vehicles. And there's been a lot of experimentation, it's going to continue aggressively. And we're going to start translating that to other regions of the world as well," Del Toro said during a media roundtable at the Reagan National Defense Forum.
That will include the establishment of formal task forces that will fall under some of the Navy's other numbered fleets, he told DefenseScoop.
"I think we're going to be translating some of those concepts to 4th Fleet [in Central and South America] and also out to the Pacific as well," he said. "I don't want to get ahead of the CNO or anyone else, but I think you'll see probably some new activity in certainly towards the tail end of '23 [or] '24 timeframe where we're starting to operationalize it in a second major region," he said.
He noted that the service is making major investments in unmanned technology, which he views as "the way of the future."
The service has also been putting industry's products through their paces.
"The pace of innovation is amazing," Capt. Michael Brasseur, commander of Task Force 59, said in a statement when 5th Fleet's Digital Horizon drone experimentation event kicked off last month. "We are challenging our industry partners in one of the most difficult operational environments, and they are responding with enhanced capability, fast."
U.S. Naval Forces Central Command is creating a "mesh network" of AI-equipped unmanned surface vessels that carry cameras and transmit data via the cloud. The USVs and enabling technologies are expected to enhance the sea service's situational awareness in the vast bodies of water near the Middle East. The drones have been equipped with cameras that can keep an eye on what's going on and alert commanders when they detect something notable.
"We've seen great promise in taking new cutting-edge unmanned surface vessel and tying artificial intelligence with them as a means to enhance maritime security around the Arabian Gulf," Vice Adm. Brad Cooper, commander of U.S. Naval Forces Central Command, U.S. 5th Fleet and Combined Maritime Forces, told reporters in October during a meeting at the Pentagon.
The Navy is growing its fleet of unmanned platforms in the region, and officials hope to have about 100 USVs — contributed by the U.S. and partner nations — operating there by the end of next summer.
Del Toro said it's time to take the lessons learned in the Persian Gulf and apply them elsewhere.
He noted that smaller nations in Central and South America and Oceania could benefit greatly from these technologies, include countries facing the threat of illegal fishing.
"So how they monitor — they have the ability to monitor their extended economic zone is very important to them. But at the same time, they have limited assets that they can use in terms of ships and aircraft to be able to then, you know, go and address the threat itself. So by using unmanned technology it really, you know, significantly improves their ability to be able to cue where the threat is to an asset that they might have, and then they'll address whatever the threat might be. So there's tremendous advantage there," he said.