DOD pursuing next-gen virtual training for fighter pilots
The Defense Innovation Unit wants a partner to develop a platform that is "lightweight and agile" and uses synthetic, extended-reality environments to train remote or distributed pilot candidates.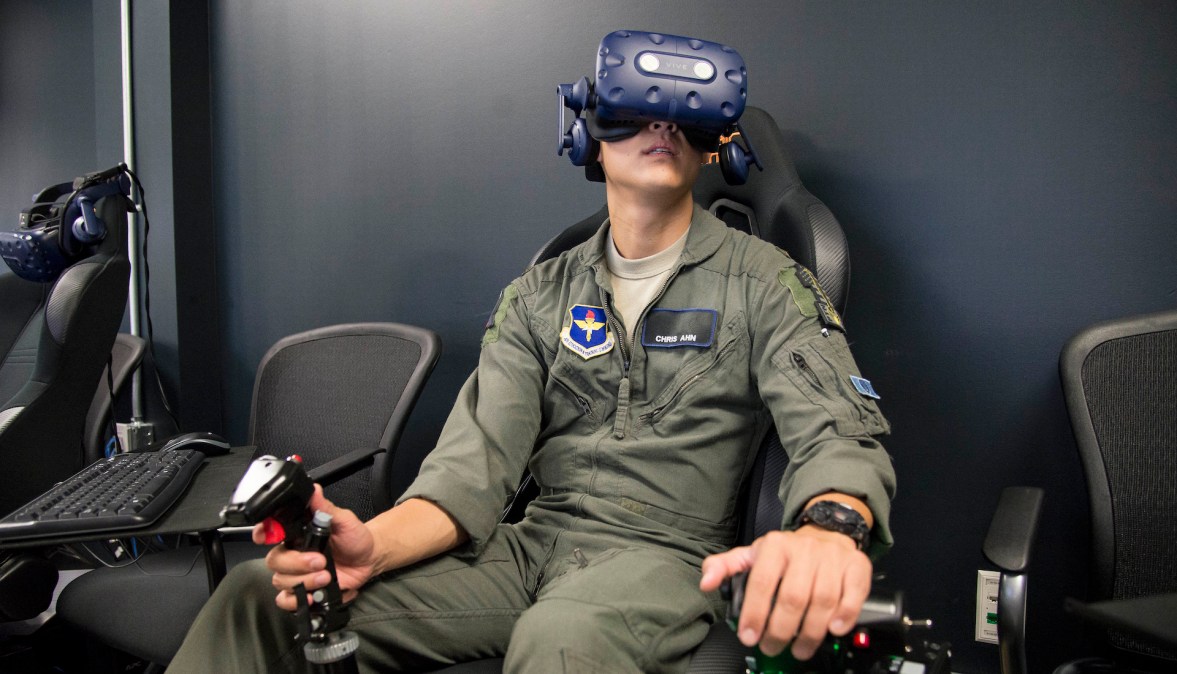 The Pentagon's Silicon Valley-based innovation hub is on the hunt for advanced flight-training capabilities that use emerging technologies like extended reality to teach the next generation of fighter pilots in synthetic environments.
The Defense Innovation Unit issued a new commercial solutions opening to acquire "best-in-class commercial immersive training solutions for synthetic training environments and extended-reality training devices to produce the next generation of fast-jet pilots."
Specifically, DIU wants a partner to develop a platform that is "lightweight and agile" and uses synthetic, extended-reality environments to train remote or distributed pilot candidates on the U.S. Air Force's existing tactical trainer aircraft, like the T-38C and the F-16. The resulting capability will be rolled out as part of a new training course called Fighter/Bomber Fundamentals (FBF).
"The introduction of 5th Generation aircraft fundamentally changed the nature of air warfare and the training required for U.S. military pilots," DIU says in the opening of its solicitation. "Specifically, this evolution revealed major limitations in the legacy pilot training ecosystem, which relies heavily on monolithic simulator systems and live-flights, and suffers from limited network interoperability and content-delivery capabilities."
The acquisition is anticipated to result in two lines of effort: One will provide "a new mid-tier, mixed reality (MR) training device;" and the other will focus on the training environment in support of the new FBF training course.
Successful prototypes will be integrated into the Department of Defense's existing Pilot Training Transformation "Digital backbone," which DIU describes as "an IOT network connected to a series cloud-based applications." Since being developed in 2020, the platform has "fielded technology, academic content, and adult learning methodologies that lay the groundwork for an improved training ecosystem," but in a traditional desktop computer-based user interface.
Interested vendors have through Jan. 23 to submit solution briefs to be considered for the project. If selected for phase II, they will be invited to present a live pitch for their solutions to DIU in early February. Then, finally, DIU will hold what it calls "small group tryouts" this fall and next spring to test and evaluate proposed solutions.
From there, any successful prototypes will likely be awarded other transaction agreement awards and added to the new FBF course at the Air Force's four Air Education and Training Command undergraduate training bases: Vance in Oklahoma, Laughlin and Sheppard in Texas, and Columbus in Mississippi. "Successful prototypes and any desired follow-on production devices are to be produced and maintained through additional follow-on production or sustainment contracts," DIU says.
While DIU is fairly specific about the objectives of the two lines of effort under the solicitation, the team said it is "also interested in prototyping training tools such as AR briefing/debriefing capabilities (e.g. virtual sand tables), student cognitive workload and performance monitoring systems, remote instruction capabilities, and AI-based instructional tools to further augment the capabilities of the devices and training environment."
The Air Force as recently as January 2020 has experimented with similar advanced capabilities like virtual reality and AI-enabled learning to support pilot training through its Pilot Training Next program.