Lack of verified digital models will reduce test confidence for Navy jammer, Pentagon weapons tester says
Lack of validated or accredited digital models needed to supplement NGJ-MB operational flight testing will reduce the confidence for upcoming IOT&E.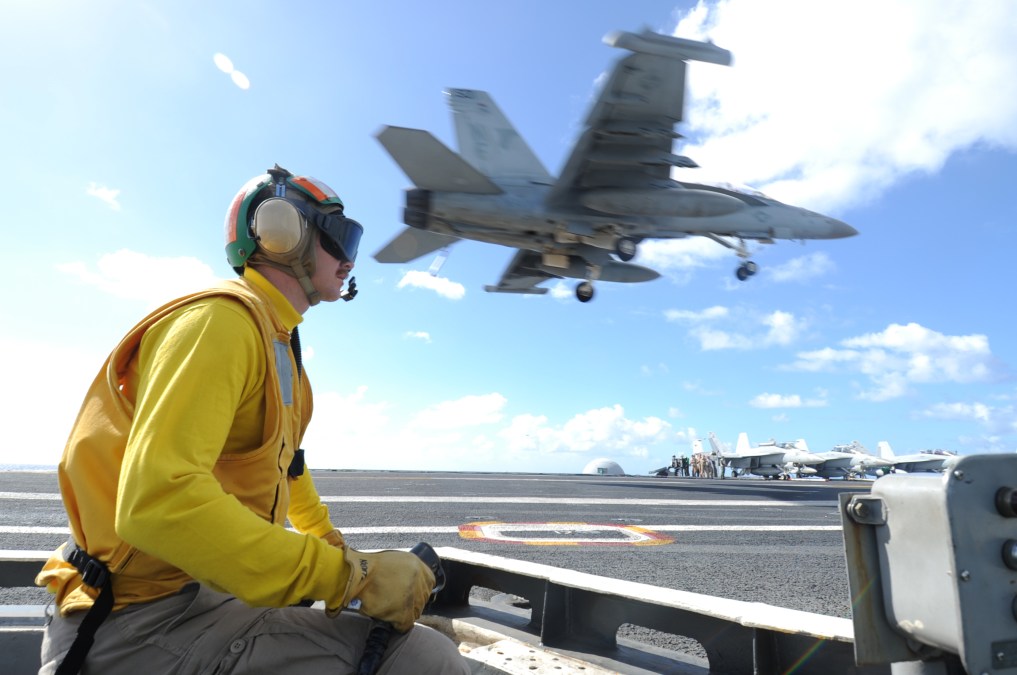 The Navy is at risk of experiencing reduced confidence and effectiveness in evaluating a critical next-generation airborne electronic warfare system during its upcoming Initial Operational Test and Evaluation (IOT&E) phase, the Pentagon's top weapons tester asserts.
The system in question is the Next Generation Jammer-Mid Band, which will serve as the Navy's premier aerial electronic attack platform mounted aboard EA-18 Growler aircraft and will replace the ALQ-99 jamming pod. It has been broken into three pods covering three portions of the electromagnetic spectrum: mid, low and high.
Raytheon was awarded the mid-band pod in 2016.
In its annual report, the Office of the Director, Operational Test and Evaluation stated that the lack of verified, validated and accredited digital models required to supplement NGJ-MB operational flight test data will reduce confidence and effectiveness evaluation during IOT&E, which is slated to take place in May.
DOT&E said the same thing in its report last year for fiscal 2021.
To address concerns, the Navy said it implemented a series of flight tests in an operationally representative environment.
"To address this risk, the Navy implemented a series of flights in an operationally representative environment to ensure sufficient modeling data will be available to supplement operational test flights and generate data necessary for verification, validation and accreditation of modeling and simulation," a spokesperson for Program Executive Office for Tactical Aircraft Programs said to DefenseScoop in an emailed statement, which was identical to a passage in DOT&E's report. "The simulated operational environment includes large-force exercises in a threat representative environment. These flights also serve as risk-reduction for planned EA-18G H18 SCS test flights with NGJ-MB."
According to DOT&E, test data classification has also prevented all required modeling and simulation personnel from analyzing available data.
The report noted that the Navy did not conduct dedicated operational tests on the NGJ-MB during fiscal 2022, but the service is conducting a combination of laboratory, anechoic chamber and integrated flight testing to address issues from Milestone C and to mature the system to conduct operationally relevant test flights to support IOT&E.
While the Navy and Raytheon made strides to correct issues, DOT&E said the program still does not meet all Milestone C requirements and the pods have not proven mature enough to conduct operational flight tests. Now, operational flight tests planned for the capability based test and evaluation will be conducted during IOT&E.
DOT&E listed three recommendations for the Navy: prepare to extend IOT&E past the current scheduled end date of fourth quarter discal 2023 due to uncertainty around availability and reliability of operational test ready low-rate initial production pods; continue to develop digital models and assess operationally representative flights to ensure data is available for verification, validation and accreditation of digital models for evaluation, and; obtain required security clearances for modeling and simulation personnel so they can access test facilities and data.