Navy using VideoRay's Defender underwater drone to search for Chinese balloon debris
The DOD on Thursday released an image of a UUV being prepared for deployment by sailors assigned to Explosive Ordnance Disposal Group 2, which is participating in the debris search.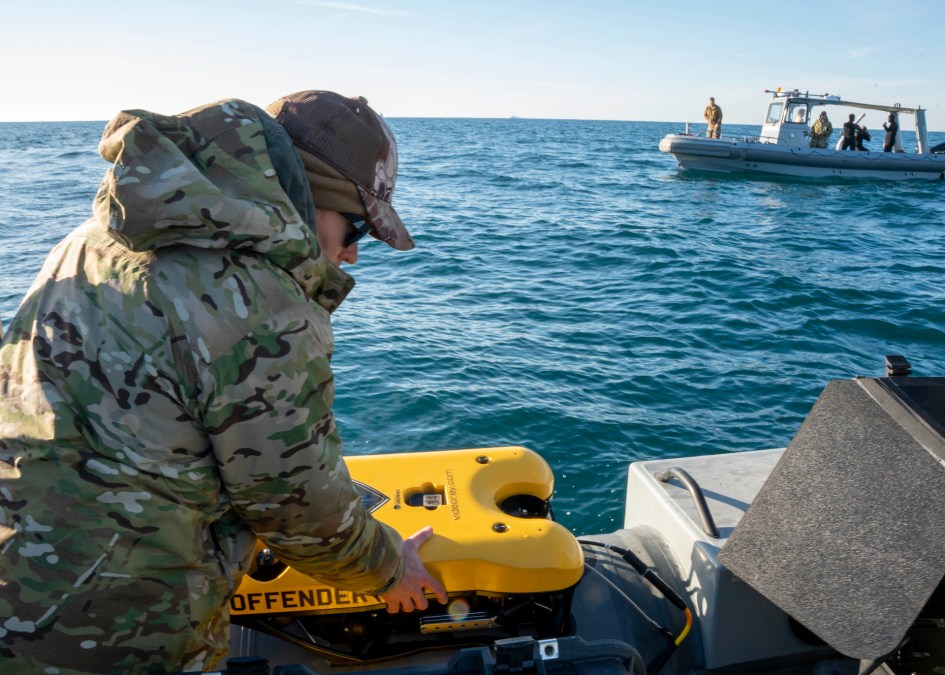 The U.S. military is using the Defender unmanned underwater vehicle manufactured by VideoRay to search for debris from the Chinese balloon that was shot down off the coast of South Carolina last week, DefenseScoop has confirmed.
The Department of Defense on Thursday released an image of a UUV being prepared for deployment by sailors assigned to Explosive Ordnance Disposal Group 2, which is participating in the search effort. On Friday morning, a DOD spokesman confirmed to DefenseScoop that the platform in the photo is the Defender undersea drone.
Earlier this week, Gen. Glen VanHerck, commander of U.S. Northern Command and North American Aerospace Defense Command, said explosive ordnance disposal teams had deployed to the area to begin UUV operations, but he did not identify which specific system would be employed.
"I'm not the expert … [but] I can assure you that it has photographic capabilities. It'll have capabilities to emplace things such as inflatable devices and mapping sonar, those types of things," he told DefenseScoop and other reporters during a briefing on Monday.
Explosive ordnance disposal teams "went out in what's called a rigid hull inflatable boat … to proceed to the area to utilize unmanned underwater vehicles, using side-scan sonar to further locate sunken debris," he said. "And so we expect them to get on there and to do some additional categorization of potential threats such as explosives that may be [there] … hazardous materials that could be in [the balloon's] batteries, etc. So we're working very hard. I'd remind you this is an effort that's in the open ocean ongoing in approximately 50 feet of water, and so we have to be very cognizant of the [sea] states, currents, etc. So we continue to move forward."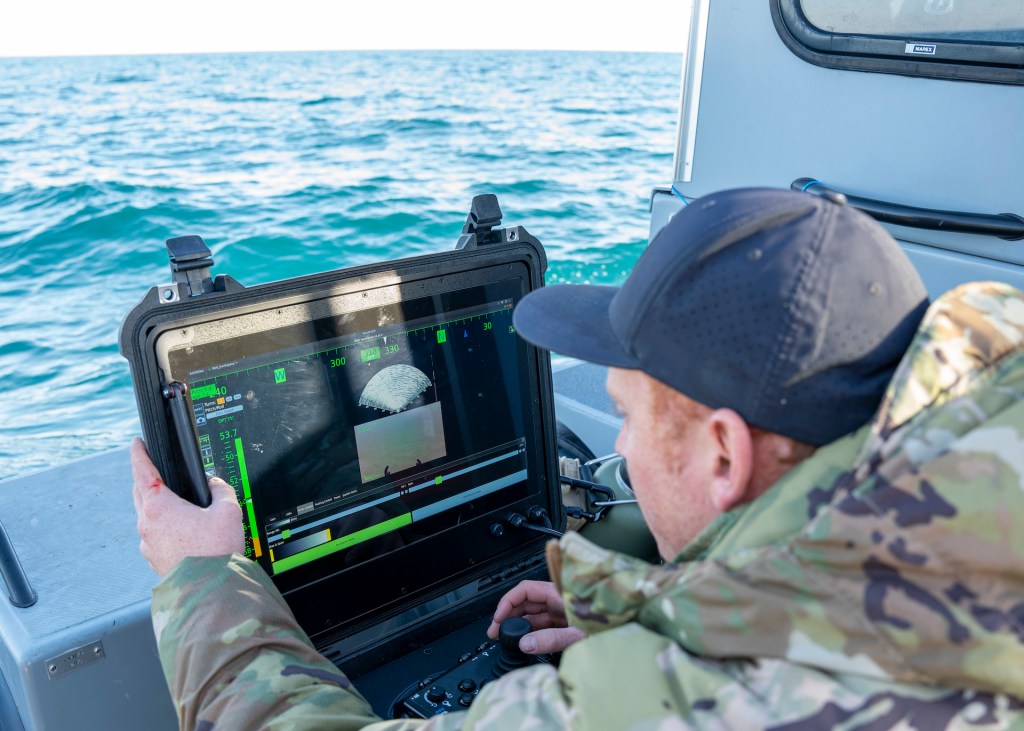 In an August 2022 press release, VideoRay announced what it described as "a large and diverse order for its Defender remotely operated vehicles (ROVs) by the U.S. Navy."
The company's support for Navy users of the man-portable system includes training facilities and staffing in Pottstown, Pennsylvania and San Diego.
"Recent new capabilities for Defender systems are evolving rapidly due to close cooperation testing and development between VideoRay, its component manufacturers and several units of the Navy. These include the ability to autonomously identify and defeat underwater mines and perform other tasks with minimal or no active user input. Defender units now can go deeper, can be equipped with batteries and lightweight splash-proof controllers and communicate without tethers over long distances underwater," per the release.
In a statement, VideoRay Chief Technology Officer Marcus Kolb said the company is "proving we can do real work at one kilometer of depth, acoustically transceive video and telemetry data through one kilometer of open ocean, and find and neutralize mines autonomously. We designed the Defender system to be powerful, open and flexible so it could handle large payloads, instruments and tools — many of which hadn't been conceived when we designed the platform. We are delighted to see how well the Defender systems have been working with larger, more complex payloads and missions than we had initially envisioned."
The platform has a depth rating up to 1,000 meters, submersible weight in air of 38 pounds, total system weight of 71.6 pounds, and forward speed of 4 knots, according to VideoRay's product description.
Other nations and organizations are also interested in the Defender tech. As of August 2022, VideoRay had delivered or had "firm orders" from 20 other navies and coast guards from allied countries, as well as orders from commercial customers, according to the company.
The U.S. Navy photo released on Thursday indicates that the system the sea service is employing for the balloon search effort may include control and navigation capabilities or other technology provided by Greensea Systems.
DefenseScoop asked the Pentagon if other types of UUVs were also being deployed for the balloon debris search effort, and how many underwater drones are involved in the operation. A DOD spokesman said he had "nothing further to provide about any other potential capabilities being utilized at this time."