Navy beginning underwater drone operations to help recover debris from downed Chinese balloon
The Navy will use UUVs to help the Defense Department recover debris from China's suspected surveillance balloon that was shot down off the coast of South Carolina.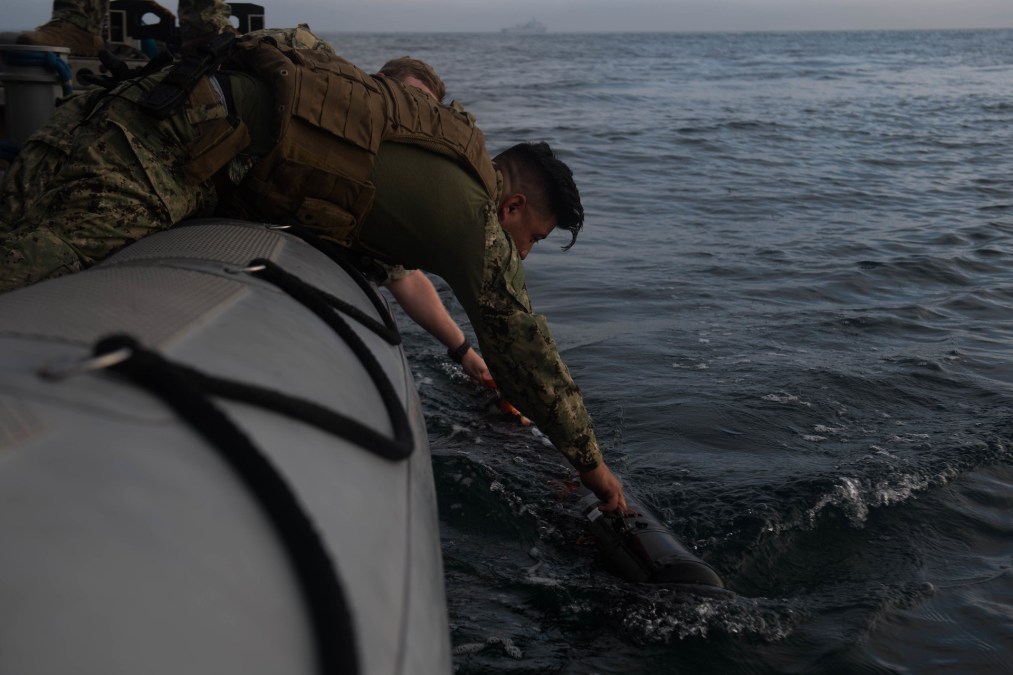 The Navy on Monday moved into position to deploy unmanned underwater vehicles to help the Defense Department recover debris from China's suspected surveillance balloon that was shot down on Saturday off the coast of South Carolina, according to the head of U.S. Northern Command.
Unsafe conditions at sea prevented explosive ordnance disposal teams from deploying the UUVs from a manned craft on Sunday, Gen. Glen VanHerck told reporters during a briefing on Monday.
"Today they're on scene as of 10 o'clock Eastern this morning," he said.
"They went out in what's called a rigid hull inflatable boat … to proceed to the area to utilize unmanned underwater vehicles, using side-scan sonar to further locate sunken debris," he said. "And so we expect them to get on there and to do some additional categorization of potential threats such as explosives that may be [there] … hazardous materials that could be in [the balloon's] batteries, etc. So we're working very hard. I'd remind you this is an effort that's in the open ocean ongoing in approximately 50 feet of water, and so we have to be very cognizant of the [sea] states, currents, etc. So we continue to move forward."
VanHerck told DefenseScoop that he did not have enough information on hand to say what specific UUV systems are involved or how many of them will be deployed but the DOD may be able to provide that to reporters later.
"I'm not the expert … [but] I can assure you that it has photographic capabilities. It'll have capabilities to emplace things such as inflatable devices and mapping sonar, those types of things," he said.
Manned platforms including the USS Carter Hall and USNS Pathfinder are also involved in the search-and-recovery effort on the surface and undersea.
Using a variety of sensors such as sonar, the Navy is working to produce a detailed map of the debris field.
The U.S. government is eager to recover as many pieces of the suspected surveillance balloon as possible so they can be analyzed to glean intelligence about the system and its payload.
The debris field is expected to be approximately 1,500 meters by 1,500 meters — or about 15 football fields squared, according to VanHerck. U.S. Navy and Coast Guard have cordoned off the area from civilian maritime traffic.
The giant balloon that was shot down was up to 200 feet tall. The payload that it carried was "a jet airliner type of size" and probably weighed "in excess of a couple thousand pounds," he said.
Defense officials have said the decision was made not to shoot down the air vehicle over land as it was traversing the continental United States because of the risk of harm to people and infrastructure on the ground.
"From a safety standpoint, picture yourself with large debris weighing hundreds if not thousands of pounds falling out of the sky. That's really what we're kind of talking about. So glass off of solar panels, potentially hazardous material such as material that is required for batteries to operate in such an environment as this, and even the potential for explosives to detonate and destroy the balloon. That could have been present. So I think that would give you an idea of the perspective of the balloon and the decision-making process along the way," VanHerck told reporters.
He said he couldn't confirm whether the platform was carrying any explosives. However, "anytime you down something like this, we make an assumption that that potential exists. We did not associate the potential of having explosives with a threat to dropping weapons, those kinds of things. But out of a precaution, abundance of safety for not only our military people and the public, we have to make assumptions such as that," VanHerck said.
Due to ocean currents, it's possible that some debris may wash up on shore. The public should avoid contact with any of that material and immediately contact local law enforcement to take care of it, VanHerck cautioned.