Spacecom to reach full operational capability by end of year, commander says
The U.S. military's newest combatant command reached initial operational capability in August 2021 and has been working towards FOC.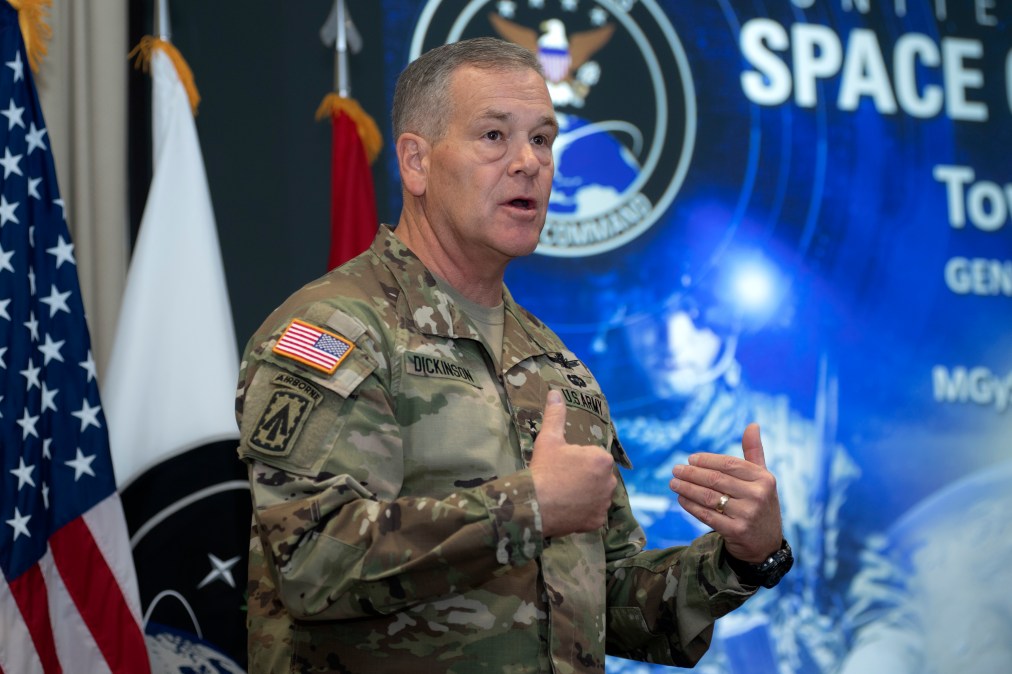 COLORADO SPRINGS, Colo. — U.S. Space Command is on track to reach full operational capability before the end of 2023, its commander announced Tuesday.
Having been reestablished in August 2019, Spacecom is the Defense Department's newest combatant command and is responsible for military operations throughout the space domain. The organization reached initial operational capability in August 2021 and immediately began working towards full operational capability.
"We're on our way to FOC, and that will be a milestone that will be very, very important to not only the department, but the country as a whole," Gen. James Dickinson said during his keynote address at the Space Symposium.
As it prepares for full operational capability, Dickinson said Spacecom has done a lot of work to create "initial capability documents" that identify what capabilities the combatant command needs and send those demand signals to the rest of the Defense Department. The command currently has four of those documents — focused on space domain awareness, space combat power, joint space command and control, and the joint space communications layer — with more on the way, he said.
"These are critical, because in order to get the funding, in order for the services to provide capabilities to us, they need to understand what our requirements are," Dickinson said.
One concept Spacecom is growing more interested in is sustainable on-orbit satellite servicing, or "dynamic space operations," Dickinson said. The command is looking at ways it can ensure its satellites are not limited by resources like fuel or battery life, he noted.
"It's important, as we do in other domains with respect to operations, that we don't limit ourselves by those types of resources," he said. "That we have the ability to plan, as we need, to do the operations that have been given to us — using the tactics that we have developed and [are] not limited to the fact that we may not have those resources on board and that they're able to be replenished."
The combatant command has also focused on building relationships with its allies to bolster military cooperation in the space domain since establishing initial operational capability, Dickinson said. Spacecom has signed two "enhanced space cooperation" memorandums of understanding — one with the United Kingdom's Ministry of Defence and a second with the Royal Canadian Air Force — that deepen collaboration in space activities.
This week, Spacecom plans to ink a third MOU with Australia, Dickinson announced.
Spacecom has been prioritizing satellite communications as it supports NATO's deterrence efforts in the wake of the conflict in Ukraine, Dickinson said.
The command has "provided more than an additional gigabyte of data to support communications across the European continent," he said. "And since the beginning of the conflict, Space Command has also provided more than 11,000 indications and warnings of theater launches to the NATO allies, as well as our U.S. partners."
"Suffice it to say we're busy, but busy doing good things for folks and units all around the world," Dickinson said. "We are breaking new ground in several other areas to stay ahead of the threat and maintain our position of advantage."