Spacecom commander urges the services to 'keep up' with new space-based technologies
The fight for and from space is inherently joint and demands a "space-savvy" force, said Commander of U.S. Space Command Gen. James Dickinson.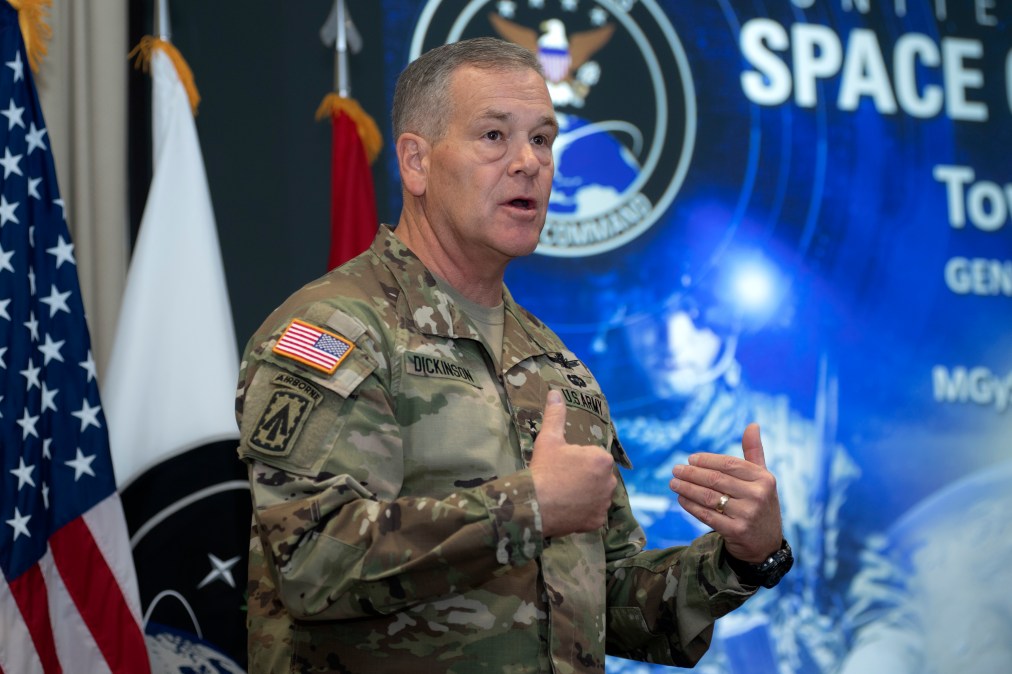 As the Pentagon prepares for a potential conflict with advanced adversaries, the head of U.S. Space Command is urging the Navy, Air Force and Army to invest in capabilities that will allow them to fully leverage space-based technologies.
The services will need to be able to plug into the emerging and rapidly evolving space architectures being deployed by the Pentagon, Spacecom Commander Gen. James Dickinson said during a keynote address Tuesday at the Association of the United States Army's annual LANPAC conference.
"As we improve to the next objective type of capability — whether its satellite communications or GPS — the services have to keep up with that, in terms of fielding the ground segment of that or the ground capability like radios, that will take advantage of improvements that are being made in the space architecture," he said.
More broadly, the joint force needs to be "space savvy," he noted.
"That [future] fight may very well start in space, so our ability to hold our adversaries at risk and create security dilemmas and ultimately deter them requires a joint, combined and partnered approach," he said. "The fight for and from space is inherently joint and demands a space-savvy force … that is resilient enough to fight through a degraded environment — maybe even a denied environment — while also positioned to help gain and maintain space superiority."
Dickinson emphasized that in order to maintain space superiority, each of the services needs to understand their vulnerabilities related to the space domain. They should consider having organic capabilities in their respective operational domains that are able to create space effects to support their mission areas, he added.
The Army's multi-domain task forces are an example of how one service is approaching the challenge correctly, Dickinson said. The deployed units are equipped with various non-kinetic effects, such as electronic warfare and cyber, and give the Army an "organic ability to have or create space effects," he added.
Spacecom is also working to leverage current capabilities deployed by the services that will give the command enhanced space domain awareness and expand the entire joint force's ability to engage with adversaries, he said. Those include the Army and Navy's AN/TPY-2 radar and maritime platforms like the Navy's Aegis combat system, he said.
However, being "space savvy" doesn't just mean having capabilities that give U.S. and allies forces access to space and help defend the space domain. The services must also ensure that space and cyber elements of warfighting are considered at the very beginning of their planning processes, Dickinson said.
"It's got to be integrated from the very beginning in all of your plans and all of your operations because it's that important," he said. "You don't have to be a space expert, but I think you have to be space mindful in the sense that you understand what capabilities our competitors have and how that can affect your assigned mission areas."