Gen. Brown, evangelist for a more digital military, officially tapped to be next chairman of the Joint Chiefs of Staff
If confirmed by the Senate, Brown would succeed Gen. Mark Milley as the top officer in the United States armed forces.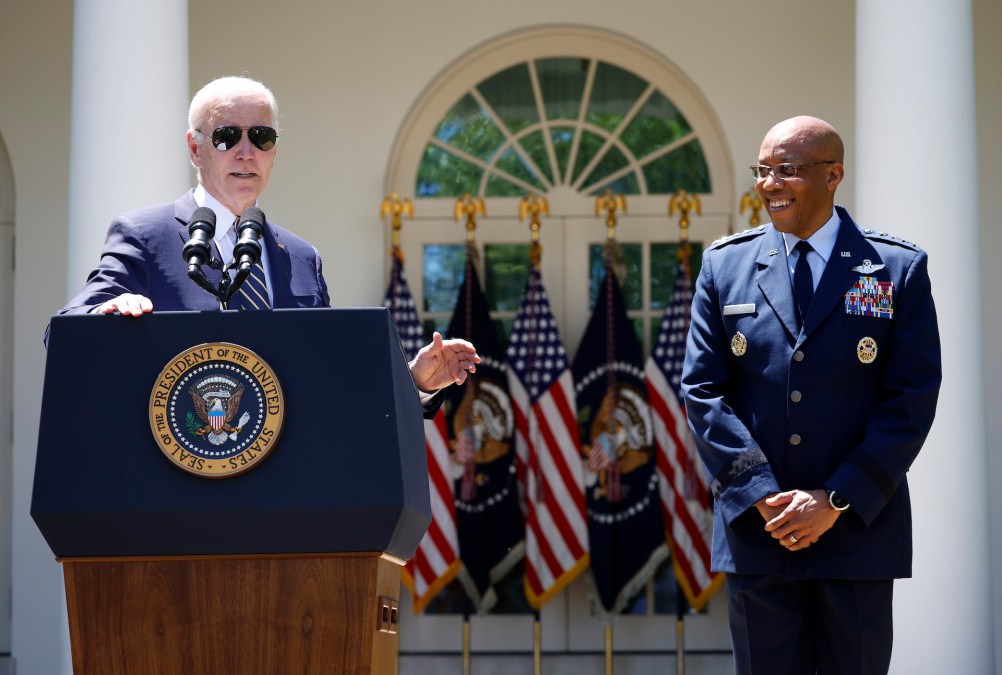 President Biden on Thursday announced his intent to nominate current Air Force Chief of Staff Gen. Charles "CQ" Brown Jr. to serve as chairman of the Joint Chiefs of Staff — a choice that would see a major proponent of digital transformation and modernization become the next senior military advisor to the commander-in-chief.
During the announcement in the White House Rose Garden, Biden described Brown as a "butt-kickin' American airman," an "operational leader in the joint force" and a "top-notch strategist."
He noted Brown's advice that the U.S. military must "accelerate change" or risk losing future conflicts.
"To keep American people safe, prosperous and secure, we have to move fast and adapt quickly. We have to maintain a combat credible force, capable of deterring and defeating any potential threat. We have to manage our competition with China and meet the reality of renewed aggression in Europe. We need to make sure we retain our competitive edge in an age where emerging technologies and technologies from AI to 3D printing can fundamentally change the character of conflict. With Gen. Brown as chairman, I know I'll be able to rely on his advice as a military strategist and as a leader of military innovation, dedicated to keeping our armed forces the best in the world," Biden said.
If confirmed by the Senate, Brown would succeed Gen. Mark Milley as the highest ranking member of the American armed forces.
Brown began his military career nearly four decades ago as an F-16 fighter pilot, and was eventually tapped as the commander of Pacific Air Forces for U.S. Indo-Pacific Command where he focused on emerging threats from China, which the Pentagon now views as its top competitor. He later became chief of staff of the Air Force in June 2020 — the first Black officer to lead a military service branch.
In his current role, Brown has notably been a staunch advocate for the Air Force's modernization programs, from sixth-generation aircraft and drones to artificial intelligence and other digital capabilities. He often emphasized the importance of advancing the Air Force's technological prowess in order to deter U.S. adversaries like China and Russia through his "Accelerate Change or Lose" manifesto, a message he'll likely carry into his role as chairman of the Joint Chiefs of Staff.
"The Air Force must modernize to counter strategic competitors by balancing risk [and] by divesting platforms and capabilities that have decreasing relevance against the pacing challenge. Investments in speed, agility and the lethality of Air Force capabilities underwrites the Joint Force," Brown told the House Armed Services Committee during a fiscal 2024 budget hearing last month.
Brown was particularly focused on fleshing out the Advanced Battle Management System (ABMS), which serves as the Air Force's contribution to the Pentagon-wide initiative known as Joint All-Domain Command and Control (JADC2). That effort aims to connect the military's sensors and shooters under a more unified network across the joint force — a challenge Brown repeatedly noted must be executed without breaking the bank.
He has prioritized investments in digital infrastructure and modernizing cloud-based communications in order to mature ABMS.
"We must focus on the Joint Warfighting Concept, enabled by Joint All-Domain Command and Control and rapidly move forward with digital, low cost, high tech, warfighting capacities," he said in his strategic vision.
Brown also sought to turn the Air Force into a more data-centric service by elevating and expanding various capabilities such as the "data-pulling" tool known as Project Brown Heron. Initially stood up to generate data on health and readiness during the COVID-19 pandemic, the Air Force is now collaborating with industry and using the platform to drive other types of insights for Air Force operations.
The service chief also advocated for new career paths for personnel with specialized skills in emerging technologies.
"We have what we call career pyramids … which means these are the squares you've got to fill in order to move up the chain. I want to take a sliver off the side of that and say, 'You've got some special skills, you don't have to follow the same path.' I want to make sure that you continue to have the opportunity to do meaningful work, opportunities to still get promoted and get pay raises. Maybe you don't move, you stay in the same location for a number of years versus our standard three- to-four-year cycle of movement, and allow individuals to progress that way," he said in February at an event hosted by the Brookings Institution.
Military occupational specialities might also need to be shaken up so they military can better "operate data," he suggested.
"There's people inside the Air Force that know how to do this, but not probably to the level that we're probably going to need," Brown said at the Brookings Institution event. "If I think about the Air Force specialties we have today, there's some that we have today that we probably won't need in the future; and there's probably some that we don't have today that we need more of, like data. And how do you start to build out that career field and those capabilities and say, 'These are valuable to the Air Force' and build them into and give them a developmental path and a career that … they can see themselves [moving] up to the higher levels?"
During a press briefing at the Pentagon on Thursday, Defense Secretary Lloyd Austin described Brown as "an incredibly capable and professional officer" with "deep experience in warfighting."
At the same press conference, Milley also lavished praise.
"I've known CQ, like Secretary Austin has, for a long time. He's a great officer, in my view, personal view. He has all the knowledge and skills attributes to do this job. And he has the appropriate demeanor and chemistry," Milley told reporters. "CQ is absolutely superb and I'm looking forward to a speedy confirmation."
It wasn't immediately clear when the Senate Armed Services Committee will hold a confirmation hearing.
Retired Marine Maj. Gen. Arnold Punaro, former staff director for the SASC, said he expects Brown to be confirmed.
"He embodies both the joint and service perspective, but especially helpful will be his deep knowledge and experience in the Indo-Pacific theater — the key to this 'decisive decade,'" Punaro said in a statement.
"The Senate Armed Services Committee will conduct a thorough and complete confirmation process and hearing, and I fully expect General Brown to be confirmed on an overwhelming bipartisan basis — once he leaps over any procedural hurdles currently in place for senior military nominations," he added.
Sen. Roger Wicker, R-Miss., ranking member of the SASC, praised Brown in a statement.
"Gen. Brown is an exceptionally qualified officer who brings decades of experience tackling America's hardest national security problems," Wicker said. "I have also known him to be a thoughtful advocate of accelerating innovation so that our armed services can be ready to defend our country and deter potential threats, especially those from the Chinese Communist Party."
Brandi Vincent contributed reporting.