US university seeks Pentagon waiver to keep operating China-affiliated 'Confucius Institute'
The request comes shortly after Rep. Mike Gallagher penned letters to Secretary of Defense Lloyd Austin and Alfred University President Mark Zupan earlier this month.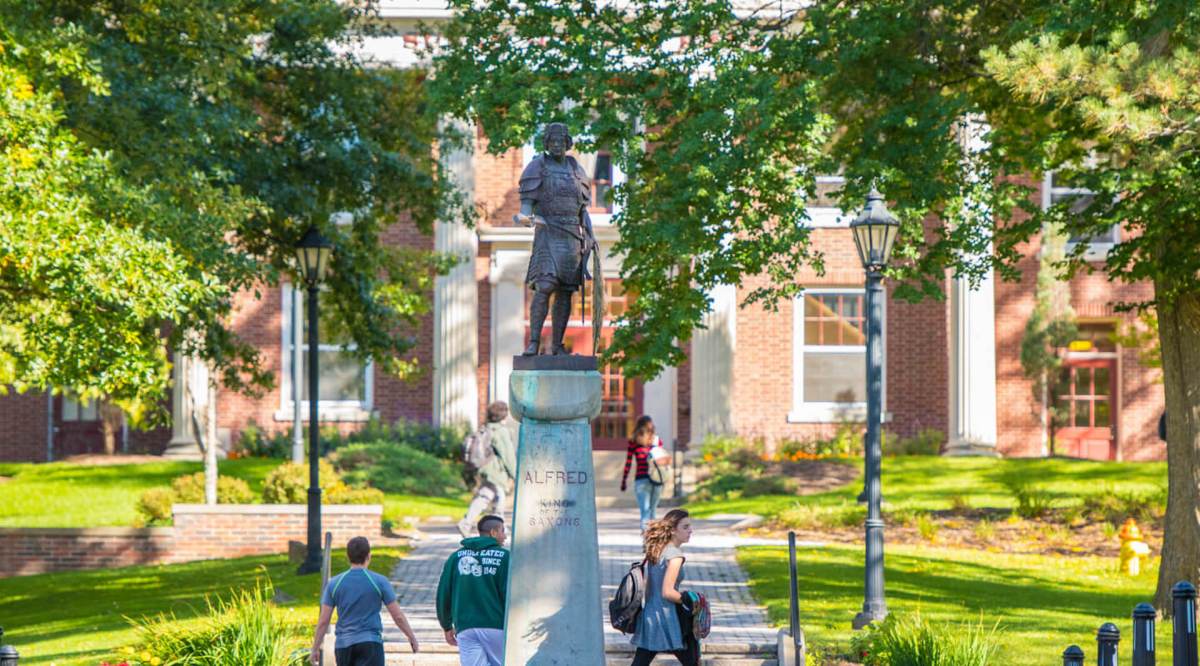 A New York-based university submitted a special request to the Pentagon for permission to continue operations of a controversial Chinese government-linked academic institute while receiving funding from the Defense Department, DefenseScoop has learned.
This request comes shortly after Rep. Mike Gallagher, R-Wis., chairman of the Select Committee on the Strategic Competition between the U.S. and the Chinese Communist Party (CCP), penned separate letters to Secretary of Defense Lloyd Austin and Alfred University President Mark Zupan earlier this month.
In both, Gallagher expressed "deep concern" about Alfred University hosting an official, China-affiliated Confucius Institute while conducting military research worth millions in grants from the Department of Defense over the next few years.
"To put it plainly, DOD is funding advanced, hypersonic weapons-related research at an American university that actively partners with a Chinese university that performs similar research for the [People's Liberation Army]," Gallagher wrote to Austin.
The first U.S.-based Confucius Institute was established in 2004 as part of a broad program reportedly associated with China's Ministry of Education that was originally billed as a mechanism to promote Chinese language and culture in foreign nations. According to a 2019 Government Accountability Office report, there were approximately 525 institutes operating worldwide in September 2018. Confucius Institutes offered services at roughly 100 U.S. universities.
The 2019 GAO report reviewed 10 universities and found "their institute directors were all U.S. university employees who reported they — not China — had full control," and that some of those organizations held events on controversial topics like Tibet or Taiwan.
But over the years since the program's launch, concerns have continued to escalate about potential undue influence in connection to the Chinese government.
Partially resulting from those wider concerns, Section 1062 of the 2021 National Defense Authorization Act included a ban on DOD funding for any institution of higher education that hosts a Confucius Institute, effective Oct. 1, 2023.

"Despite this looming deadline, Alfred University was awarded a 5-year contract worth $13.5 million, to 'improve the performance of ceramic materials used in weapons (i.e., cruise weapons).' The grant does not end until 2027, so unless Alfred University closes its Confucius Institute or receives a waiver, this grant will be in violation of the law" as of October, Gallagher wrote in the letters he sent to Alfred University and Pentagon leadership earlier this month.
"On top of its affiliation with a Confucius Institute," he added, "Alfred University has entered into a research agreement with China University of Geosciences in Wuhan, which maintains a research program in advanced materials science — a research area closely related to" the DOD-funded research at the American school.
In March, the Pentagon's Office of the Under Secretary of Defense for Research and Engineering released guidance on its Confucius Institute Waiver Program (CIWP).
Personnel in that program are responsible for reviewing — then, approving or denying — waiver applications from any U.S. institution of higher education that aims to be exempted.
Gallagher posed multiple questions to both the defense secretary and Alfred University president in the letters. He also asked the Pentagon for all correspondence, documents and communications "related to the creation and planned enforcement of" the CIWP — and requested that the university provide all letters, emails, and electronic documents through which it has communicated with "China's Office of Chinese Language Council International (Confucius Institute Headquarters) regarding the establishment" of its institute.
"Last week, we submitted our application for a waiver in full compliance with the instructions provided by the Department of Defense. We are told that we will be given a response to the application by September," a senior communications official from Alfred University told DefenseScoop on Tuesday.
"In the meantime, we are in communication with the office of Chairman Gallagher and will submit all the materials his staff has requested by the deadline of June 14, 2023. We are operating with full transparency and cooperation with all parties involved," they said.
That official — as well as other spokespersons from Congress and DOD — did not provide answers to repeated requests from DefenseScoop this week for more information about the university's waiver request, the broader compliance process, other Confucius Institutes open in the U.S., or the path forward.
"Thanks for reaching out. As with all congressional correspondence, DOD will respond as appropriate. We have nothing additional to provide at this time," a department spokesperson told DefenseScoop.