Space Force opens second collaboration hub, looks to advance space domain awareness
The lab plans to launch its first technology accelerator program — dubbed "Project Apollo" — on Oct. 26.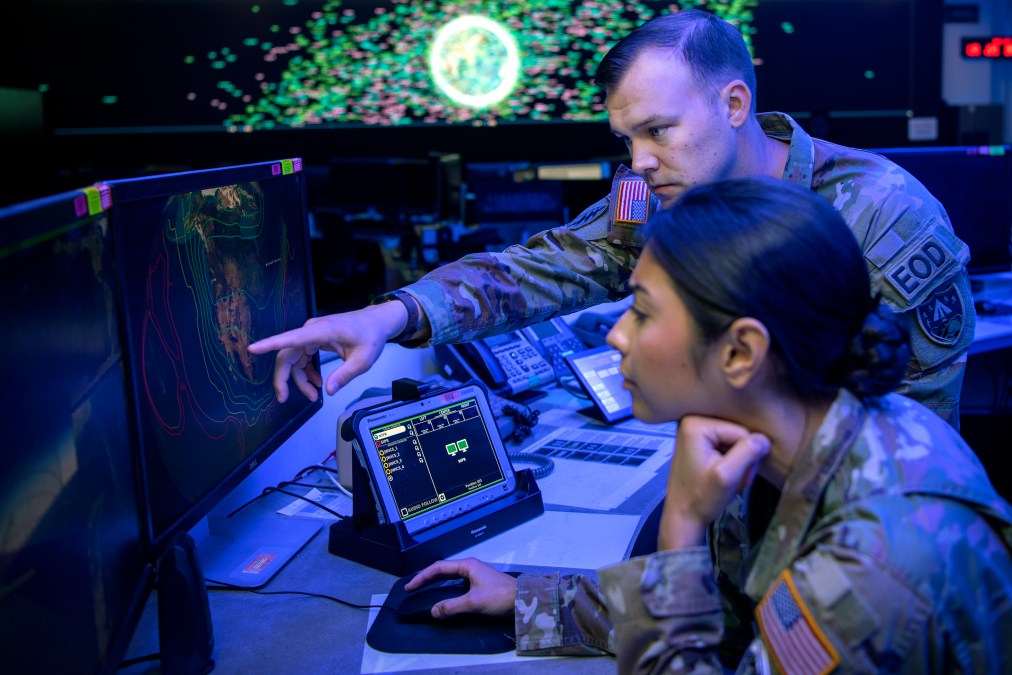 The Space Force's acquisition arm has opened a second Tools Applications and Processing (TAP) lab in Colorado Springs, Colo., that will serve as a collaboration and innovation hub focused on accelerating space domain awareness technology, the service announced Monday.
The newest TAP lab will facilitate partnerships between Space Force guardians and external partners to identify and address challenges in the service's space domain awareness capabilities — a technology accelerator program the Space Force has dubbed "Project Apollo."
Through the program, the lab plans to host three-month "innovation cycles" with invited partners up to four times a year, according to a press release from Space Systems Command (SSC).
"The new TAP Lab will expose data at all classification levels to our industry, academia, government agency and allied partners and provide them with a 'sand box' to experiment on the data, to include implementing artificial intelligence," SSC Commander Lt. Gen. Mike Guetlein said in a statement. "Promising developmental capabilities will then be fast-tracked into operations, giving our warfighters a competitive advantage."
In May, Guetlein directed SSC to set up a second TAP lab for the space domain awareness mission. The Colorado Springs location is modeled closely after SSC's first TAP lab located in Boulder, Colo., which focuses on missile warning and tracking capabilities.
Space domain awareness is a key priority for the Space Force, especially as the domain becomes increasingly crowded with U.S., allied, commercial and — most importantly — adversary space systems.
The mission is one of three major lines of effort detailed in the Defense Department's unclassified space strategy published Sept. 14. The policy calls on the department to improve space sensing capabilities, as well as better integrate its disaggregated system of sensors and data processing.
The Space Force's new TAP lab will contribute to that effort by "rapidly onboarding 'apps to close gaps,' decomposing kill chains into atomic parts, prioritizing needs with operators, mapping needs to technologies, and enabling on-boarding onto existing platforms in order to quickly integrate solutions into operations," the SSC press release stated. It will primarily work with squadrons in Space Delta 2, the service's space domain awareness delta
SSC is looking for members of industry and others to participate in Project Apollo's first "innovation cycle" that is slated to begin Oct. 26 at the Colorado Springs lab, according to the service. Selected partners will focus on at least one of three challenges to space domain awareness — maintaining custody of space launches within minutes and predicting their intermediate and final orbits; classifying, identifying and evaluating space objects within seconds; and providing semi-automated, real-time decision-making tools based on data for command-and-control centers.
In addition, partners will have access to a "digital sandbox" that includes data, microservices, algorithm benchmarking tools, a software development environment and the capability to plug in their own applications and microservices with the Space Force's.
"As the next generation of space professionals emerges, Project Apollo is a path to solve real problems, collaborate across industry and government, provide expert mentorship, interact with operators, and make measurable advances in space defense," Maj. Sean Allen, the TAP lab's first chief, said in a statement.