Services working to convergence EW, cyber warfare capabilities
Each of the military departments are working to develop integrated cyber and electronic warfare capabilities, but lawmakers are pushing for more inter-service integration of these efforts.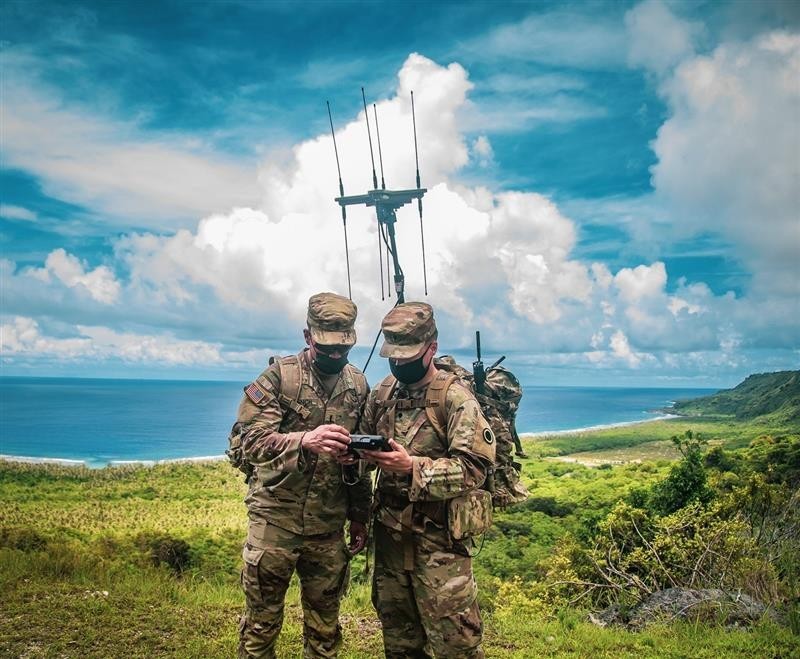 As military targets are becoming harder to hack into, the services are looking to combine cyber and electromagnetic effects to gain access to adversaries' systems through radio-frequency means. However, lawmakers see gaps in their strategies for fielding new capabilities and they are pressing the Defense Department to ensure these efforts are better aligned.
Blending electronic warfare tools may be required when old-school cyberattack methods can't get the job done.
"Traditional cyber operations via hard-wired networks are increasingly challenged by adversaries using standalone networks that have an air gap between themselves and the broader internet, including mobile devices on private wireless networks," Bryan Clark, senior fellow and director of the Center for Defense Concepts and Technology at the Hudson Institute, told DefenseScoop. "Gaining access to these networks may require physically connecting to them, but another way can be to use RF signals to enter via a radio antenna or wireless router. And against combat systems — such as on a ship, plane, or air defense site — a technique is to access it via a radar or jammer antenna and associated processing stack."
While the services have been charting their own paths to converge such capabilities to meet their priorities, Congress is trying to push them harder, identifying gaps in their overall approach.
The Senate's version of the fiscal 2023 National Defense Authorization Act directed the Pentagon to develop a strategy for converged cyber and electronic warfare conducted by deployed military and intelligence assets.
"Through detailed oversight of the committee, a gap was determined in the operational strategies for fielding emerging RF-enabled cyber capabilities," Sen. James Inhofe, R-Okla., ranking member of the Senate Armed Services Committee, said in a statement. "This provision is intended to ensure that the leadership of the Department, Combatant Commands, and military services mature the strategy and capability development processes for these emerging capabilities."
Clark articulated the need for an integrated plan between the military branches.
"The reason why alignment between services is important is the Air Force and Army are working on a viable future EW approach, but which may not support RF-enabled cyber," he said. "The Navy has a strong capability for now to do RF-enabled cyber, but may not have a viable future plan. By bringing the services together, the proposed strategy could address the need for U.S. forces to do more RF-enabled cyber in the future."
These RF operations are a way to inject cyber effects wirelessly, Clark said. With the proliferation of sensors and electronic warfare equipment, the military is looking to better combine them on the battlefield.
"We're seeing a lot of synergy between the electromagnetic spectrum, EMS, EW, cyber and [information operations]. We believe in the future, the integration of that to achieve the outcomes of cyber operations forces is going to be necessary," Michael Clark, director of J9, acquisition and technology directorate at U.S. Cyber Command, told reporters in July.
Despite Cybercom conducting more of the traditional, remote type of cyber operations against networks, it has been investing in these types of electronic warfare capabilities for some time. The combatant command requested $16.7 million in fiscal 2023 for tools to "adapt EW technology and cyber-peculiar capabilities to gain aces to targeted enemy forces," according to budget documents.
The Senate bill language charges DOD with developing requirements for service-retained tactical cyber forces for offensive and defensive missions, though some of the services have already invested in these types of assets. As these capabilities mature, it is expected that these proximal forces could actually gain access to adversaries' systems and pass that off to high-end Cybercom operators remotely to exploit.
The Army has built its own tactical force to conduct these types of proximal RF-enabled cyber operations in support of commanders' mission objectives with the 915th Cyber Warfare Battalion.
The Army's Cyber Center of Excellence (CCoE) along with Headquarters Army and Cybercom are collaborating on a cohesive strategy for tactical RF-enabled cyber operations, a CCoE spokesperson said.
Authorities to conduct cyber ops are notoriously onerous and held at the top levels of government, but these more proximal mission "effects" conducted through radio-frequency require fewer levels of approval. However, cyber operations should still be coordinated through Cybercom's command-and-control mechanisms and capabilities, especially in the event Cybercom wants to use these proximal forces as an in to a network or vice versa.
"We acknowledge USCYBERCOM's standing authorities to control and direct offensive cyber forces. Authorities and command/support relationships in future conflict will vary and be based on applicable higher echelon [execute orders]," the CCoE spokesperson said. "The Army will be ready to present and/or employ well-equipped and highly-trained expeditionary cyber forces and other multi-domain capable forces by 2030."
The Marine Corps, from a ground perspective, has also invested in tactically focused cyber and electronic warfare capabilities, mainly through its Marine Expeditionary Force Information Groups, or MIGs, which support each MEF within the Corps by integrating electronic warfare with intelligence, communications, military information support operations, space, cyber and communication strategies to provide Marine Expeditionary Force commanders with an information advantage.
"There certainly is going to be a convergence of what we can do on the tactical edge with signals intelligence, with cyber-EW that's going to be very enabling for the joint force and for the intel community," Lt. Gen. Matthew Glavy, deputy commandant for information, said Tuesday during an event hosted by GovConWire.
Glavy noted that the forthcoming Marine Corps Information Command will essentially be the enabling function for converging these capabilities and navigating the authorities that exist between them.
"If you're not sitting very close to where all these authorities reside and expertise and capabilities that we want to be able to push to the tactical edge, then you may get it wrong," he said regarding what the new command — which will be stood up in fiscal 2023 — will do.
At the joint level, there are a lot of authorities that have to be coordinated, especially in the non-kinetic and digital realm as it pertains to intelligence collection — which is very heavily regulated under spying authorities known as Title 50 — and operations within cyberspace and the electromagnetic spectrum meant to disrupt adversaries' operations, known as Title 10 or general warfighting authorities.
In many cases, the lines between these disciplines can be blurred given how closely related their actions are.
"Putting all those authorities together can get a little complicated. Some of its intelligence related, some of it's more Title 10 warfighting focused, but the force that can bring them all together and can do it right, to do it in a responsible manner is going to be key," Glavy said, noting the new command will act as that integrator.
The Navy, for its part, has organized all of its information warfare capabilities — which includes cyber and electronic warfare — under one organization, the deputy chief of naval operations for information warfare, or OPNAV N2N6.
Within that office, the Crypto-Electronic and Cyber Warfare Division works as the principal adviser to establish and validate requirements as well as direct overall planning and programming for cyber, cryptologic and electronic warfare tactical networks and capabilities, according to a spokesperson.
In the air domain, the military is looking to include advanced radar technologies that are not just passive, but can also inject capabilities into the environment.
For the Navy, it's Next Generation Jammer system — its premier aerial electronic attack platform mounted aboard EA-18 Growler aircraft that will replace the ALQ-99 jamming pod — will provide some level of cyber capability.
"Now with the ability to do phased array, advanced jamming techniques, we really start to blur the lines, I think, between what we would consider traditional jamming with cyber warfare," Rear Adm. John Meier, commander of Naval Air Force Atlantic, said last year. "I think that the capabilities inherent in the [Next Generation Jammer] jamming pod are going to open up a wide, wide array of not only jamming techniques, ranges, effective radiated power, but also taking us into other areas that we've never really had the ability to do before."
Clark noted that the threats posed by advanced adversaries necessitate this push.
"As U.S. opponents become more sophisticated, U.S. cyber warfare needs to rely more on RF methods for access," Clark said. "For the Navy and Air Force, this will mean building their next generation of EW systems in ways that allow them to inject cyber tools."
Clark pointed to the Air Force's Skyborg program and its envisioned Next-Generation Air Dominance platform, as well as the Army's Air-Launched Effects — essentially small drones or payloads released in midair by larger aircraft — as unmanned examples of these types of capabilities. However, he questioned whether these systems will have the onboard processing and network capabilities to accommodate RF-enabled cyber tools like the much larger and more expensive EA-18G.
Similar to the Navy, from an operational standpoint, the Air Force created 16th Air Force, the service's first information warfare command housing cyber and electronic warfare forces, among others, under one commander.
"As you start to mix the capabilities together, you'll find one segment of it that needs to grow. One of those areas is how we converge electronic warfare and cyberspace operations," the outgoing commander of 16th Air Force, Lt. Gen. Timothy Haugh, told reporters in July just before his departure to become the deputy commander of Cyber Command. "That is an area where our service is talking about it. It's an area Congress is interested in. And now we think we can inform some of that based off of the expertise we have within our various wings. That's one that's now a discussion."
Haugh indicated that 16th Air Force created a combined detachment between the 55th Wing, which does a lot of reconnaissance and ISR work, and the 67th Cyberspace Wing. The 55th Wing has expertise in the electromagnetic spectrum from a reconnaissance perspective while the 67th is thinking about systems through an interconnected lens, he said.
"We have established a combined detachment between the two wings to allow them to bring that expertise together," he said. "Our first step in doing that was we wanted to have an opportunity where they could come together under one roof and allow that synergy to begin."