Army assuming 'a lot of risk' as it moves to field hypersonic weapons by end of fiscal year
The officer overseeing the Army's hypersonics initiative expressed confidence in the program, but he noted that officials are taking on "a lot of risk" to meet the schedule goal.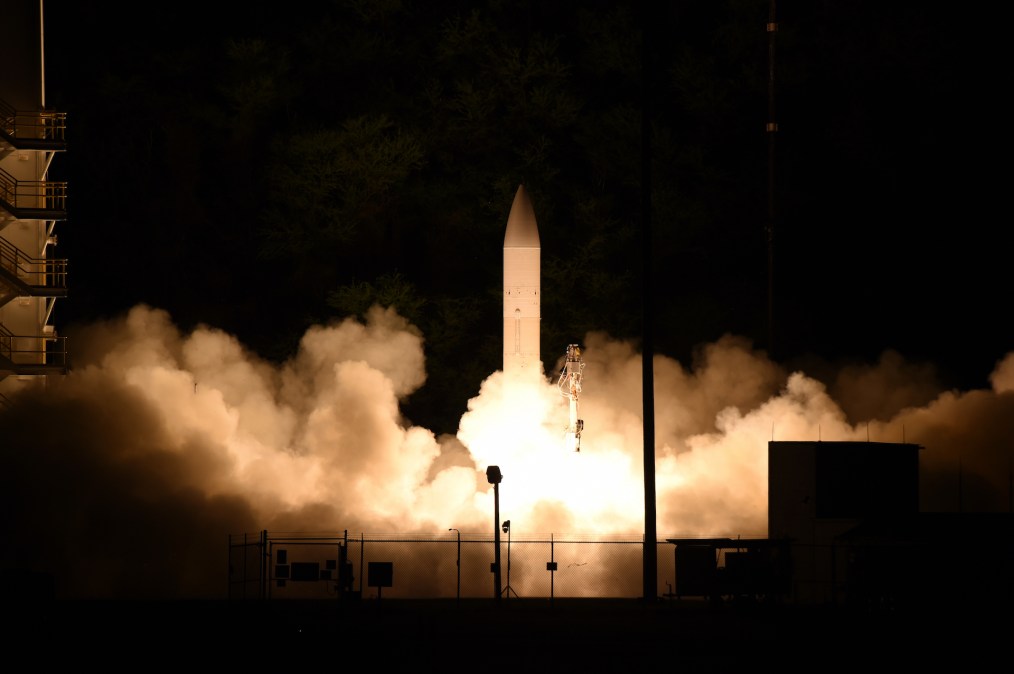 The coming months will be critical for the Army's modernization enterprise as the service aims to field a new Long Range Hypersonic Weapon by the end of the fiscal year. The officer overseeing the initiative expressed confidence in the program on Monday, but he noted that officials are taking on "a lot of risk" to meet the schedule goal.
Hypersonics — which are designed and engineered to fly faster than Mach 5, be highly maneuverable against enemy air defenses, and be able to attack time-sensitive targets — are a top priority for the Army and the Defense Department writ large as the U.S. military tries to catch up with China and Russia in this area.
"We're confident going into this year, [but there's] a lot of risk. Absolutely," Lt. Gen. Robert Rasch, director of hypersonics in the Office of the Assistant Secretary of the Army for Acquisition, Logistics and Technology, said during a panel at the Association of the United States Army's annual convention in Washington. "We're moving out on a very, very aggressive schedule with our industry partners."
He and his team are "white knuckled every day" trying to manage that for the LRHW effort, he added.
DefenseScoop asked Rasch to identify the biggest sources of risk for the project.
"It's just the fact that we're going fast. I mean, we are doing a fair amount of concurrency on this effort. So we're assuming risk. I would call it the appropriate amount of risk, but probably more so than we would normally assume in a traditional program of record where we're going to have everything kind of laid out … over time to mitigate a lot of that risk and to go in completely confident," he said.
The Army has already fielded ground support equipment for the LRHW, and soldiers have been training with it.
"We're now working to finish up the testing and then the actual build out of the all-up round and what we call the all-up round canister munition," he said.
The Army isn't the only service working on hypersonic weapons. The Air Force and Navy are also pursuing these types of capabilities.
The Army and Navy have been working on a common glide body that will be used for the ground-launched LRHW and the Navy's sea-launched Conventional Prompt Strike weapons.
The Defense Department has been testing components of the systems. Some previous test failures, known as "anomalies" in DOD parlance, have been attributed to problems with booster rockets.
"We'll do a couple of more critical live-fire tests this year to characterize not just the hyper glide body, but characterize the two-stage rocket motor, characterize all the ground support equipment, and on path to field at the end of FY23," Rasch said.
He was asked whether failures in these upcoming tests would result in delayed fielding of the LRHW.
"It depends on what you mean by 'fail,'" he replied. "There's learning opportunities in every one of these events. And so I don't know if I could characterize now and say … 'if this [anomaly] happens, then it will cause a delay.' Obviously, we're moving fast. … If we have an anomaly and we don't really reach our somewhat stretch goals, we'll sit down and analyze it and talk amongst the team and manage the risk as we go forward."
When hypersonics and some of the other advanced missiles the Army is working on are fielded, they will yield a "huge increase" in the service's long-range fires capability, Assistant Secretary of the Army for Acquisition, Logistics and Technology Doug Bush said during the panel.
However, a key question that remains to be answered is how many LRHWs the Army will acquire over time. The cost per round, among other factors, will determine how many hypersonic weapons the Pentagon ultimately buys, Undersecretary of Defense for Acquisition and Sustainment William LaPlante noted at DefenseScoop's DefenseTalks conference last month.
There are also questions about where the LRHW will be based, which will partly depend on which allied nations will allow them to be forward deployed on their territories. U.S. Army leaders have expressed a desire to put them in the Indo-Pacific region where they could quickly strike Chinese targets if war breaks out.
During the panel on Monday, DefenseScoop asked service officials about long-term procurement plans.
The near-term aim over the next few years is to have three batteries of Long Range Hypersonic Weapons, but final requirements for the Army have yet to be determined, Rasch noted.
He added that he thinks Army, Navy and Air Force efforts will lead to larger-scale production over time as the DOD and its industry partners mature the technology.