Navy plans to deploy Project Overmatch capabilities throughout the fleet 'sooner than later'
The advanced networking capabilities will be "transformational," according to Navy Secretary Carlos Del Toro.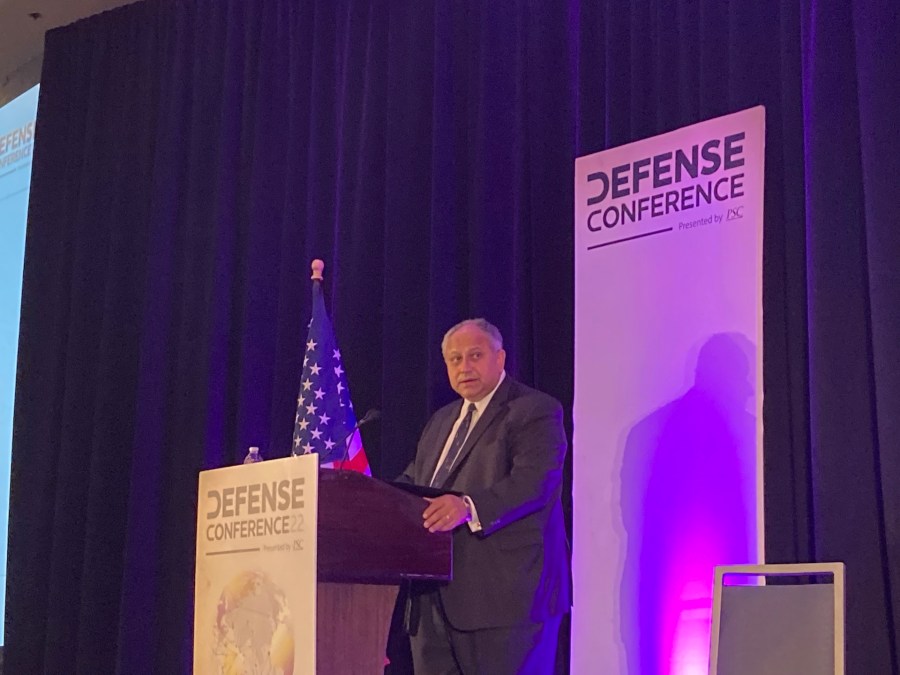 The Navy will be proliferating "transformational" networking capabilities coming from Project Overmatch "sooner than later," the service's top official said Thursday.
The highly classified Project Overmatch effort is the Navy's contribution to the Pentagon's vision for Joint All-Domain Command and Control (JADC2). The service is planning to deploy a more advanced networking capability with a carrier strike group early next year. If all goes according to plan, it will later be expanded to other parts of the force.
Navy leaders have been tight-lipped about the initiative, especially compared with the other services who have been much more forthcoming publicly about their respective JADC2 efforts.
When asked by DefenseScoop on Thursday for more details about how the technology will be exercised during the upcoming carrier strike group deployment and how quickly it will be rolled out to the rest of the force, Navy Secretary Carlos Del Toro expressed a need for secrecy.
"I'm not going to go into the details of what it is and how we are rolling out," he said at the Professional Services Council's defense conference in Arlington, Virginia. "I'm not going to tell the Chinese what we're up to either. So forgive me. You can come in for a classified briefing if you have a Top Secret clearance."
However, he touted the benefits the initiative is expected to yield.
"It's real significant capability … It supports JADC[2] in every possible way across the joint force," he said. "I'm very dedicated to making it a successful program. And it's going to be transformational in the way that all our weapon systems communicate together as a joint force. And the amount of talent, energy [and] money we're putting into it is respectable."
The Navy has requested $195 million in funding for Project Overmatch in fiscal 2023 — a major bump above the $73 million the service received for the effort in fiscal 2022. Congress has yet to pass a budget for fiscal 2023, and the Defense Department and other federal agencies are currently operating under a continuing resolution.
"I'm just very excited" about the Project Overmatch networking capability, Del Toro said. "We're going to be employing it throughout the fleet sooner than later."
He noted that Deputy Secretary of Defense Kathleen Hicks, a major champion of JADC2 for the DOD, traveled to San Diego this week to see Project Overmatch capabilities firsthand.
Pentagon spokesman Eric Pahon said Hicks stopped by the Naval Information Warfare Center on Tuesday to see the Navy's "most cutting-edge, multi-domain unmanned technologies and command-and-control programs."
She received a briefing on Project Overmatch as part of her "look into service-specific strengths and challenges which impact JADC2 implementation across the joint force," Pahon said in a release, noting that Navy officials "highlighted their work on integrating cybersecurity into software development and continuous delivery / continuous integration software pipelines."
During an event hosted by the Atlantic Council on Wednesday, Chief of Naval Operations Adm. Michael Gilday said Project Overmatch could potentially deliver "the core of the joint tactical grid" for JADC2, describing it as "the network of networks of the future" that will be software-defined.
The technology will also provide decision aids for commanders and troops at the tactical edge to enable the Navy and other U.S. forces to make decisions faster and give them an advantage over their adversaries, according to Gilday.
Although the Navy has been reluctant to share details about the initiative with the public, Gilday noted that the service is sharing Project Overmatch "work" with international allies and partners.
"Some of our allies and partners — I'm not going to mention which ones — but those that we see a higher likelihood of interoperability in the near term, we are sharing our Project Overmatch work with them. They're highly interested," he said, noting that some of his foreign counterparts have personally visited Naval Information Warfare Systems Command in San Diego to learn more.
"And so it's not lost on me the power of including them. We have to be inclusive or we're not going to be able to fight together. And so we're moving forward I think at a good pace with our allies and partners in that effort. We're not holding back," he said.
Interoperability issues shouldn't be an insurmountable obstacle, he suggested.
"The technology that we're actually leveraging in order for us to package any data set and send it on any network — that technology is applicable to really any network. And so whatever networks that they have that we currently don't currently have a like investment in, I still think that technically that we could solve that problem in terms of allowing that to be … part of the framework" for JADC2, he said.
However, cybersecurity is a concern.
"There's also a cyber resiliency part of this that one can't ignore and becomes an important piece of it. So that has to be baked into any new network that we add and we experiment with," Gilday said.