Forthcoming JWCC enterprise cloud will be key to enabling JADC2, DOD CIO Sherman says
The DOD's enterprise cloud capability will be essential for realizing JADC2, according to top officials.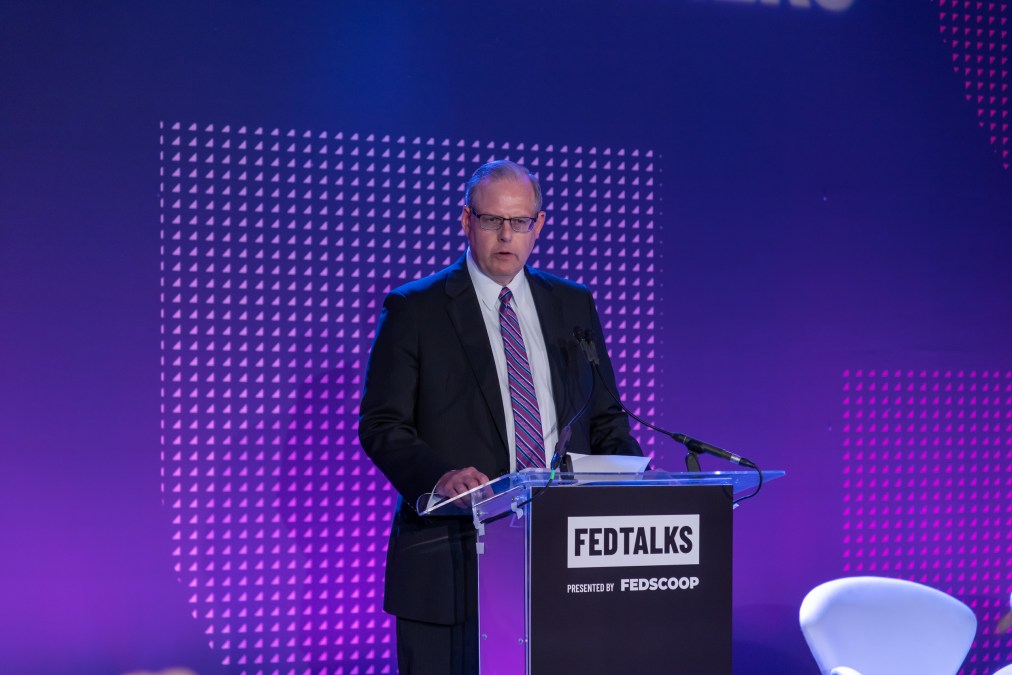 TOWSON, Md. — The Department of Defense's forthcoming JWCC enterprise cloud capability will be essential to realize the Pentagon's new way of fighting wars and conducting operations, according to its top IT official.
"JADC2 … is utterly reliant on having an enterprise cloud capability that operates in all three security classifications: top secret, secret, [unclassified], from the continental United States all the way out to the tactical edge," John Sherman, DOD chief information officer, said during a presentation at the Defense Information Systems Agency's annual forecast to industry event Monday.
JADC2, or Joint All-Domain Command and Control, refers to a concept for how DOD will fight in the future where systems across the entire battlespace are networked and connected to provide the right data to commanders for better and faster decision-making.
Sherman noted top DOD leadership has said the forthcoming Joint Warfighting Cloud Capability (JWCC) will be essential in enabling this vision.
"Deputy [Defense] Secretary [Kathleen] Hicks has been very clear on this: JWCC, enterprise cloud is the fundamental pillar of JADC2," he said. "Now there are other things too, on data and data standards and the data integration layer that my colleague Dr. Craig Martell is working in [the Chief Digital and AI Office], transport, the other pieces we talked about, but JWCC is a piece that has got to be there to make this happen."
JWCC is designed to replace the maligned Joint Enterprise Defense Infrastructure (JEDI) and serve as the department's enterprise cloud capability. It is expected to be awarded in December.
Sherman noted that JEDI was the right decision at the time and has helped inform the efforts associated with JWCC. For example, getting to the cloud isn't just about the procurement, he said. It's more than that and the underlying technology.
"You just don't forklift apps up there. There's cloud-native approaches, there's DevSecOps pieces, there's how do you pay for it, moving from a capital expenditure to an operations expenditure model, how do you do the task orders, how does a large enterprise become a cloud conversant organization?" Sherman said. "That's what we have done at the Department of Defense."
The services, however, have moved out on their own cloud efforts as some have said they are not and cannot wait for JWCC to be awarded. These include the Navy's Black Pearl, the Air Force's Cloud One and the forthcoming Army Enterprise Application Migration and Modernization contract (EAMM), which will be a roughly $1 billion multi-award, multi-vendor effort.
Despite that, JWCC will still have its place and won't be a redundant effort on top of these other cloud initiatives, according to officials leading its development.
"JWCC is meeting specific capability gaps in the areas of having all classification levels — so unclassified, secret and top secret, as well as tactical edge capabilities that work in those denied latency or communication-deprived environments, again, at all classification levels," Sharon Woods, director of DISA's Hosting and Compute Center, told reporters at the conference. "So JWCC will provide those capabilities and more at scale. The services have matured in their cloud journey and delivered high-quality capabilities. And we see them as being complementary, not in competition."
DISA's director said that they hope when some of these cloud efforts have run their course, the services will turn to JWCC.
"As their contracts come up for, I'll say, recompete or renewal, JWCC is an option and if it meets their needs, then happy to have them come over, because at the end of the day, it's about the best value for that mission partner," Lt. Gen. Robert Skinner told reporters, noting that the real key to this will be application migrations to the cloud. "We think JWCC provides best value."