Army moving out on global classified network modernization
The Army will soon be releasing request for proposals to create a global SIPRNet.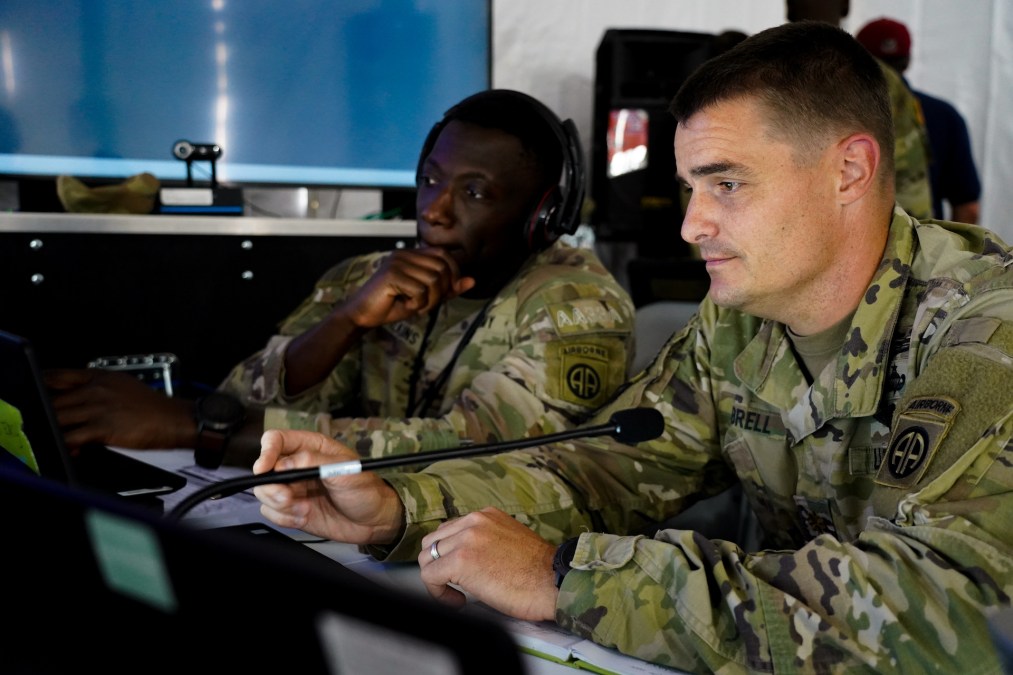 CHANTILLY, Va. — The Army is readying a request for proposals to modernize its warfighting network.
Improving the Secure Internet Protocol Router Network (SIPRNet) is a top priority for the Army's deputy chief of staff, G6 and chief information officer.
Under the Army's unified network plan, the service wants to get to a truly global singular network where soldiers around the world — regardless of theater — can plug in and connect the enterprise and tactical realms.
"As you take a look at how not only the Army's network, but almost every service's network … it was tailored by theater because that's how we operated. With the proliferation of connectivity around the globe, obviously, trying to limit connectivity to one theater is, quite frankly, not realistic," Lt. Gen. John Morrison, G6, told DefenseScoop in October.
The legacy network architecture made it difficult for forces to jump from one theater to another and rapidly connect, a hard lesson learned when the 82nd Airborne Division deployed to Afghanistan to deal with the U.S. troop withdrawal.
"The global SIPRNet is the Army's modernization for the mission command network. It's the network on which all formations, camps, posts and stations will conduct mission command," Col. Jay Shell, project manager for integrated enterprise network at Program Executive Office for Enterprise Information Systems, told DefenseScoop in an interview at AFCEA Belvoir's industry days conference.
"What the unified network fixes is before, artificially the network was divided into tactical and enterprise. Well, in a way that works if you're network centric. In a data-centric environment, with [Identity, Credential and Access Management] giving access to the appropriate data to the appropriate user in a zero trust architecture, with zero trust principles, it is one truly one unified network," Shell said.
Army Secretary Christine Wormuth has made data centricity her No. 2 priority for the Army, which in modernization terms, means moving away from a network-centric focus for communications and information to a data-centric focus.
"What the global SIPRNet does is it will really establish that global colorless transport that … will enable data flows globally between camps, posts and stations in between deployed formations, both on NIPR and SIPR data, to enable all units to deploy and have connectivity," Shell said.
That global SIPRNet will connect users in the tactical space with services at the enterprise, mission command centers and joint command centers, and be the key for accessing data from the cloud.
A request for proposals is slated to be released before the end of this month. Program Executive Officer for Enterprise Information Systems Ross Guckert told DefenseScoop that the G6 has allocated funding for this priority.
There were a few pilots that helped to inform the global SIPRNet effort, Shell said, noting they involved a robust transport network enabled by global commercial solutions for classified data, and a store-and-compute-as-a-service pilot at the data center run by Network Enterprise Technology Command at Joint Base Lewis-McChord, Washington and Grafenwoehr, Germany.
"Those are great pilots that will inform what that evolution of the Army enterprise private cloud [will be]. In addition to some of our industry partners through other government agencies, we're also piloting what that could look like down in the tactical space," Shell said. "There are multiple pilots that will inform, and we're very thankful for them because they've stepped out on very small scales and we're garnering the lessons learned to get to those global solutions."