DARPA calling for AI 'reinforcements' to bolster US air combat capability
DARPA released a Broad Agency Announcement on Monday for its new Artificial Intelligence Reinforcements (AIR) program.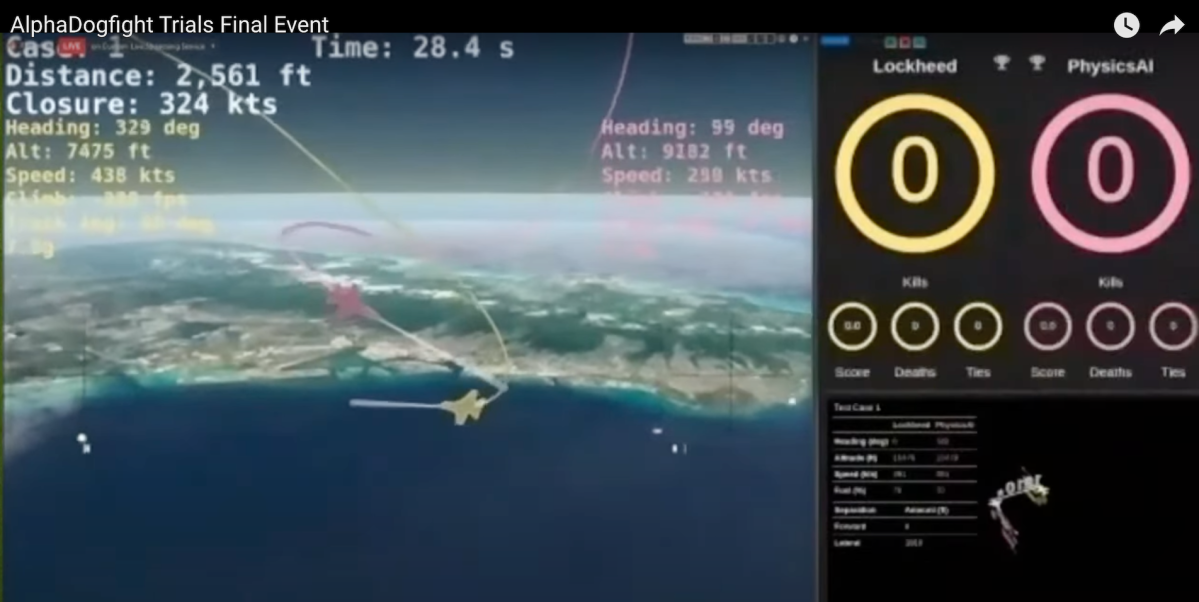 The Defense Advanced Research Projects Agency is asking industry to develop new AI capabilities that could give U.S. drones an edge in air-to-air combat.
DARPA's Tactical Technology Office released a Broad Agency Announcement on Monday for its new Artificial Intelligence Reinforcements (AIR) program, with the goal of developing tools for achieving "dominant tactical autonomy."
The agency is looking for "advanced Modeling and Simulation (M&S) approaches and dominant Artificial Intelligence (AI) agents for live, multi-ship, beyond visual range (BVR) offensive and defensive counterair missions," according to the solicitation.
The plan is for the technology to initially be demonstrated on F-16 fighter jet testbeds with a "human on the loop" before being transferred to drones.
"The outcome of this program will be a robust AI air combat capability that works with sensors, electronic warfare, and weapons in dynamic, operationally representative environments. Equally important, AIR will establish a development process and test assets required to rapidly mature and continuously evolve autonomous air-combat mission capabilities," the BAA said.
DARPA last week held a proposers day for the program. The special notice for the event highlighted the need to overcome existing hurdles to developing and deploying tactical autonomy tech that could function effectively in real-world scenarios and be operationally relevant.
The AIR initiative will focus on "previously avoided dimensions" of the challenge, according to the notice, including "fully-integrated sensors, scalability to larger engagements, adaptability to changing conditions in open-world problems, and the ability to learn predictive models that incorporate uncertain knowledge of adversary and self, as well as deceptive effects."
The two-phase, four-year program will have two technical focus areas: model development and "multi-agent AI agent training." The former will include creating "fast and accurate models that capture uncertainty and automatically improve with more data," and the latter will focus on developing "AI-driven algorithmic approaches which enable real-time distributed autonomous tactical execution within uncertain, dynamic, and complex operational environments," according to the special notice for the proposers day.
Phase 1 of the AIR program is slated to last 18 months and phase 2 is expected to continue for 30 months.
DARPA plans for multiple awards totaling $30 million for phase 1 and $40 million for phase 2.
There will be approximately six awards for phase 1 base efforts across the two technical areas, with up to four options for phase 2 that may be exercised at the conclusion of phase 1 "based on concept viability and program execution," according to the BAA.
Notably, the agency is looking for performer teams that are cleared to work in classified environments up to the TS//SAR level.
The deadline for industry to request a classified addendum package for the BAA is Dec. 1, and proposals are due March 3.
The AIR program isn't DARPA's first foray into autonomy technology. The agency has overseen a variety of AI-related programs aimed at developing new AI and autonomy capabilities that could be integrated into U.S. military systems, such as the Agile Combat Employment (ACE) project and Aircrew Labor In-cockpit Automation System (ALIAS) program. The agency's Alpha Dogfight Trials made headlines two years ago after AI systems roundly defeated a human F-16 pilot in a simulation environment.
Air Force Secretary Frank Kendall has cited the ACE program, among others, as helping to prove out the concept for robotic wingmen that the service has big plans for as part of its "collaborative combat aircraft" (CCA) initiative.