DOD, SBA ink new Small Business Investment Company agreement to support critical technology
Secretary of Defense Lloyd Austin and U.S. Small Business Administration Administrator Isabella Casillas Guzman signed a declaration of intent to partner on advancing the goals of the Pentagon's new Office of Strategic Capital through a Small Business Investment Company initiative..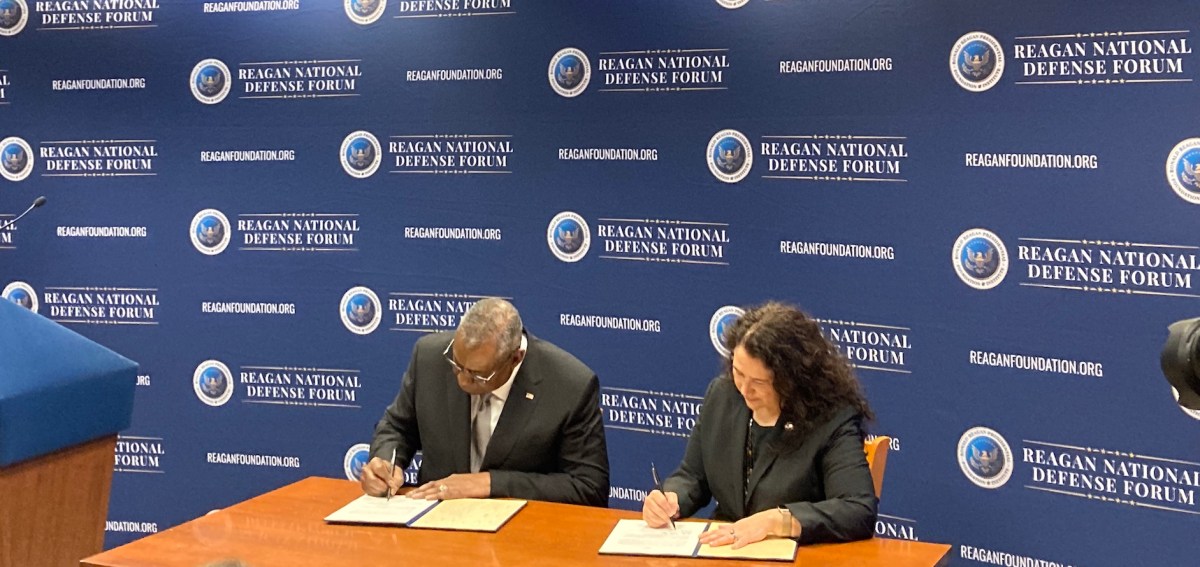 SIMI VALLEY, Calif. — Secretary of Defense Lloyd Austin and U.S. Small Business Administration Administrator Isabella Casillas Guzman signed a declaration of intent Saturday to partner on advancing the goals of the Pentagon's new Office of Strategic Capital through a Small Business Investment Company initiative.
The agreement, inked at the Reagan National Defense Forum, is the first major move to support the OSC since Austin announced the establishment of the office Thursday.
The letter of intent, obtained by DefenseScoop, noted that the DOD and SBA have had a long history of developing and implementing innovation funding programs to support private sector R&D, such as the Small Business Innovation Research and Small Business Technology Transfer programs.
However, "with the recent launch of the DoD Office of Strategic Capital, we enter a new phase as both agencies aim to expand the relationship to scale private sector innovation. We will work together to increase the flow of private capital into technology areas critical to our Nation's future economic prosperity and defense capabilities," it said.
The initiative is intended to help address a major problem the Pentagon is facing.
"Today, the Department of Defense depends on private capital to develop and commercialize critical technologies for our troops. Unfortunately, private markets don't always have incentives to invest in these technologies, which often require longer-term investments … And so without access to capital, for the time that it takes to develop key new technologies, those innovations could die on the vine, or our competitors could get there first. So we're looking for new and creative approaches" to tackle the issue, Austin said at the signing ceremony.
The new agreement with the SBA, which will leverage loan guarantees to private capital investors, will help "secure funding for critical areas for national defense and ensure that our warfighters get the capabilities they need before they need them," he added.
The agencies will be aligning their efforts by leveraging the Small Business Administration's longstanding Small Business Investment Company (SBIC) program, which was established in the 1950s to help fill "market gaps."
Guzman said the initiative helped propel major tech companies like Apple, Intel, Tesla and others in their early days.
The Small Business Administration already licenses and funds hundreds of SBIC companies, which currently manage over $37 billion in federal and private capital, according to Guzman.
"The program is the basis for the expansion of our partnership today," she said at the signing ceremony with Austin. It is "leveraging federal and private capital to crowd investments into early-stage companies so that they can scale and succeed in the marketplace."
The new partnership with DOD announced on Saturday will focus on the critical technology areas that the Pentagon has identified as essential for long-term national security. The letter of intent did not mention specific technologies, but Undersecretary of Defense for Research and Engineering Heidi Shyu has previously identified 14 critical technology areas that she is focused on.
The letter of intent said: "With this initiative, the DoD and the SBA will work together to increase the availability of scale-up investment capital in our Nation's critical technology areas, working with private sector investors to leverage their expertise and investment track records to ensure the world's greatest technologies and companies continue to develop and growth within the United States. These investments will be an important step in the growth and modernization of our national security innovation base, ensuring future national security and continued economic prosperity."
During a background briefing with reporters at the forum, a senior Defense official told DefenseScoop that the Pentagon and SBA won't be picking the companies that receive funding from investors under the program.
Unlike many of the other DOD initiatives focused on bolstering commercial enterprises that produce dual-use technologies, the program will leverage SBA funding to offer loans and loan guarantees to investors who want to help bankroll companies working on cutting-edge tech.
"The way the SBIC program works is that the SBA licenses investors, and those investors can then raise their own private capital in the private markets, and that private capital can be matched by leverage through loan guarantees that the SBA provides to those investors in order to build a new fund. And that fund can focus on a wide variety of things," the official explained.
For the initiative, investors will be applying to the SBIC program through a standard application process run by the Small Business Administration, to be licensed as investors to support technology areas identified by the Pentagon as critical to national defense.
The SBA has the authority to commit $5 billion of loan-guarantee leverage to the SBIC program annually, according to the senior Defense official.
"That is a significant amount of capital that can be supporting companies developing technologies in relation to national security. And when you think about our critical technology areas, there's a wide variety of opportunities to invest," the official told reporters. "From a technology advancement perspective, we see these tools providing incredible opportunities for investors to be able to lower the cost of capital to invest in these companies. Tools like debt allow for more patient investments. They provide for longer time horizons, and they also create an opportunity to reduce dilution in the investment itself."
Another benefit is that taxpayers aren't expected to ultimately foot the bill, according to the official.
"Loan guarantees are built in a way where we're expecting those funds to be returned. So instead of like contracts or grants, this provides us an opportunity to align incentives around growth, around scale, around revenue in order to ensure … the taxpayer's return," they said.