Pentagon changes 'UAP' terminology as it looks to investigate unexplainable sightings across all domains
Senior Pentagon officials spotlighted a new office seeking to document, analyze and resolve government reports of UFO-like phenomena.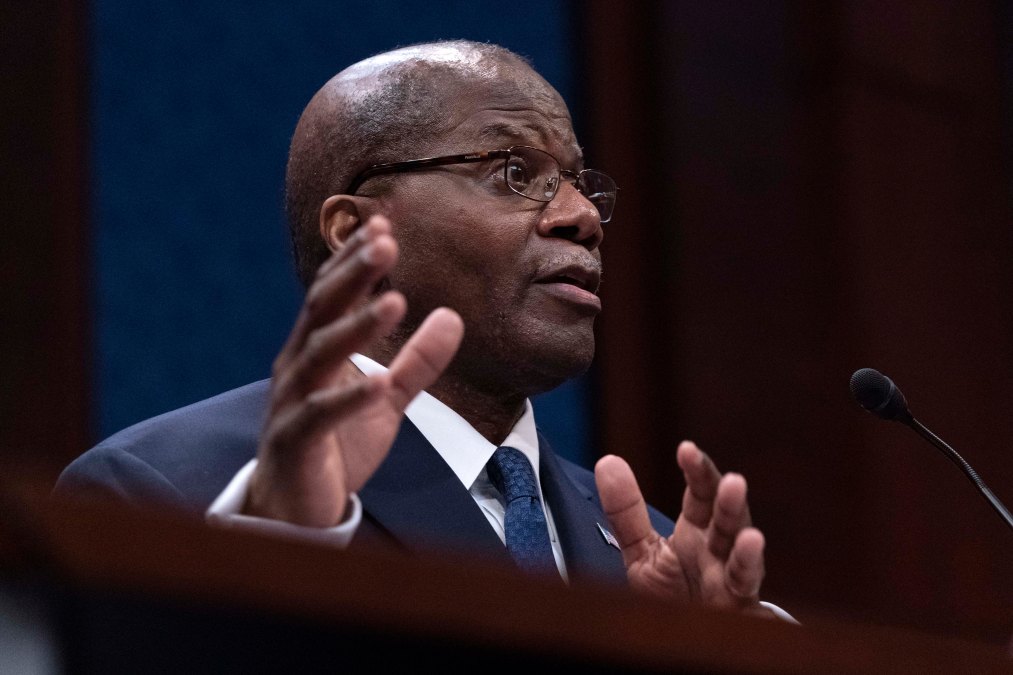 The Department of Defense is expanding the scope of its "UAP" investigations to encompass undersea objects and those that transition between mediums.
When Pentagon officials use the acronym "UAP," they now mean "unidentified anomalous phenomena" — or military-reported, unexplainable sightings.
"You may have caught that I just said 'unidentified anomalous phenomena' — whereas in the past the department has used the term 'unidentified aerial phenomena,'" Undersecretary of Defense for Intelligence and Security (I&S) Ronald Moultrie said during a briefing with reporters on Friday. "This new terminology expands the scope of UAP to include submerged and trans-medium objects."
Trans-medium objects can transition between space and the atmosphere or between the atmosphere and bodies of water.
By broadening its language for communicating reports of perplexing UFO-like incidents, Moultrie noted the Defense Department is officially, explicitly indicating that "unidentified phenomena in all domains — whether in the air, ground, sea or space — pose potential threats to personnel security and operations security, and they require our urgent attention."
DOD has a long, complicated history confronting technologies its members have spotted performing in ways that seem to transcend what's possible with contemporary capabilities. At a high level, the Pentagon's mechanisms to study what it now calls UAPs have taken different shapes over the decades.
The Air Force's early UFO investigations — codenamed Project Blue Book — launched in the early 1950s and dissolved in 1969.
Congress approved millions in funding to back the Pentagon's unclassified, but less publicized, Advanced Aerospace Threat Identification Program (AATIP) in the 2000s. But that work unfolded under its purview for less than a decade.
In 2020, following mounting pressure from the public and lawmakers, DOD unveiled the Unidentified Aerial Phenomena Task Force (UAPTF). Steered by the Navy and "under the cognizance" of the Office of the Undersecretary of Defense for I&S, that group issued an analysis to Congress the next year confirming 144 reliable reports of UAP phenomena originating from government sources between 2004 and 2021.
The Pentagon announced the UAPTF's successor — the Airborne Object Identification and Management Synchronization Group (AOIMSG) — in late 2021. However, in July Deputy Defense Secretary Kathleen Hicks coordinated with the Director of National Intelligence to rename and expand AOIMSG's scope and ultimately evolve it into the All-domain Anomaly Resolution Office (AARO), to fulfill a mandate in the fiscal 2022 National Defense Authorization Act.
Hicks wrote in a memorandum then that AARO exists to synchronize efforts across DOD and other federal agencies to detect, identify and attribute "anomalous, unidentified space, airborne, submerged, and trans-medium objects."
Physicist and former chief scientist at the Defense Intelligence Agency's Missile and Space Intelligence Center, Sean Kirkpatrick, was tapped to serve as the first-ever director of the new AARO.
Speaking to reporters during the briefing with Moultrie on Friday, Kirkpatrick said the "AARO is working with the military departments and the Joint Staff to normalize, integrate and expand UAP reporting beyond the aviators to all service members, including mariners, submariners and our space guardians."
The nascent office is "working to take in more UAP reporting and analysis" from the Coast Guard, National Oceanic and Atmospheric Administration, Federal Aviation Administration and Department of Energy, among others, he confirmed. Officials involved are also "integrating and executing a focused collection campaign using both traditional and nontraditional sources and sensors" and consulting outside experts to inform their envisioned creation and deployment of "detect and track" capabilities for observing UFOs.
"We are executing a rigorous science and technology plan to ensure controlled calibration of sensors, patterns of life, and signature characterization development. Combined, these improvements in reporting collection and analysis will result in more factual data. More data will help build a more complete picture and support the resolution of … anomalous phenomena," Kirkpatrick explained.
The AARO team is prioritizing "reports of UAP in or near military installations, operating areas, critical infrastructure and areas of national security importance," he added.
Those officials are now tracking "significantly more" UAP reports than the first 144 previously spotlighted by the legacy task force, though Moultrie and Kirkpatrick each said they did not want to "get ahead" of impending reports that are currently being crafted by DOD in collaboration with the Office of the Director of National Intelligence.
"Since its establishment, AARO has been providing regular updates to Congress on its efforts to document, analyze and resolve reports of anomalous phenomena. The department has already submitted its first congressionally-mandated quarterly reports on UAP in August [and] in November, and we will continue to provide quarterly updates," Moultrie noted.
There have not been any clear indications of "trans-medium activities with UAPs" in more recent accounts, Moultrie said, but officials are still early in their review process and in the midst of going through disparate sources of data.
"So, I don't want to be definitive to say that there's nothing that is there," he said.
Still, the new distinction of "UAP" makes clear that DOD is interested in recording and investigating a wider range of baffling appearances of objects that may be in proximity to its personnel or assets.
"We operate under the surface of the water, we operate on land, we operate in the air and of course we operate in space," Moultrie told reporters. "Anything that appears within the proximity of our activities that is anomalous, something that we can't identify, we have the responsibility to resolve what that is, and to report that back to our commanders, to our operators, to ensure that they are safe."
The AARO team, according to officials, is setting up very clear mechanisms to deconflict any ongoing military or intelligence community experimentations with futuristic drones from being misinterpreted as UAP sightings.
Passed by Congress and awaiting President Biden's approval, the fiscal 2023 NDAA includes text that would codify the latest definition of UAP to refer to cross-domain, anomalous phenomena — as well as the existence of AARO. The legislation incorporates a number of other UAP-focused requirements, including one that would direct a more comprehensive "historical record report" of government UAP archives, dating all the way back to Jan.1, 1945.
"We've started to give it some thought," Moultrie said. "I don't want to talk too much about it until they actually sign [the NDAA into law]. But that — that is going to be quite a research project, if you will."
He and Kirkpatrick noted that although AARO is relatively new, officials have observed no evidence at this point that would lead them to believe that any objects reported "are of alien origin."
Among other inclusions, the 2023 NDAA also mandates a new reporting mechanism for government entities and associated contractors to report any activity, event or program relating to UAPs, "including with respect to material retrieval, material analysis, reverse engineering, research and development, detection and tracking, developmental or operational testing, and security protections and enforcement."
Moultrie told reporters: "I have not seen anything in [the Pentagon's] holdings to date that would suggest that there has been an alien visitation, an alien crash, or anything like that."