Army issues task order to Microsoft to develop better version of IVAS headset
IVAS version 1.2 will include a new form factor and software improvements, according to the Army.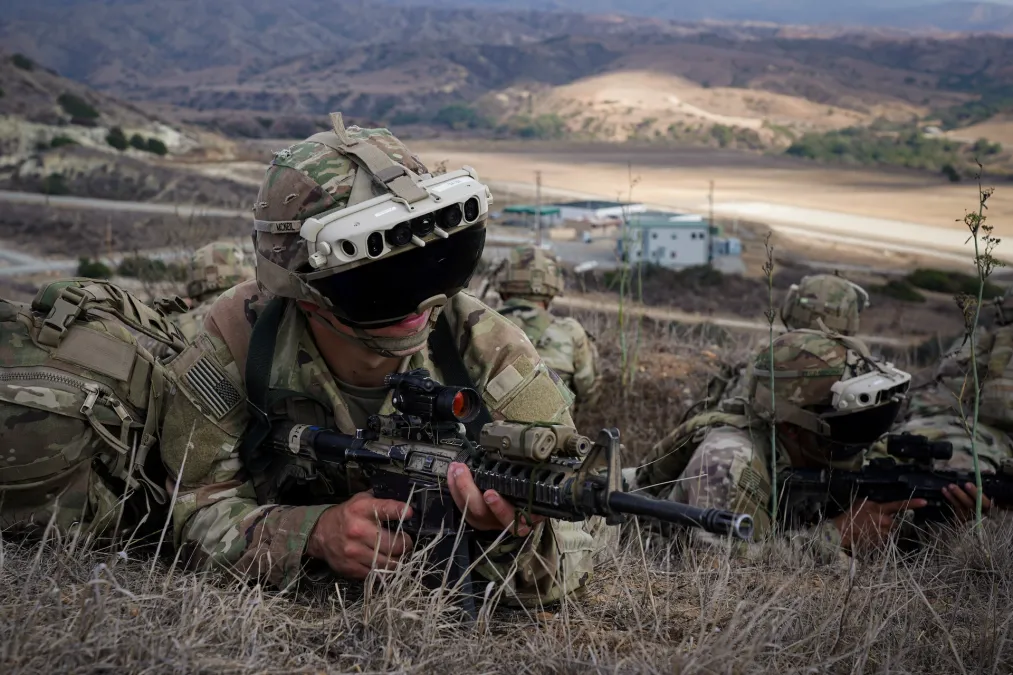 The Army recently awarded a task order to Microsoft to start developing a better version of the Integrated Visual Augmentation System (IVAS) that is expected to improve how soldiers train and fight, the service announced Thursday.
The IVAS program is one of the Army's highest-priority modernization initiatives for its soldier system portfolio. The technology includes a ruggedized augmented reality and heads-up display system based on Microsoft's HoloLens 2 device.
Microsoft won a $21.9 billion contract in 2021 to build IVAS for the Army, which plans to acquire about 120,000 sets over the coming years.
Last month, the service awarded a task order to the tech giant for a new variant, known as 1.2, of the equipment.
"IVAS 1.2 will include a new form factor to address Human Systems Integration, including physiological impacts identified during testing, and a lower profile heads-up display with distributed counterweight for improved user interface and comfort. IVAS 1.2 will also include software improvements for increased reliability and reduced power demand," according to an Army press release issued Thursday.
IVAS 1.0 provides what the Army describes as "baseline warfighter capability," while the 1.1 variant includes an improved low-light sensor to aid maneuver and target identification. Version 1.2 will also include the improvements that were made for 1.1.
The service plans to begin incremental fielding of the initial versions of the visual augmentation system in September. Delivery orders for IVAS 1.2 production systems won't be placed until after qualification and operational testing of the technology, per the release.
Meanwhile, Army officials are touting the advantages that the headsets and associated tech are expected to bring.
"The IVAS is designed for dismounted close-combat force Soldiers to integrate key technology systems into one device enhancing situational awareness, lethality, survivability, maneuverability and other warfighter capabilities, to include synchronization with Soldiers in armored vehicles and helicopters," the Army said in a Jan. 3 news release.
"IVAS provides Soldiers a field of view nearly twice as wide as those offered by current systems. It is capable of navigation and passive target interrogation, which allows users to identify targets without being seen by opposing forces," it added.
The "mixed-reality" headset gives troops the ability to see through smoke, around corners, and in the dark using advanced sensors; leverages holographic imagery; and can display 3D terrain maps and project a compass into a soldier's field of vision, according to the Army.
However, the program has experienced problems.
In a report issued last April following an audit, the Army Inspector General found that the service hadn't set minimum user acceptance levels for the forthcoming IVAS, which it said are necessary to determine if the headset will meet users' needs.
Lawmakers have also been wary. The 2022 fiscal Consolidated Appropriations Act put a hold on $349 million in funding for IVAS until the Army addressed Congress' concerns.
In October 2021, the Army announced a several-month delay in bringing IVAS into operational testing after discovering issues with the headset's field of view.
In October 2022, Bloomberg reported that the Pentagon's director of operational test and evaluation found that soldiers who had recently tested the IVAS suffered from "mission-affecting physical impairments" such as headaches, eyestrain and nausea.
During the AUSA convention in October, Assistant Secretary of the Army for Acquisition, Logistics and Technology Doug Bush acknowledged that the program has experienced hiccups.
"We are showing flexibility but also, I think, thoughtfully managing technology risk. It's a good example of a program that was on a very rapid path. Unsurprising, we've run into some technology challenges. But we have a way to fix them and a way to go forward," Bush said.
To date, the Army has conducted over 30 soldier test events and more than 100 "technical sub-tests" for IVAS, with more than 1,000 troops providing user feedback, according to the Army.
"These tests validated the system's continued progress while identifying areas for focused improvements," per the release.
Based on the outcome of an operational test last summer, major focus areas for the IVAS program will be software stability, low-light performance, and form factor, according to Bush.
The software must be stable across a range of missions and uptime, he noted at the AUSA conference in October.
Moreover, "a critical difference between IVAS and older systems — it's moving from an analog way to do low-light sensing to a digital way with the camera. Improving that camera will be absolutely vital. And then finally, making sure that the form factor … also has to be adjusted to something that adapts to what the soldiers want and need to do their missions. So those are our three focus areas coming out of that test," he said then.
The Army aims to incrementally improve the technology over time.
The service is on a path to field a "relatively small number" of IVAS 1.0 and 1.1 systems, Bush said, describing version 1.2 as "kind of, at this point, our objective system."
Microsoft did not respond to a request for comment.