U.S. and Japan deepen military cooperation to advance disruptive technologies
The U.S. and Japanese militaries have strengthened their alliance and intelligence ties in recent years — particularly in response to China's growing military prowess in the Indo-Pacific region.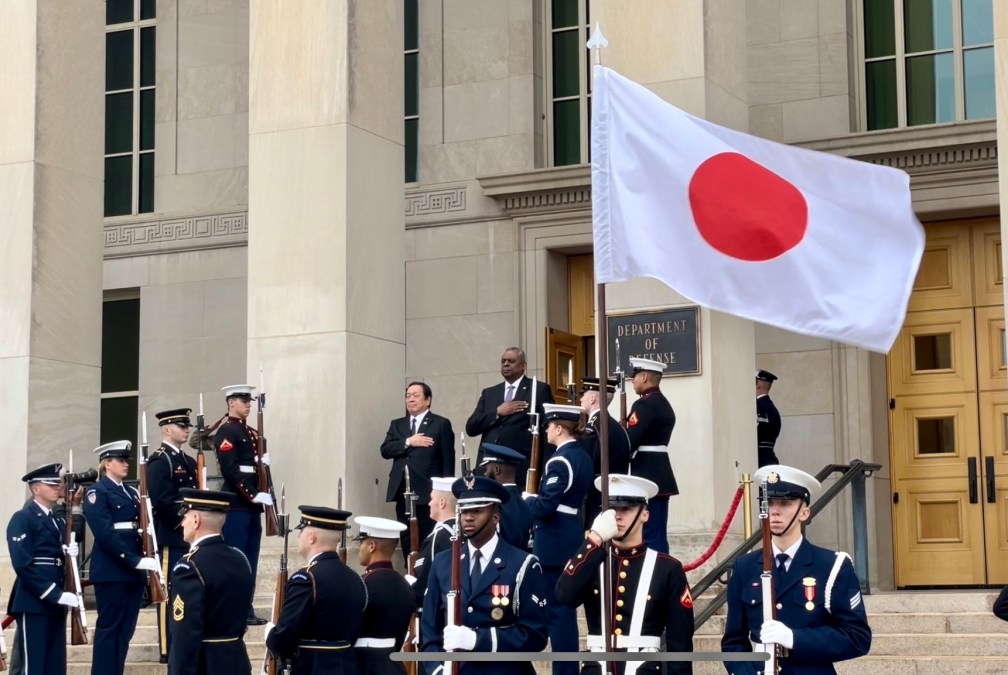 The U.S. and Japan have formally committed to collaboratively advancing specific emerging technologies for military use and linking their defense industrial bases as global supply chains remain strapped.
During a meeting at the Pentagon last week, Defense Secretary Lloyd Austin and Japan's Defense Minister Yasukazu Hamada signed two bilateral arrangements aimed at driving that new cooperation between their nations in the near term.
Via a new legally-binding Memorandum of Understanding for Research, Development, Test and Evaluation Projects (MOU for RDT&E), Japan and the U.S. seek to bolster partnerships to accelerate advanced technologies associated with hypersonic defense, autonomous systems for complementary teaming with fighter jets and high-powered microwaves for air defense.
And through a newly signed non-binding Security of Supply Arrangement (SOSA), the Defense Department and the Japanese Ministry of Defense intend to build crucial linkages between their defense industrial bases and enable deeper cooperation between their nation's supply chains.
"This year is an inflection point for our alliance, with our national security and defense strategies aligning closer than ever and with our shared goal of a new era of alliance modernization," Austin said.
The secretary and his Japanese counterpart met on Thursday at the Pentagon for bilateral talks on the margins of President Joe Biden's meeting with Japanese Prime Minister Fumio Kishida at the White House.
Despite their complicated shared histories, the U.S. and Japanese militaries have strengthened their alliance and intelligence ties in recent years — particularly in response to China's growing military prowess in the Indo-Pacific region. During their bilateral talks, Hamada, Austin and other leaders from both nations discussed Japan's new national security and national defense strategies, as well as its plans to double defense spending by 2027. They also puzzled out recently unveiled plans to upgrade America's force posture in Japan, which involves stationing a U.S. Marine unit with sophisticated intelligence and surveillance capabilities on Japanese soil.
"In the face of our shared security challenges, these actions will bolster deterrence and allow us to defend Japan more effectively," Austin said. "Today we remain deeply concerned by China's coercive behavior in the Taiwan Strait and in the water surrounding Japan. We're also deeply concerned with North Korea's provocations toward Japan and its neighbors and we condemn Russia's cruel, unprovoked and unjustifiable war of choice against Ukraine."
The DOD did not publicly release the text of the new MOU or SOSA with Japan, and a Pentagon spokesperson did not respond to DefenseScoop's questions regarding the documents' inclusions by deadline.
According to a statement from the Pentagon, beyond enabling their nations to maintain a technological edge in hypersonics, autonomy and high-power microwaves, the MOU also updates a previous agreement "to simplify processes as well as adjust for current laws, policies, and standards of practice for United States-Japan for RDT&E activities."
The new SOSA, officials also noted, allows the two nations "to exchange reciprocal priority support for goods and services that promote national defense." DOD currently holds such arrangements with several other nations, including Australia and the U.K.
Richard Samuels, an academic expert who steers the Center for International Studies and MIT-Japan Program at the Massachusetts Institute of Technology, told DefenseScoop that arrangements to deepen collaboration between the two militaries has "made sense" for a while now — especially for Japan.
"But, reaching these agreements was hindered until the Japanese government could reach out to its alliance partner with the level of popular support made possible by the provocations of China and North Korea in Asia and Russia in Ukraine — and by the chaotic U.S. withdrawal from Afghanistan. Beijing, Pyongyang, Moscow, and Washington deserve a lot of credit for stirring a heightened sense of threat among Japanese citizens," Samuels said.
That these two new agreements "come at a time when the Japanese government is also hedging its security dependence is of particular interest," said Samuels, who is also MIT's Ford International Professor of Political Science.
The documents were signed on the heels of commitments to bolster domestic defense capabilities and soon after reciprocal access agreements were signed with other U.S. allies, he noted.
"They also were inked just months after the Japanese government announced that its next-generation fighter project will be a collaboration with the U.K. and Italy. This is the first time that a new Japanese fighter will not be a purchase, co-development, or co-production program with the United States. Japan is simultaneously hugging Washington while hedging against U.S. abandonment," he said.