Navy looking to prototype 'unique' optical sensor designed to detect incoming hypersonic cruise missiles
The TORCH program aims to develop and demonstrate advanced optical system design for the detection, identification and tracking of hypersonic cruise missiles.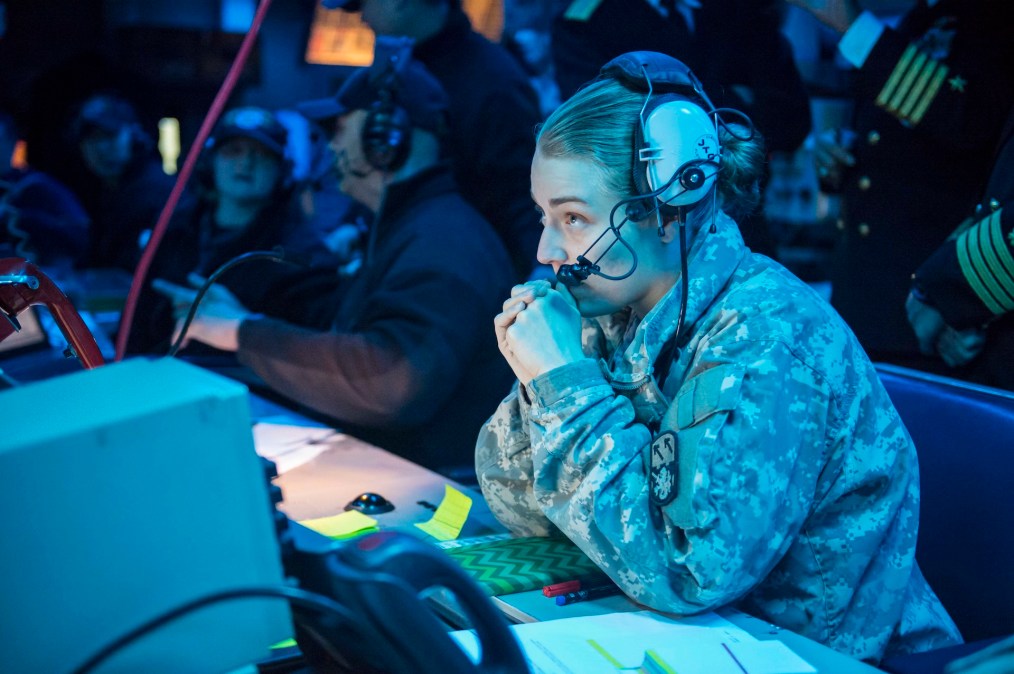 The Navy seeks a "unique" sensor to help the sea service defend against hypersonic weapons, and it wants the small business community to help prototype the technology.
The aim of the Tip-Off Optical Reconnaissance-Sensor for Counter-Hypersonics (TORCH) program is to "develop and demonstrate critical elements of advanced optical system design for the detection, identification, and tracking of hypersonic cruise missiles to provide early cueing of fixed-site and ship self-defense systems in a tiered fixed and mobile network utilizing both unmanned and manned platform concepts," according to a pre-release for a Small Business Innovation Research broad agency announcement that is scheduled to be published Wednesday.
The initiative comes amid Pentagon concerns about Chinese and Russian hypersonic capabilities, and the United States' pursuit of its own offensive hypersonic weapons. These types of missiles are highly sought by the United States and other major powers because they can fly faster than Mach 5, be highly maneuverable against enemy air defenses and quickly attack time-sensitive targets.
"Hypersonic weapons represent a new and disruptive threat to Armed Forces worldwide. The operational attributes of this class of vehicle present a unique detection and defense problem. There is a need for advanced sensing to support initial detection ("tipoff"), as well as targeting and guidance for defensive systems. A unique attribute of hypersonic weapons is the ability to maneuver and approach a target area from many potential directions, which vastly complicates the sensing problem by increasing the required search volume and requiring increased sensing resources," the pre-release noted.
The Defense Department is pursuing a distributed, early-warning sensing architecture to alert U.S. forces to incoming threats.
In addition to having a passive sensor with target classification capability, such an architecture must include a cost-effective and "covert" platform and be able to relay communications through multiple pathways, according to the pre-release.
The envisioned "unique" optical sensor will contribute to measurement and signature intelligence, the notice said.
Phase one of the TORCH program will define sensor carrying requirements related to power, volume, weight, noise limitations and motion limitations; identify specific configurations to be included; and "develop the strategy and design of integration and scale of the autonomous platform."
Additionally, it will define requirements for observation behaviors, software, and communications "to allow cooperative sensor array technology."
Phase two will develop a prototype that can detect, identify and track a hypersonic vehicle "in an idealized Navy data collection."
It will also include further development and demonstration of the tech on a manned or unmanned platform; ground- or sea-based trials for data collection related to feature identification performance, operational agility and accuracy; and "limited sea trial test data analysis of airborne objects."
Phase three calls for wrapping up final testing and performing "necessary integration and transition for use in counter-hypersonic surveillance and monitoring operations with appropriate current platforms and agencies and future combat systems under development."
The forthcoming BAA will close on March 8.
Meanwhile, the U.S. Missile Defense Agency is also working on new sensors and other systems to improve the military's ability to defeat hypersonic missiles.
Speaking at ASNE's Combat Systems Symposium last week, MDA Director Vice Adm. Jon Hill noted that such weapons threaten to "out-fly our sensor architecture."
"We're going to continue to build out the hypersonic tracking capability across all radars. So we were incorporating that in all land-based radars, [and] we're working with the Navy to incorporate them within the SPY family of radars. So that's sort of that land based and sea-based kind of view," he told DefenseScoop.
The agency will also be deploying two hypersonic ballistic tracking space sensors. "That is fire control capability for the hypersonic threat and gives us that global look. So we're going to put two of those up later this year. So that's kind of your space piece," he said.
All those tracking capabilities will be incorporated into the command-and-control battle management network.
The MDA is also working on interceptor technologies to shoot down hypersonic missiles.
"We are going to be deploying the next increment and testing out the next increment for sea-based terminal, which is the nation's first hypersonic hard kill that exists on destroyers that today protect the aircraft carrier. And then we'll be transitioning the technology development phase for the glide phase interceptor, which is that upper tier version to kill it in glide … So that's kind of a summary of where we are from a detect, control, engage perspective," Hill told DefenseScoop.