2022 in review: Pentagon advances several hypersonics initiatives with contract awards and RDT&E
This year saw major developments in the Pentagon's hypersonic weapons programs — a top modernization priority for the U.S. military as it seeks to keep pace with China and field new cutting-edge capabilities.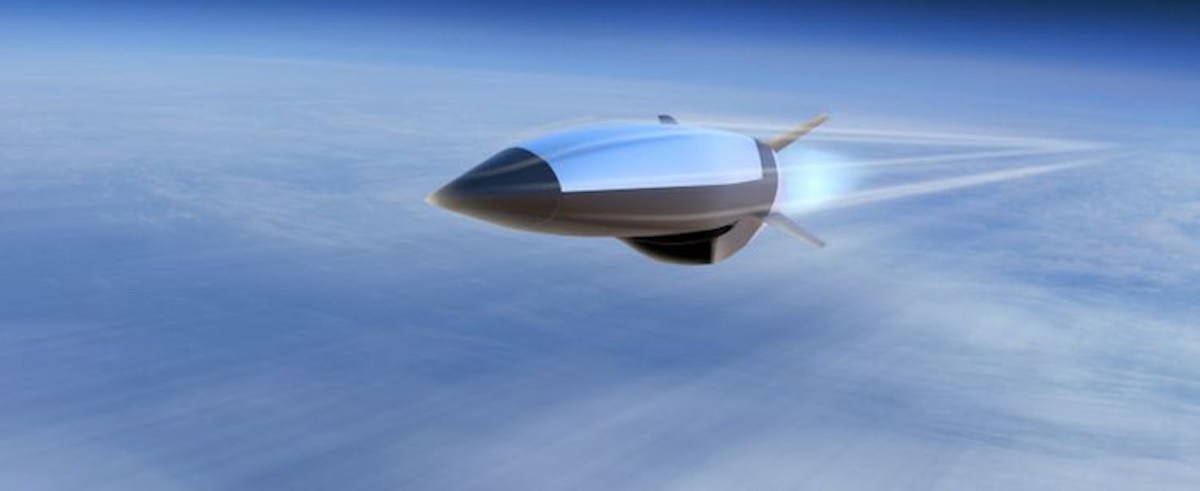 This year saw major developments in the Defense Department's hypersonic weapons programs — a top modernization priority for the U.S. military as it seeks to keep pace with China and field new cutting-edge capabilities.
Hypersonics are highly sought by the United States and other major powers because they can fly faster than Mach 5, be highly maneuverable against enemy air defenses and quickly attack time-sensitive targets.
The U.S. Air Force, Army and Navy are all pursuing different variants of the systems. Other DOD organizations, such as the Defense Advanced Research Projects Agency and the Missile Defense Agency, are also assisting with the technology development.
At DefenseScoop's DefenseTalks conference in September, Undersecretary of Defense for Acquisition and Sustainment William LaPlante said hypersonics will be "very, very, very powerful" weapons.
The Pentagon moved the ball forward on several programs in 2022 as it aims to begin fielding new systems in the next few years.
HACM
In September, the Air Force awarded Raytheon Missiles and Defense a $985 million contract to develop an air-launched Hypersonic Attack Cruise Missile (HACM).
Hypersonic cruise missiles use air-breathing scramjet engines for propulsion, whereas the hypersonic boost-glide systems that the Pentagon is also working on use rocket boosters to reach extremely high speeds.
"The task order provides for the HACM weapon system design, development and initial delivery through the performance of model-based critical design review, qualification, integration, manufacturing and testing," the Defense Department said in the contract award announcement.
Work is expected to be completed by March 2027.
The Air Force wants to prioritize the integration of the weapon with the F-15E fighter jet to facilitate flight tests.
Raytheon and Northrop Grumman have been working on air-breathing scramjet systems for DARPA's HAWC program. That technology could transition into the HACM program, according to Chris Haynes, Northrop Grumman's senior director for strategy and business development. A flight test of the companies' HAWC prototype was conducted last year.
Lockheed Martin and Aerojet Rocketdyne have also provided their own prototype for the HAWC program, which set a scramjet record for endurance during a flight test earlier this year, according to DARPA.
ARRW
The Air Force in December conducted its first successful "all-up-round" flight test of a prototype operational Air-launched Rapid Response Weapon (ARRW). Lockheed Martin has been working on the boost-glide system as part of a rapid prototyping program.
During a Mitchell Institute podcast released in August, Brian Schappacher, Lockheed's deputy program manager for the Air-Launched Rapid Response Weapon, noted that the project was facing an "extremely aggressive schedule" for development and testing.
The 412th Test Wing based at Edwards Air Force Base conducted the recent all-up-round test off the coast of Southern California.
"A B-52H Stratofortress [bomber] successfully released the first All-Up-Round AGM-183A Air-launched Rapid Response Weapon [ARRW]," according to an Air Force press release. "This test was the first launch of a full prototype operational missile. Previous test events focused on proving the booster performance. Following the ARRW's separation from the aircraft, it reached hypersonic speeds greater than five times the speed of sound, completed its flight path and detonated in the terminal area. Indications show that all objectives were met."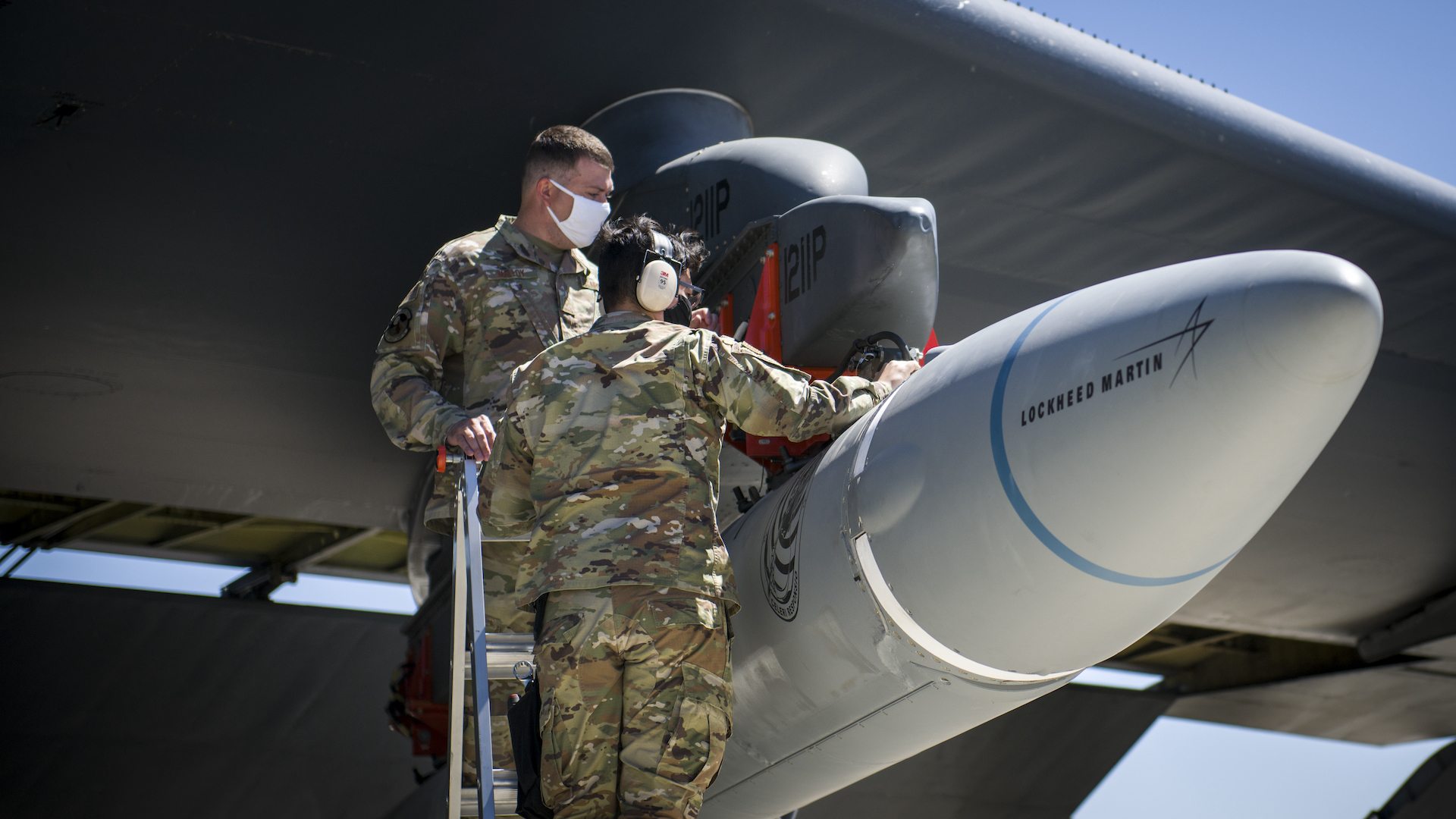 The ARRW could be operational as early as fall 2023 and will be considered for rapid production, according to Air Force Global Strike Command.
Mayhem
In December, the Air Force Research Lab announced that it awarded a $334 million IDIQ research-and-development contract to Leidos for AFRL's Mayhem project.
The program calls for developing a hypersonic platform that can both conduct intelligence, surveillance and reconnaissance (ISR) and strike missions, according to Leidos.
The air-breathing Mayhem system must be capable of "executing multiple missions with a standardized payload interface, providing a significant technological advancement and future capability," according to a DOD contract award announcement.
The multi-mission capable is notable because other hypersonic weapons are being designed exclusively for quick-strike operations — not for ISR.
The Mayhem technology is being billed as a more advanced capability than other systems that are in the works.
"Leidos is tasked with designing and developing a large-class version that surpasses current air-breathing systems in range and payload capacity using digital engineering to ensure the design efforts help future development and transition," Leidos said in a press release.
The initial task order calls for conducting the system requirements review and conceptual design review in a digital engineering environment.
The work under the IDIQ contract is expected to wrap up by October 2028.
LRHW and CPS
The Army and Navy are pursuing a common glide body that is expected to be used for both the ground-launched Long-Range Hypersonic Weapon (LRHW) and the sea-launched Conventional Prompt Strike (CPS) capability.
In October, the Navy office for Strategic Systems Programs and the Army Hypersonic Project Office successfully conducted the second High Operational Tempo for Hypersonics flight campaign from NASA's Wallops Flight Facility, which will inform the development of CPS and LRHW.
"During weapon system development, precision sounding rocket launches fill a critical gap between ground testing and full system flight testing. These launches allow for frequent and regular flight testing opportunities to support rapid maturation of offensive and defensive hypersonic technologies. The data collected from the latest sounding rocket campaign will drive warfighting capability improvements for both Navy and Army to ensure continued battlefield dominance," according to a press release from the Navy office for Strategic Systems Programs.
It called the test "a vital step in the development of a Navy-designed common hypersonic missile, consisting of a Common Hypersonic Glide Body (CHGB) and booster, which will be fielded by both the Navy and Army with individual weapon systems and launchers tailored for launch from sea or land."
Leidos' Dynetics subsidiary has been working on the glide body. Northrop Grumman and Lockheed Martin are also involved in the LRHW and CPS efforts as an engine provider and weapons integrator, respectively.
The Army is aiming to field the Long-Range Hypersonic Weapon by the end of fiscal 2023, while the Navy plans to begin fielding Conventional Prompt Strike in 2025.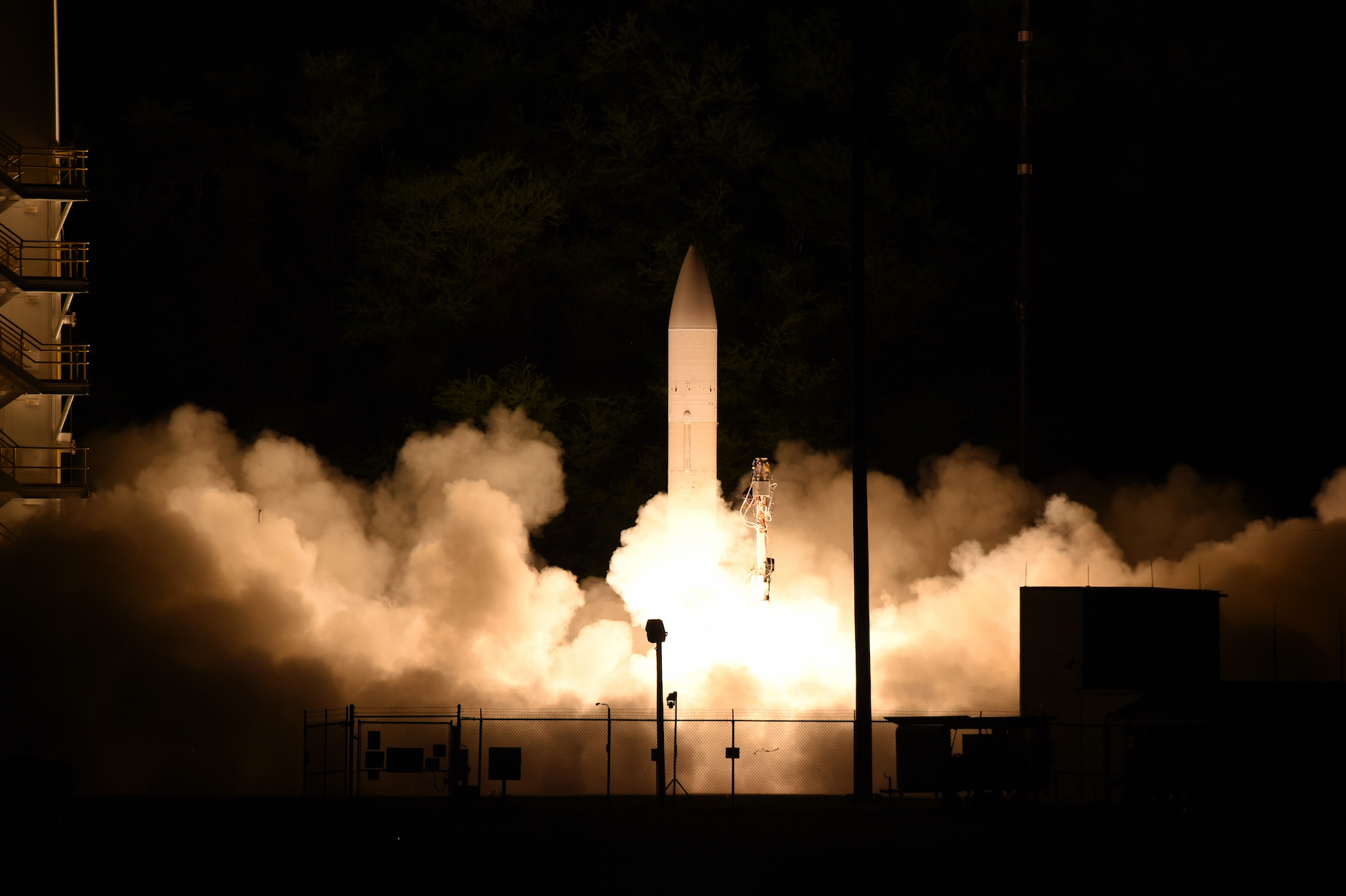 "We're confident going into this year, [but there's] a lot of risk. Absolutely," Lt. Gen. Robert Rasch, director of hypersonics in the Office of the Assistant Secretary of the Army for Acquisition, Logistics and Technology, said in October during a panel at the Association of the United States Army's annual convention in Washington. "We're moving out on a very, very aggressive schedule with our industry partners."
The Army has already fielded ground support equipment for the LRHW, and soldiers have been training with it.
"We're now working to finish up the testing and then the actual build out of the all-up round and what we call the all-up round canister munition," he said.
"We'll do a couple of more critical live-fire tests this year to characterize not just the hyper glide body, but characterize the two-stage rocket motor, characterize all the ground support equipment, and on path to field at the end of FY23," Rasch said.
Production and price tags
While the DOD has seen progress in hypersonics in labs and on test ranges, actually transitioning them into production and fielding will be another hurdle.
Aside from some prototyping efforts, "we've never, ever produced and manufactured hypersonics ever in this country. It's been entirely S&T," LaPlante said at the annual Defense News Conference in September. "So, the real question is … are these companies [that are working on the technology] ready to no-kidding go into production at some degree of rate? And I ask this question, Jon, all the time, and I get reassurance that they're ready. But the proof will be in the pudding," he told DefenseScoop at the event.
"I wish I could tell you … that absolutely they're ready for this. They say they are [and] they will. But if you all know anything about hypersonics … you have very difficult materials issues, thermal management issues, aerodynamics issues," he added.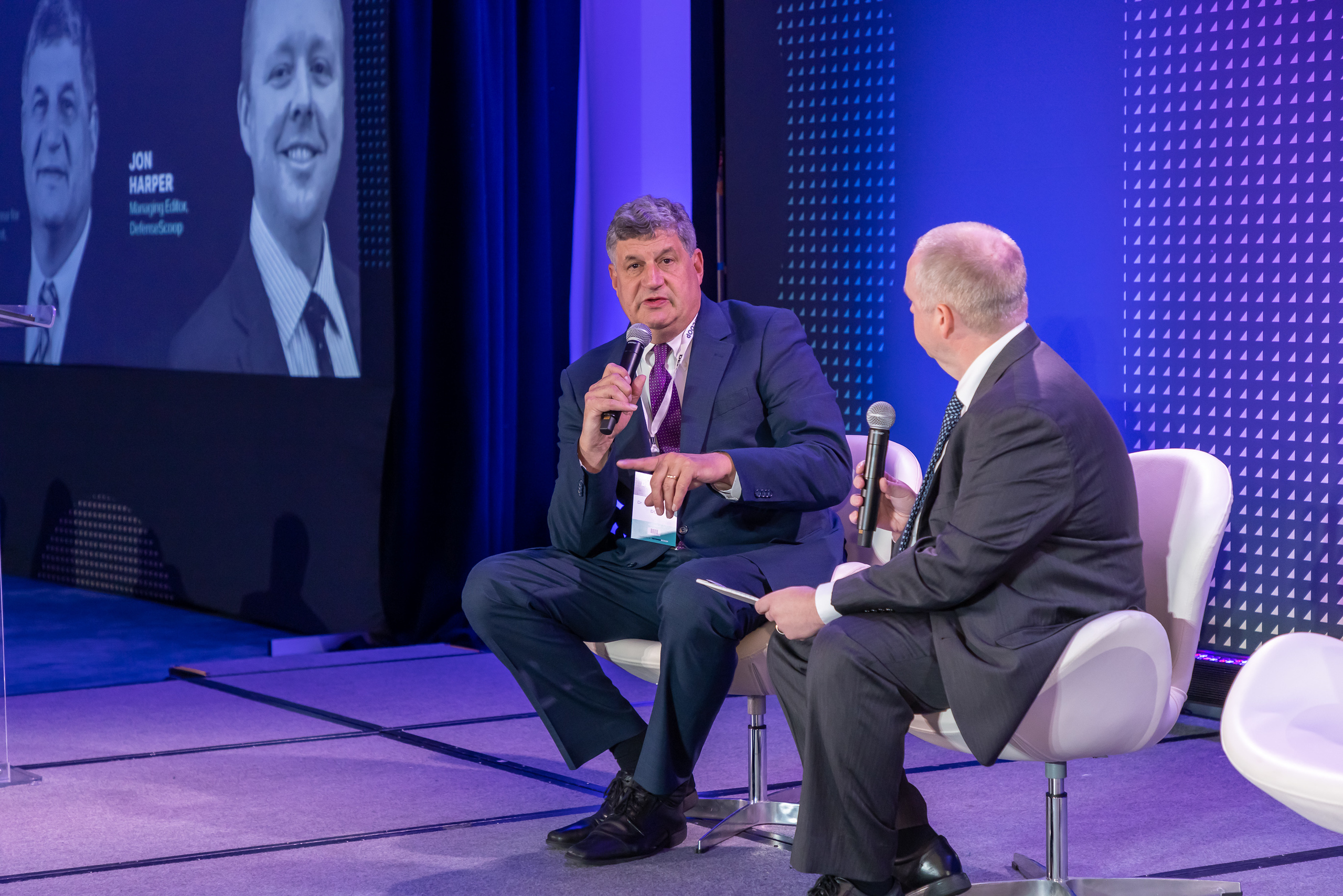 LaPlante described the technology as game-changing, noting that adversaries China and Russia are already manufacturing and deploying some of their hypersonic systems.
"If we get — when we get hypersonics into production, we should all pop champagne corks. That will be remarkable because we have never had them in production. Hypersonics has been in the S&T community in this country forever. I love S&T, folks. I am an S&T person. But at some point, you got to let the children out," he said.
Despite the challenges involved, LaPlante said he's hopeful that the weapons will be ready for prime time in the not-too-distant future.
"I am actually optimistic. And without getting into specifics … when I visited some of the companies that will do it — I know people there — they know the challenges that they have," he said. "But … knock on wood, knock on carpet, they're about one to two years away from production for some of these hypersonic glide vehicles. And if we get there, hallelujah. That'll be a landmark" for U.S. military modernization.
The DOD has already spent billions of dollars on research, development, test and evaluation for these types of systems. However, the per-unit price tag of the production units will shape how many the Pentagon is able to buy.
"What the hypersonics community is trying to do is shoot towards an all-up round cost that's reasonable," LaPlante said at DefenseTalks. "We're not going to be able to buy very many of them if they're $80 million all-up rounds. So they're shooting for somewhere even as low as 10 or 5 million [dollars] a round. And that really is going to drive the numbers."