F-22 fighter jet shoots down mysterious 'object' off the coast of Alaska; another downed over Canada
The object was flying at an altitude of 40,000 feet and posed a potential threat to the safety of civilian air traffic, U.S. officials said.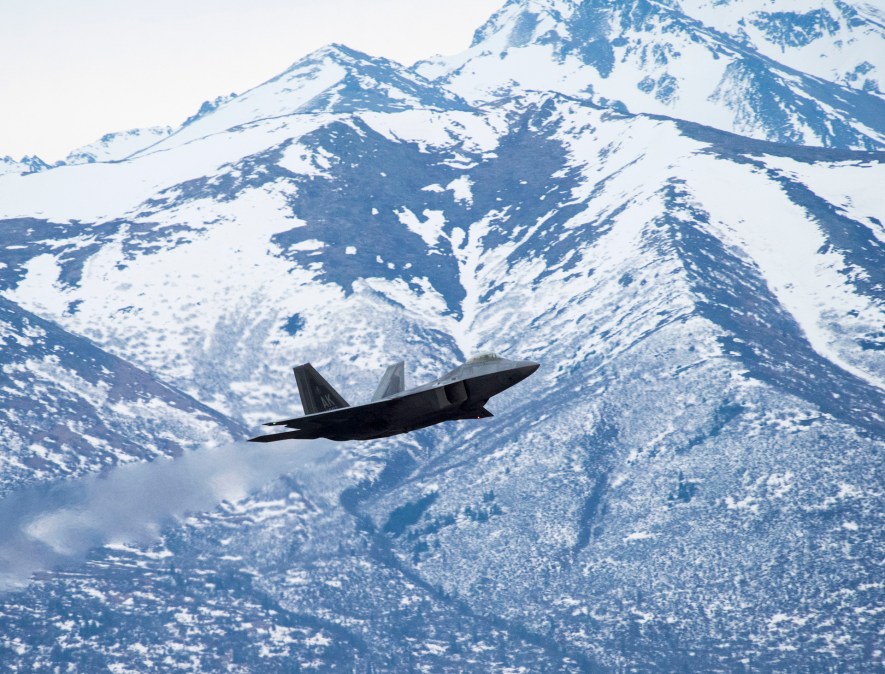 Less than a week after the Air Force shot down a suspected Chinese spy balloon off the coast of South Carolina, President Biden ordered the U.S. military to attack an "object" that was flying off the coast of Alaska, officials said Friday.
"I can confirm that the Department of Defense was tracking a high-altitude object over Alaska airspace in the last 24 hours," John Kirby, coordinator for strategic communications at the National Security Council, told reporters during a press briefing Friday afternoon.
"The object was flying at an altitude of 40,000 feet and posed a reasonable threat to the safety of civilian flight. Out of an abundance of caution at the recommendation of the Pentagon, President Biden ordered the military to down the object — and they did," Kirby said during a press briefing at the White House.
The object was flying "inside territorial airspace and over territorial waters" and was "just off the very, very northeastern part of Alaska right near the Alaska-Canada border" when a fighter aircraft assigned to U.S. Northern Command fired on it, he added.
The airborne system was first detected Thursday evening, and Biden gave the order to shoot it down Friday morning, according to Kirby.
Pentagon Press Secretary Brig. Gen. Pat Ryder confirmed Friday that the object was shot down by an F-22 fighter jet off the northern coast of Alaska at 1:45 pm EST with an AIM-9X missile. It was originally detected using ground-based radar and identified by fighter aircraft.
Ryder told DefenseScoop during a press briefing at the Pentagon Friday afternoon that he had not seen images of it at that point, and he would not characterize the shape of the object. He said U.S officials did not know the origin of the platform.
Kirby would not describe the object as a "balloon" or assess its purpose, saying the U.S. government has limited information about what exactly it was and why it was flying over American airspace.
"We're calling this an 'object' because that's the best description we have right now. We do not know who owns it … whether it's state-owned or corporate-owned or privately owned. We just don't know," he said. "We don't have any information that would confirm a stated purpose for this object."
The Defense Department will attempt to recover the debris, which officials said landed in frozen waters, to learn more about the system.
Ryder said drones will be used as part of the recovery effort and were headed to the salvage site.
Kirby noted that the object was "much smaller" than the alleged Chinese spy balloon that flew over Alaska and the continental United States last week.
"The way it was described to me was roughly the size of a small car" and it had "no significant payload, if you will," he said. In comparison, the suspected Chinese spy balloon that was shot down off the coast of South Carolina last week was about 200 feet tall and carried a payload that was about the size of a jetliner, according to NORAD and Northcom commander Gen. Glen VanHerck.
Unlike the balloon, the object that was shot down on Friday did not appear to be maneuverable, according to Kirby, adding that it appeared to be "virtually … at the whim of the wind."
The Biden administration took criticism from Republican lawmakers and others for waiting days until the Chinese balloon was no longer over land to shoot it down last week. Kirby said the object that was downed Friday was traveling at a more dangerous altitude than the suspected spy balloon — which was flying above 60,000 feet last week — and it posed a potential threat to civilian air traffic.
"The predominant concern by the president was the safety of flight issue at that altitude," Kirby said.
U.S. military personnel determined that the object was uncrewed before it was attacked.
"We were able to get some fighter aircraft up and around it before the order to shoot it down. And the pilots' assessment was that this was not manned," Kirby said.
However, the pilots weren't able to learn much more about the platform.
"They worked really hard to try to get as much information as they could about this object. Given its size, which was much smaller, and the capabilities on the fighter aircraft themselves [and] the speed at which they were flying, it was difficult for the pilots to glean a whole lot of information — not like we were able to glean off … the balloon" last week, Kirby said.
With regard to whether the object was a surveillance platform, Kirby said: "We haven't ruled anything in or out."
When asked if the U.S. government was currently tracking any similar objects, Kirby said he was "not aware of any other tracks."
However, on Saturday another so-called "high-altitude airborne object" was shot down by a U.S. F-22 over Canada's Yukon territory, according to American and Canadian officials.
NORAD first detected this object flying over Alaska late Friday evening, according to a statement issued by Ryder on Saturday evening.
"Two F-22 aircraft from Joint Base Elmendorf-Richardson, Alaska monitored the object over U.S. airspace with the assistance of Alaska Air National Guard refueling aircraft, tracking it closely and taking time to characterize the nature of the object. Monitoring continued today as the object crossed into Canadian airspace, with Canadian CF-18 and CP-140 aircraft joining the formation to further assess the object. A U.S. F-22 shot down the object in Canadian territory using an AIM 9X missile following close coordination between U.S. and Canadian authorities," Ryder said.
"As Canadian authorities conduct recovery operations to help our countries learn more about the object, the Federal Bureau of Investigation will be working closely with the Royal Canadian Mounted Police," he added.
Biden and Canadian Prime Minister Justin Trudeau authorized the downing of the platform, according to officials.
"Earlier today, President Biden spoke with Prime Minister Trudeau on the unidentified, unmanned object in North American air space … Out of an abundance of caution and at the recommendation of their militaries, President Biden and Prime Minister Trudeau authorized it to be taken down," according to a White House readout of the call between the two leaders. They also discussed "the importance of recovering the object in order to determine more details on its purpose or origin."
Meanwhile, recovery efforts are ongoing for both the object that was downed on Friday and the the colossal high-altitude Chinese balloon shot down last week continue off the South Carolina coast.
"Recovery operations continue today near Deadhorse, Alaska. U.S. Northern Command's Alaska Command and the Alaska National Guard, in close coordination with the Federal Bureau of Investigation and local law enforcement, are conducting search and recovery activities," according to a statement issued Saturday evening by Northcom.
However, "Arctic weather conditions, including wind chill, snow, and limited daylight, are a factor in this operation, and personnel will adjust recovery operations to maintain safety. Recovery activities are occurring on sea ice. We have no further details at this time about the object, including its capabilities, purpose, or origin," it added.
Meanwhile, off the coast of South Carolina, the U.S. Navy continues its efforts to locate and recover debris, with support from the Coast Guard and FBI.
"Sea states Feb. 10 permitted dive and underwater unmanned vehicle (UUV) activities and the retrieval of additional debris from the sea floor. The public may see U.S. Navy vessels moving to and from the site as they conduct offload and resupply activities. Operations will continue as weather permits," Northcom said in a statement.
Update: This story was updated at 7:45 PM on Feb. 11 to include information and statements about the shoot-down of another "object" on Saturday over Canada, and ongoing efforts to recover debris.