Post-balloon saga, US defense leaders 'know a lot more' about China's alleged global surveillance operations
"For me, it was an eye opener," NORAD and U.S. Northern Command chief Gen. Glen VanHerck said.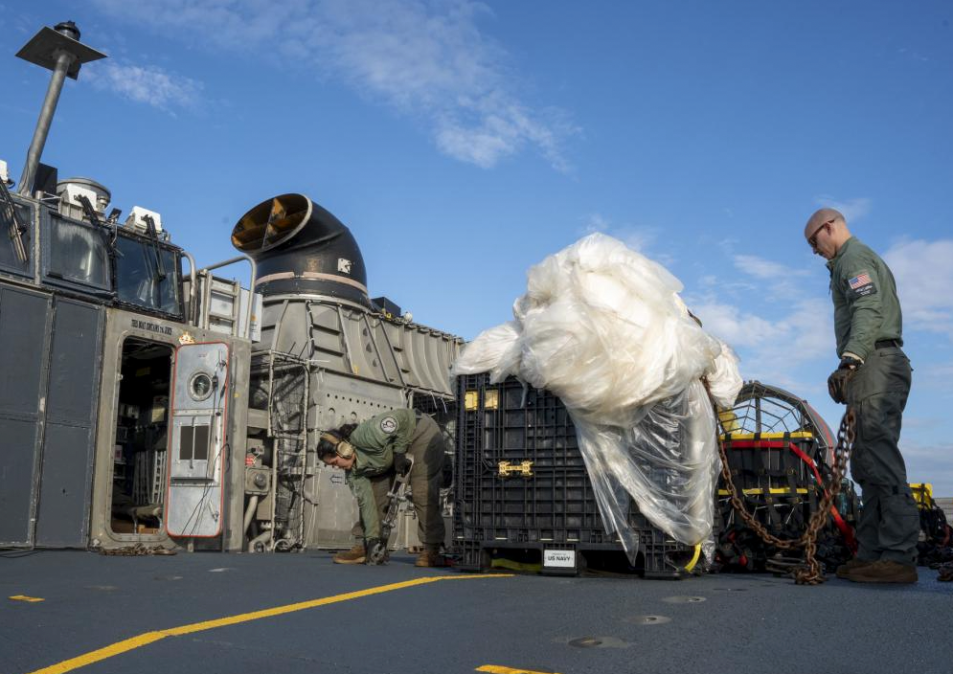 AURORA, Colo. — In the aftermath of the days-long spectacle last month when a massive, alleged Chinese spy balloon flew above much of North America before being shot down off the South Carolina coast, U.S. military leaders told DefenseScoop that they remain confident in the services' technological capacity to sense, spot — and protect the homeland from — such slow-moving, high-altitude threats.
Still, they recognize how this "eye-opener" is informing their teams and the public about related and "irresponsible" activities they say China has been steadily conducting globally via a secretive fleet of similar airships.
"The balloons — I think they've been a wake up call for the American people, in particular, who did not think of China as a very near, clear and present danger. So, I think that's been useful in a way," Air Force Secretary Frank Kendall told DefenseScoop during a roundtable at the annual AFA Warfare Symposium last week.
In separate discussions throughout that summit, Kendall and other senior Defense Department and military officials shed light on how the U.S. government is processing that incident and the emerging risks associated with it.
'What we know'
The Pentagon first publicly confirmed the existence of a high-altitude object hovering over Western states in the U.S. on Feb. 2. At first, military brass advised President Biden not to immediately shoot it down, partially to avoid harming any people or property with debris.
Under the president's direction on Feb. 4, multiple aircraft were mobilized and the balloon was ultimately taken down by an F-22 fighter jet's AIM-9X missile — over water six nautical miles off the coast of South Carolina. Notably, the shootdown of the system came after it likely captured data from tens of thousands of feet above sensitive U.S. government sites.
On the heels of that occurrence, U.S. Northern Command and North American Aerospace Defense Command — both led by Gen. Glen VanHerck — recalibrated military radar and fine-tuned detection assets to sharpen the scrutiny of potential threats in the harder-to-monitor altitudes of the initial balloons course. At least three mysterious platforms that U.S. government officials have described as "objects" — as opposed to balloons — were subsequently hit by missiles from American fighter jets on Feb. 9, 10 and 11 off the coast of Alaska and over Canada and Lake Huron, Michigan, respectively.
Despite requests, VanHerck did not brief reporters at the AFA Summit this year. But during a panel at the event, he provided some new perspective on this overarching balloon saga.
"What we know is that China's had a program for years that they're utilizing to gain collection [of information on] places they haven't been before. For me, it was an eye opener. I didn't find out about balloons flying over the homeland until Jan. 27 of this year. I was aware of balloons around the globe in August as they presented that to us — and at that time I told my team, I said 'It's just a matter of time before one of these approaches the homeland or flies over the homeland. Let's go figure out, from a legal standpoint, where we are and what our options are.' And so low and behold, there we were on Jan. 27 — we got notified of the potential high-altitude balloon flying over our country," VanHerck explained.
In his view, the Defense Department "did PhD-level work" to detect and mitigate the multiple high-altitude threats.
"Shooting something down 65,000 feet that's only going to 20 or 30 knots — everybody thinks that's easy. I get asked questions like, 'Well, couldn't you just go out there and lasso it?' And I'm not kidding you, I get questions like that," VanHerck said.
Early into the crisis, the commander "called up the weapons folks over at Tyndall" Air Force Base, Florida, to obtain information on success rates for assets the military had that could be useful "for shooting this thing down."
He was told that the service did "not have any of that info."
"Okay, so we're guessing essentially. I told the president that, 'Hey it's 50/50 that we take this thing out.' But going forward, we know a lot more now. In an unclassified environment, we can't really talk about that. But, I will tell you that we learned a lot about our domain awareness," VanHerck said.
At a media roundtable during the AFA Summit, Pacific Air Forces Commander Gen. Kenneth Wilsbach, who also serves as U.S. Indo-Pacific Command's air component commander, confirmed that his team "had seen that type of [high-altitude, balloon-like] vehicle, probably for about a year-and-a-half to two years before what you saw happened" with the object that traversed Alaska, Canada and the continental U.S., in early February.
"We've been watching them — and so, we're fairly certain that it has incurred upon multiple countries' sovereign airspace several times before it actually went across North America. So, we had been monitoring it," Wilsbach told DefenseScoop.
Throughout multi-team efforts to recover the remnants of the high-altitude objects, the Pentagon has been tight-lipped about their attributes, elements, and alleged "surveillance" technologies onboard. In clarifying how he perceives the massive aerial system, Wilsbach hinted at some of its components.
"We say balloon because it looks like a balloon — but in actuality, that vehicle was an airship. So it had a vessel that looked much like a balloon. But underneath it was a, I call it a 'gondola,' but it was a structure that hung from the balloon that had some sensors on it, but also had some props, and so that's how it maneuvered," Wilsbach said.
Mixed reactions
At the AFA summit, DefenseScoop asked military leaders whether the high-altitude object-centered events are shifting how their teams are currently operating.
"I would tell you that I don't think we've really changed our homeland defense procedures," Wilsbach said, noting that "certainly we are very attuned to vehicles that aren't flying at airline type speeds."
While it was all eye opening for the American public, Kendall said as far as he can tell at this point, these balloons do not "represent a serious threat to" U.S. national security.
"They are surveillance balloons. We have [detected] thousands of other objects now that we've changed the sensitivity of our radars and so on. So, we need to be aware of them and we need to be cognizant of them. I think we sent a very strong message to China about: 'Don't send these over our sovereign territory in our airspace.' But, I don't consider them to be one of the threats that's really compelling as a motivator right now for me," he told DefenseScoop.
Chief of Space Operations Gen. Chance Saltzman did not get into specifics regarding whether the Space Force considered any post-balloon event posture changes in response to DefenseScoop's question. However, he said the pace of China's "shift to a very operational aggressive counterspace capability" in this century is at this point "the thing that concerns him the most."
When the Chinese conducted their anti-satellite missile test back in 2007, U.S. military officials immediately realized "things are going to be different," Saltzman noted. And over the last 17 years, China has sent what he views as "some remarkable capabilities to orbit, and on the ground, to really affect the advantages that we have in space."
"That's a pretty remarkable shift if you think about how fast they've put all that together. And so I would say it's the mix of weapons that they've chosen to invest in and the speed with which they've been able to demonstrate operational utility of those weapons — from lasers, from on orbit plane-matching capabilities, kinetic kill capabilities, the hypersonic reentry vehicle that glided and maneuvered, and the grappling arm that pulled a satellite out of its mission orbit — I mean, these are dramatic offensive capabilities. And so the pace with which they've been able to do that is probably the biggest technical concern," Saltzman told DefenseScoop.
Northcom and NORAD officials have for years been trying to alert lawmakers and government leaders about "the lack of domain awareness and the challenges" their organizations have been confronting, according to VanHerck.
"In the history of Northern Command, [congressional] appropriators have never given us the opportunity to testify. Magically, the House and Senate each want to talk to me this year — and so that's a great opportunity to tell our story," he said.
"The fact that these things have flown over before and we didn't see, that ought to concern all of us, folks. I'm convinced now that we will see them, but we need to see them further out. And I think that this experience — not only for me, but for the commands I get the privilege of commanding, and for our nation — will make us better going forward," he added.