US Central Command's new Task Force 99 begins drone operations in Middle East
The organization was stood up in October as Centcom looks for new ways to deploy robotic platforms for intelligence, surveillance and reconnaissance (ISR) and other missions.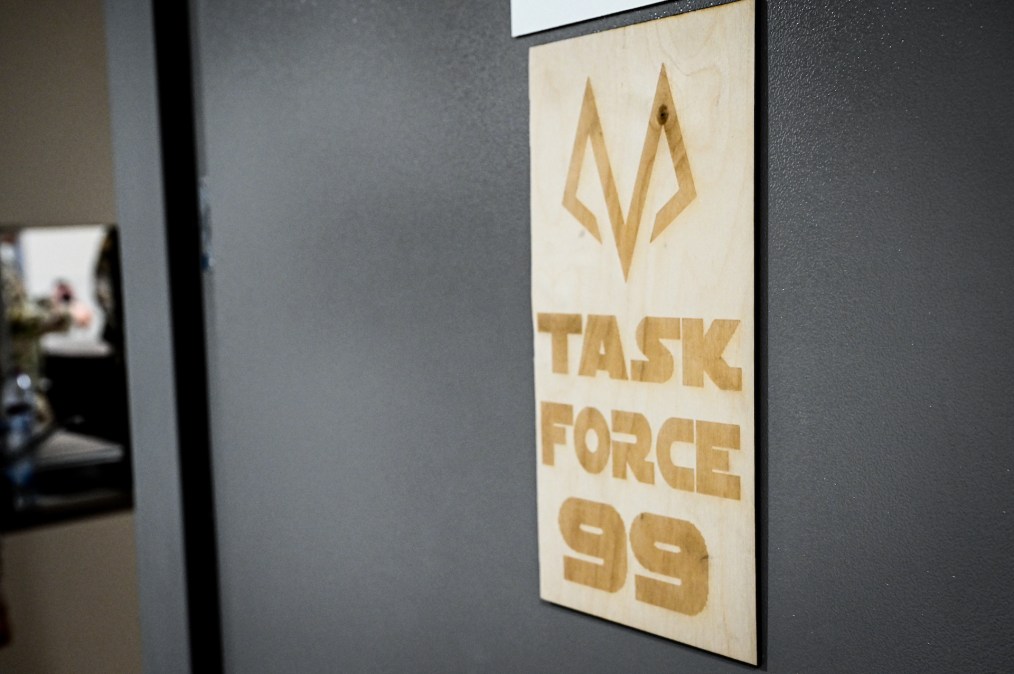 The Air Force's new unmanned task force in the Middle East has kicked off operational evaluation of its drones, according to the commander of U.S. Air Forces Central.
Task Force 99, modeled off the Navy's Task Force 59 that operates under 5th Fleet, was stood up in October at Al Udeid Air Base, Qatar, as the Pentagon looks for new ways to deploy robotic platforms for intelligence, surveillance and reconnaissance (ISR) and other missions.
"Our problem was air domain awareness" to include "not just tracking objects in the air, but maybe finding things that could be on the ground about to be launched into the air and how those could be a threat to us. And Task Force 99 was born out of the idea that if we take unmanned technologies and digital technologies and pair them together, and basically teach the robots and the algorithms to solve some of these problems for us, that it could fill some of those gaps," Lt. Gen. Alexus Grynkewich, commander of AFCENT, said Monday during an Air and Space Forces Association event.
Things are starting to ramp up.
"Just this past week, we started flying our first Task Force 99 drones during an operational evaluation in the region doing some ISR work, if you will, trying to again fill some of the gaps that we have as our other more traditional ISR platforms have gone to other regions or to other priorities for the Air Force," Grynkewich said.
Grynkewich did not disclose how many UAS are currently part of the task force or say how many it is slated to have in the future.
However, AFCENT seeks unmanned aerial systems that are less expensive than high-end platforms, such as the MQ-9 Reaper, to boost its capacity.
The unmanned task force is already conducting real-world missions, Grynkewich noted.
"Don't think of it as an innovation lab or anything like that. It is a no-kidding operational task force. So it's a subordinate command that is out there conducting operations. They're just doing it with different stuff and really getting after these problems," he said.
The organization is focusing on three main areas: enhancing domain awareness, accelerating the military's targeting cycle, and "imposing dilemmas on adversaries" by deploying additional assets that they would have to contend with.
"Rather than just having dozens of airplanes that I can fly to certain locations, what if I had hundreds? Even if the sensors aren't as good, that capacity is gonna matter when we're prosecuting operations at scale," Grynkewich said.
AFCENT is looking for industry solutions as the task force rolls out new tech.
"If you have technologies that you think are excellent and available that could be useful in those areas, we'd love to hear about them. And we'd love to, frankly, try them out," he noted. "Bring it over to the region. We can innovate and experiment with it in a real-world austere environment and see what it can do for us. And if it's something that it looks like … we would benefit from and apply to some of those hard operational problems, we'll definitely be looking at pursuing an interest to that."
However, the task force wants systems that seem ready for prime time — or nearly so — not ones that are in early stages of development.
And like the Navy's Task Force 59, the Air Force is eyeing commercial solutions.
"We want things to be pretty high TRL you know. In many ways, we're looking for commercial-off-the-shelf kind of technologies or things that are just about ready to be put on the shelf. Now, they don't have to be commercial off-the-shelf. They can be military on-the shelf ready to go almost — let's go try it out a little bit. But I'd say, you know, pretty close to the end of that chain. And that's really because they're an operational task force," Grynkewich explained.
The task force currently has fewer than a dozen U.S. airmen charged with overseeing the drone ops and performing other duties. It is expected to grow to about 20 U.S. airmen with additional staffing provided by partner nations in the region.
The vision is for the organization to evolve into a more robust joint and combined task force.
Invitations to participate have been sent to "pretty much every [U.S.] regional partner on the ground there," Grynkewich said.
"We already have some countries that are planning to or have sent manpower to participate in what will become Combined Task Force 99. And I just see that growing … I think in the next three to six months, we'll have another four or five countries sign up and provide personnel and resources to that organization. And that'll launch it on a trajectory we can't even imagine," he added.